British record carp dead: how it was found and tributes paid
British record carp Parrot was found dead just two weeks after the unofficial heaviest fish, Big Rig, also died.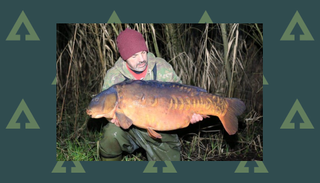 (Image credit: Angler's Mail)
Welcome to Advnture, the new home of AnglersMail.co.uk
British record carp, The Parrot, was caught numerous times over 60 lb to a best of 68 lb 1 oz to Dean Fletcher in January 2016. At that all-time high, the fish stays top on the official BRFC list.
The stunning old specimen was caught at least four times this year at Berkshire's Cranwells Lake on the Wasing Estate, including once to Terry Hearn at 63 lb.
Many anglers have been mourning the loss of The Parrot… but none more than the angler who discovered she was dead. Incredibly, he was on his first session on the water
That angler wants to remain anonymous, said: "It was my first time fishing Cranwells having waited for two years for a ticket, although I was a member on other Wasing Estate lakes.
"It had just re-opened after its short close season of six weeks and I planned a 48-hour session.
"I arrived early and managed to get my second choice swim known as The Woods.
"It seemed a bit strange that there were no real signs of fish movement but soon they were being caught around the lake, and on the first day I had a 26 lb common and a 31 lb mirror.
"On the second morning I woke at 5am and spotted a big lump out in the water about 60 yards to my left which looked like a carp to me but a couple of guys nearby thought could a dead swan.
"I climbed about 20 foot up a tree and realised it was a huge carp as a fin was sticking up.
"It was motionless but I couldn't be sure it was dead, so in case it was alive but somehow tethered, I decided to go in after it.
"When I got there I immediately saw it was dead and although I had never seen the Parrot in person I had seen pictures and I could tell by the shape of the mouth and the scales that sadly it was her.
"I netted the carcass and dragged it back to the bank, where bailiffs collected it and took it to a freezer."
How did British record carp die?
The eye-witness continued: "I have some knowledge of fish biology as I have a diploma in fisheries management and a science degree, and I could see no sign of disease or damage on the fish.
"The gills although pale were fully intact and there were no sores or lesions anywhere.
"I would guess that she had been dead for about a fortnight.
"Obviously I didn't feel like carrying on fishing after the shock of discovering the British record fish deceased, but I will be back after the other top specimens in the lake," he concluded.
Wasing fishery manager Mark Hibbs has already had the Parrot autopsied and thinks it died of natural causes. He hopes to have it stuffed.
The news came after Big Rig was found dead a fortnight ago at Shropshire's The Avenue. That immense fish had been caught twice over the official record weight at 69 lb 3 oz by Tom Doherty in September 2016, then a month later by Robby Harrison at 71 lb 4 oz. The giant had been hand-reared to a high weight and was rejected by the British record Fish Committee.
Tributes to British record carp, The Parrot
British record carp captor Dean Fletcher, who caught Parrot at its heaviest weight, said: "I was on the neighbouring lake when I heard about it, so there was a sombre atmosphere.
"It is just such a shame. The fish was a freak of nature, it really was, and I just feel sorry for the lads who were still fishing for it and those on the waiting list.
"It will always hold a special place in my heart and I'll never forget that warm day in January for as long as I live. I honestly don't know if it would have ever topped 68 lb 1 oz again, as I just happened to catch it at the perfect time."
Highly respected big carp ace Nigel Sharp said: "For me the highlight of 2017 was getting the call to go and photograph our current record fish and share the moment of my mate Terry Hearn's capture of the Wasing Estate's Parrot (pictured above). Today the carp fishing grapevine is buzzing with the sad news that the great fish has passed away.
"I don't suppose I'd have ever got the chance to fish for it but I'm so pleased I made the effort to brave the storm and breaking trees to see such a fish on the bank. A great loss to British carp fishing."
All the latest inspiration, tips and guides to help you plan your next Advnture!