Best women's hiking boots
By Advnture team published
A good pair of hiking boots are essential for any woman who wants to walk for enjoyment in the outdoors. Get a pair designed for females and they will give you the comfort and protection your feet deserve.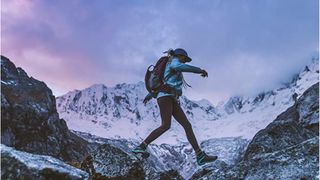 (Image credit: Amazon)
The best hiking boots for women are the ones that have been designed specifically for female feet. Typically smaller and narrower, the fit is different to men's boots as many female hikers who have tried to manage with male boots in their size will confirm.
When you're heading outdoors on a long hike, or just exercising the dog, hiking boots are usually the best thing to have on your feet if you are walking any distance. When it comes to being comfortable for longer, able to walk on more difficult terrain or in wet weather, you owe it to your feet to invest in some hiking boots. Thankfully they don't have to cost a fortune and will repay your purchase with every step. When deciding on a pair it's worth looking for boots that will protect your feet, absorb impact, keep out water and stay comfortable over multiple miles. Here are the boots we would recommend.
Bottom line
Hiking boots are the most important piece of equipment you can buy if you intend to walk any distance for enjoyment or adventure. So if you're a woman it's vital to get boots that are designed for the shape and size of your feet. With the best boots, you can stride out on amazing hikes in the wilderness or take the dog for a walk in the woods, knowing your feet will be protected and comfortable. We would recommend the Columbia Women's Newton Ridge Plus Hiking Boot. It's well designed, made from quality materials and has all the features you need at a reasonable price.
If you like the look of leather boots, the Danner Women's Mountain 600 4.5" Waterproof Hiking Boot is a classic. It's supremely comfortable and has all the waterproofing and support you need.
Launched in July 2020, Advnture is the ideal destination for anyone who loves the great outdoors. Whether you're into epic hikes through the wilderness, camping trips with the family, climbing with your friends, or looking for a trail running personal best, our team of experts will point you in the right direction, with top buying advice and in-depth guides to help you get the most of your time in the backcountry.
All the latest inspiration, tips and guides to help you plan your next Advnture!
Thank you for signing up to Advnture. You will receive a verification email shortly.
There was a problem. Please refresh the page and try again.