Supported
The best walks in the UK: eight adventurous mountain hikes in Britain
We select eight of the best walks in the UK's mountains, from horseshoe routes and ridge traverses to the best hiking routes up icons like Ben Nevis, Scafell Pike and Snowdon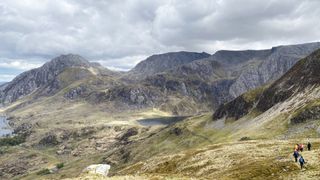 (Image credit: Alex Langfield)
This list of the best walks in the UK for adventurous mountain-going hikers contains journeys of a lifetime, taking you among some of Britain's most spectacular scenery – routes that are guaranteed to leave you grinning from ear to ear.
Our selection includes well known classics, such as the Snowdon Horseshoe and the Ring of Steall, as well as lesser trodden but no less spectacular routes that we think should be on everyone's hiking bucket list.
In terms of technical difficulty, these walks range from hikes with the occasional rocky step to sustained scrambling routes. Adventurous walkers should have no difficulties and the use of ropes and harnesses are not required. A decent pair of hiking boots will give your feet the comfort and support they need to tackle the terrain.
We've used komoot's route planning tools to map out each route and create a corresponding hiking Collection: Great British Mountain Walks, which describes each hike in more detail.
The best walks in the UK: awesome horseshoe routes
When the glaciers retreated 33,000 years ago after the last Ice Age, they left us with magnificent U-shaped valleys ringed by mountain peaks. Today, these cwms, corries and dales naturally lend themselves to spectacular, circular walks that pick off high mountain summits in quick succession, perfect for a hike or a great round in your trail running shoes. These are known as horseshoes routes because of the shape they take across the map. As a handy bonus, you finish right back where you started.
The Snowdon Horseshoe
Location: Snowdonia National Park, Wales
Technical difficulty: Straightforward but very exposed grade one scrambling on Crib Goch, with other sections of easy scrambling on Crib y Ddysgl and Y Lliwedd. The second most difficult route in our selection.
The Snowdon Horseshoe is firmly established as one of the best walks in the UK for mountain lovers. It reveals some awe-inspiring vistas, as it takes in a quartet of mighty peaks: Crib Goch, Garnedd Ugain, Yr Wyddfa (Snowdon) and Y Lliwedd. But it's the superb ridge traverses, which get the adrenaline well and truly pumping, that make it arguably Britain's greatest scrambling journey south of Scotland.
The traverse of Crib Goch's sinuous arête is the undoubted highlight. It's a uniquely awesome setting that can feel very intimidating due to the huge drops on either side. This exposure is what catches people out and there's no way off the ridge once you're on it. Take your time and remember that the technical difficulties are few.
The Mosedale Horseshoe
Location: Lake District National Park, England
Technical difficulty: Short sections of easy scrambling when descending Stirrup Crag on Yewbarrow
This is a route of simply sensational Lakeland mountain scenery. Starting from the shores of Wast Water, at a spot frequently cited as Britain's greatest view, it traverses a grand ring of peaks: Yewbarrow, Red Pike, Scoat Fell, Steeple, Pillar and Kirk Fell. The terrain is constantly interesting, and the views of Lakeland's mountainous heart are spellbinding.
These are some of the most wonderful fells in Lake District, yet their remote location and proximity to more popular objectives mean that they see a fraction of the footfall of the likes of Helvellyn, Blencathra, Catbells and the nearby Scafells. Instead, this is a secluded adventure, its charms known only to a select few.
The Ring of Steall
Location: West Highlands, Scotland
Technical difficulty: Two sections of easy grade one scrambling on An Garbhanach and the Devil's Ridge
This classic traverse of a crown of Munros above Glen Nevis has a little bit of everything. Before you've even set foot on a mountain, you ramble through the impressive Nevis Gorge, enter a beautiful meadow backed by the spectacular An Steall waterfall and cross a wire bridge that will have you humming the Indiana Jones theme for the rest of the day.
Once up high, it's the combination of jaw-dropping views and undulating, narrow ridges that characterise the Ring of Steall. The highest light in a veritable gaggle of highlights is the Devil's Ridge, a fantastic arête that sweeps up to the magisterial, quartzite capped Sgùrr a' Mhàim. This being Scotland, don't forget to pack your insect repellent to keep the midges at bay.
The best walks in the UK: adventurous routes up iconic peaks
Ben Nevis, Scafell Pike and Helvellyn are three of the UK's most popular peaks, with thousands of people grabbing their daypack and ascending to their summits every year. Here, we outline what we think are the best ways up these mountain icons.
Ben Nevis via the CMD Arête
Location: West Highlands, Scotland
Technical difficulty: Mostly avoidable, sustained but straightforward ridge scrambling on the CMD Arête
Every year, thousands and thousands of people make a pilgrimage to the summit of Ben Nevis, Britain's highest peak. Most take the long trudge up the Pony Track, a zigzagging route up the Ben's broad western shoulder. However, a far superior route exists for those of an adventurous disposition, one that really gets to know the mountain's finest feature: the North Face of the Ben.
The Càrn Mòr Dearg Arête sweeps in a glorious arc between its namesake peak and Ben Nevis' lofty summit. Its narrow ridge of heaped boulders is a delight to traverse, while a bypass paths allows you to escape the majority of the scrambling, should you wish. The views of the North Face's great labyrinth of gullies, buttresses and ridges are staggering.
Scafell Pike via the Corridor Route
Location: Lake District National Park, England
Technical difficulty: A short sections of very easy scrambling on the Corridor Route
Considering it is one of the most popular peaks in the UK's busiest national park, Scafell Pike does well to still feel like a remote mountain. It is blessed with a number of contrasting routes to its summit and all are great adventures, requiring significant effort. This is arguably the best circuit on the mountain, perhaps rivalled only by the wild approaches from Eskdale.
The Corridor Route takes an ingenious line beneath the Scafell massif's jumble of crags, with impressive views to Piers Gill, the great chasm below Lingmell. You simply have to take a detour to Lingmell's summit for a stonking view of Great Gable, before ascending to the highest land in England.
Helvellyn via the Edges
Location: Lake District National Park, England
Technical difficulty: Two narrow ridges that just scrape into scrambling territory, one slightly tricky rock step
This stone-cold classic is many people's first foray into scrambling terrain. Even those with just a passing interest in hillwalking will have heard of Striding Edge, the sinuous ridge that leads up to Helvellyn's broad summit ridge. Helvellyn is the highest peak in eastern Lakeland and the panorama from the top is astonishing.
Descent is by way of Striding Edge's slightly milder sibling, Swirral Edge. It occupies the other end of a great glacial bowl, which cups the beautiful Red Tarn, a popular wild swimming spot and a great place to pitch your 2-person tent for a wild camp.
The Traverse of the Glyderau
Location: Snowdonia National Park, Wales
Technical difficulty: Optional easy scrambling on Glyder Fach's summit, an avoidable airy section towards Elidir Fawr
In a monumental arc, separating the mighty Snowdon Massif from the vast Carneddau, is a range of individualistic, exhibitionist peaks that rival the very best that these shores have to offer. These are the Glyderau (heap of stones in Welsh), a mountain chain that includes the Electric Mountain of Elidir Fawr, the bristly moonscapes of Glyder Fawr and Glyder Fach, the geological grandeur of Cwm Idwal and the legendary Tryfan.
There are so many exciting routes on the slabs, ridges and buttresses of the Glyderau, but a full traverse is a marvellous way for walkers to get to know this unique group of peaks. It's a long day out, so your knees will thank you for trekking poles. The views are massive, with the Isle of Anglesey, the Lleyn Peninsula and even the Isle of Man seen from its western end and astonishing mountain panoramas throughout.
The Aonach Eagach
Location: West Highlands, Scotland
Technical difficulty: Unavoidable, exposed and sustained grade one scrambling with occasional, short sections of grade two. The most difficult route in our selection.
The Aonach Eagach ridge comes with a legendary reputation. Its sheer battlements guard the northern end of Glencoe imperiously, a great wall topped by jagged towers when seen from below. Comprising four main summits (two Munros) connected by a notched, roller coaster ridge line, it's the ultimate challenge for UK mountain walkers and boasts unforgettable views across the West Highlands.
So how hard is it? It's officially a grade two scramble, though this is mainly because there are no escape routes from the ridge for approximately 3 km between the summits of Am Bodach and Sgòrr nam Fiannaidh. Once you're committed, there's no safe way off other than to continue onwards or go back the way you came. One section, the Crazy Pinnacles, is particularly exposed, but the moves are not difficult. If you are happy on Crib Goch, there's no reason you won't love the Aonach Eagach.
All the latest inspiration, tips and guides to help you plan your next Advnture!
Alex is a freelance adventure writer and mountain leader with an insatiable passion for the mountains. A Cumbrian born and bred, his native English Lake District has a special place in his heart, though he is at least equally happy in North Wales, the Scottish Highlands or the European Alps. Through his hiking, mountaineering, climbing and trail running adventures, Alex aims to inspire others to get outdoors. He is currently President of the London Mountaineering Club, training to become a winter mountain leader, looking to finally finish bagging all the Wainwright fells of the Lake District and hoping to scale more Alpine 4000ers when circumstances allow. Find out more at www.alexfoxfield.com