Best daypacks: for day walks, summit hikes and adventures from basecamp
The best daypacks hold everything you need for outdoor adventure – without weighing you down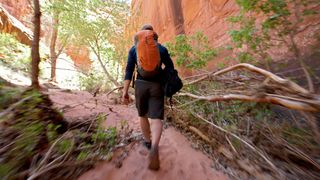 (Image credit: Getty)
It's been said that the best daypack is the one you forget you're wearing.
A lot of engineering goes into high-quality daypacks. Obvious features such as comfort, effective load-bearing, and durability are fundamentals for any pack. Beyond these necessary design traits, the best daypacks take a variety of shapes and forms.
Top-loading daypacks are perfect for keeping a stash of gear easily accessible, while panel-loading packs are better for hikers who prefer to keep most of their gear in a single compartment. Zipper and pocket arrangements are a matter of personal choice, though nearly all daypacks have some outer storage pockets. Water-bladder sleeves, key fob holders, and hidden pockets round out the list of common features. Many hikers prefer to invest in a good all-around pack to start, then grow into packs more specific to their favorite activities (trail hiking, mountain climbing and so on).
One note about the best daypacks in our list: while they can serve multiple day hiking purposes if you travel light, they aren't designed to pull double-duty as backpacking packs. If you're planning on overnighting, a dedicated backpacking pack is the way to go – though adding in an ultralight summit daypack is a good idea.
Finally, women-specific daypacks aren't just cosmetically different. Geometry is the key design difference for women's packs, accounting for women's shorter torsos, narrower shoulders, and a different hip-to-shoulder ratio compared to men. That isn't to say some men's daypacks won't fit certain women perfectly, but it's worth knowing that woman-specific packs can be much more comfortable for the ladies due to their modifications from men's packs.
Best top-loading daypacks
A top-loading daypack with the tight ergonomics of a panel loader, the Brize 25 features a large main compartment and fewer external pockets and storage
RRP: $130 (US)/£93 (UK) | Weight: 32oz/905g | Volume: 25L | Compatibility: Day hiking, mountain hiking | Colors: Black / Ladon
Very clean lines and great stability
Excellent durability
Slightly heavier than other comparable packs
Thin waist belt
The Brize 25 is perfect for hikers who like to pack up and go. A top pouch means it functions as a hybrid top-loader-style pack, with a standard zip compartment. The hybrid element comes in the solid stitching attaching it to the main pack (versus more traditional slider straps). Compression side straps and elastic pockets offer reasonable exterior storage. Once closed up, the sturdy nylon outer skin forms a protective casing that keeps all your gear in place. The foam back panel adds comfort with the minor penalty of less ventilation, though it does contribute to the stability of the pack. An odd choice is the slim, unpadded waist belt – something usually seen in ultralight or summit packs. Given that Brize 25's design seems to have a durability-first mindset, a slight increase in weight from hip padding seems a logical choice. However, the slim waistbelt is acceptable though prone to sliding if your pack is getting jostled around. That said, it's worth overlooking the waist belt given the pack's non-nonsense design and overall stability.
Extremely capable all-round pack that combines excellent fit with solid, functional design
RRP: $130 (US)/£95 (UK) | Weight: 52oz/1480g | Volume: 30L | Compatibility: Day hiking, mountain hiking, winter hiking – a great all-around pack | Colors: Lapis-midnight/Khaki-ivy/Black
Exceptional fit, especially when climbing or scrambling
Smart pocket layout
Affordable
A bit big and heavy for minimalist hikers
The fit of this daypack is spot-on, carrying both light and heavy loads without shifting, even after hours on the trail or miles of scrambling. Venting panels on the shoulder straps and back support strike a good balance of moisture wicking and padding. Deuter has wisely eschewed side pockets (often more trouble than they are worth) for a streamlined, tight rear panel pocket and one-sided bungee strap for poles. The pack comes with a rain cover, a nice bonus. Internal pockets include a hydration sleeve, a wallet/key fob pouch under the lid, and a generous top lid compartment. With 30L of storage, there will be no problem carrying gear in every season. Winter gear, dog supplies, and even a modest amount of climbing gear fit comfortably inside the pack. A final point of emphasis: the Futura 30 carries reasonably heavy loads with ease, but also doesn't float up your back when carrying lighter loads. As an all-around performer, the price and comfort can't be beat. The only consideration that might be off-putting is the larger size for hikers who prefer a more minimal pack set-up.
A lightweight, durable daypack with superior heat venting and the best engineered shoulder straps in the business
RRP: $130 (US)/£95 (UK) | Weight: 32oz/907g | Volume: 24L | Compatibility: Day hiking, mountain hiking, warm-weather hikes | Colors: Black/Granit/Olive/Sapphire/Sunlight
Lightweight
Great stability and fit
Smart shoulder strap/chest strap design
Streamlined designed leaves out outer pockets and extensive outer pack storage options
The shoulder strap system on the Ducan makes it a stand-out pack. It features an elastic, padded material that merges comfortably with the chest strap – something other daypacks seem to incorporate as an afterthought. The shoulder straps also include a snug, elastic pocket built in that is actually big enough to hold a smartphone. Combined with the Ducan 24's gossamer weight, the superior venting of the back panel makes this the perfect pack for hikers who put out a lot of heat, or prefer to explore in hot temperatures.
Despite its light weight, the Ducan carries moderate loads quite comfortably. Under heavier loads, the pack will set lower on the hips but nonetheless stays in place without much trouble. The rain cover is integrated into the pack but is detachable for those who want to shave a few more ounces off.
Because it uses a thinner Polyamide/Polyester blend to save weight, the skin of the Ducan isn't as tough as thicker denier nylon packs, but the compromise saves weight, and for hikers who want to go fast and light, the Ducan is ideal. The lack of outer pockets is a slight nit-pick.
Best panel-loading daypacks
Mystery Ranch Coulee 25
A quirky pack, excellent at transferring weight onto the hips, the benefits of the Coulee 25's unique design become quickly apparent on the trail
RRP: $175 (US)/£127 (UK) | Weight: 46oz/1304g | Volume: 24L | Compatibility: Day hiking, mountain hiking, warm-weather hikes | Colors: Black/Hummus/Garnet/Del Mar
Excellent weight distribution
3-ZIP design provides easy access to all your gear
Deep, secure side pockets
Venting can be an issue on hot days
Mystery Ranch Packs are in a class of their own when it comes to weight distribution. Regardless of the load, the Coulee 25's frame sheet and patented Futura Yoke takes the burden off the shoulders and disperses it comfortably to the hips. This is evident after a long day of hiking, when the fatigue that normally settles in on the neck and shoulders is pleasantly absent. Mystery Ranch is able to do this without adding excessive weight to the pack, which in itself is a bit of a wonderful mystery.
The 3-ZIP interior pack access is more than a novelty. It makes finding gear that has settled to the bottom of your daypack a cinch (one of the key benefits of any panel-loading pack). The top triangle of the 3-ZIP system actually hides a gear compartment, which could technically qualify the Coulee 25 as a hybrid panel-loader top-loader.
The side-stretch pockets on the sides are deep, snug, and don't interfere with the full zipper that runs down the length of the back of the pack. Compression straps, hydration sleeve, and zipper pulls are good quality, standard fare for higher-end daypacks.
If you plan on carrying a heavier load, the Coulee 25 can't be beat for comfort and weight distribution. Minor downsides are the higher price tag and the lack of a sophisticated venting system.
Osprey Talon 22
A compact daypack with almost no weaknesses. All the right tweaks are in place and all the fundamentals are dialed in, creating a consummate daypack up for any adventure
RRP: $120 (US)/£87 (UK) | Weight: 25.6oz/725g (small/medium); 27.2oz/771g (medium/large) | Volume: 20L (small/medium); 22L (medium/large) | Compatibility: Day hiking, mountain hiking | Colors: Martian red
Compact and comfortable design
Well-vented for hot weather
Lightweight
Pack volume is small, hindering its use as a winter pack or on longer days when you need more gear
Osprey's Talon 22 hits a particular sweet spot for daypacks that are compact, comfortable, and reasonably priced. The suspension system utilizes a bioStretch harness, an elastic strap system that fuses with the well-vented shoulder straps and back panel. This creates a balanced fit that prevents the pack from wandering off your shoulders, even with a decent load.
Other smart features include a zipped top pocket, deep n' stretchy side pockets, and a snug rear panel compartment. Every element of the pack is nicely streamlined, which contributes to excellent stability even while scrambling or surfing scree. Another nice touch is the slightly oversized waist harness pocket, which is big enough to hold a smartphone and a few snacks.
Osprey's craftsmanship and attention to detail are apparent in everything from the smooth gliding zippers to easily adjusted strap sliders and rain cover. The Talon 22 is at home on every trail and can even serve light duty as a four-season pack. Given its compact design, the 22L volume is a bit small if you're carrying a lot of gear or weighed down with extras like climbing equipment.
Camelbak Fourteener 26
The Fourteener 26 takes risks to challengs conventional daypack design – and succeeds
RRP: $155 (US)/£112 (UK) | Weight: 41.6oz/1179g | Volume: 26L | Compatibility: Day hiking, mountain hiking, all-season hiking | Colors: Charcoal koi/Burnt olive
Modernized rucksack design
Extra-large rear elastic pocket
Camelbak's classic back-venting design
Bare bones design lacks traditional elastic side pockets
Fit can be challenging for those with shorter torsos
Camelbak is the king of MTB hydration packs and, thankfully, a lot of their best ideas for bike packs find their way into the hiking-specific Fourteener 26. Extra attention has been paid to the inner hydration sleeve, which can comfortably hold a large (100oz /3L) bladder without any shifting as your water supply decreases. Interesting, long side pockets are built into the support straps of the waist belt, creating oversized, accessible compartners that rest above the hip. These proved to be a nice addition in contrast to traditional side pockets, which can be difficult to reach and even tougher to place a water bottle back in without disengaging shoulder or waist buckles.
This panel loader draws inspiration from classic rucksacks, meaning there is one large compartment to store your gear. Because the unique side pocket can hold gloves and hats, the single large compartment works just fine for larger jackets, snacks, and other layers. There is an accessory pocket three-quarters up the back of the pack that works well for snacks or sunblock and overall, the straightforward, no-nonsense design is ideal for organizing gear. Pack fit is solid for medium to long torsos, though shorter torsos might experience issues with the waist belt creeping up. Overall, this is an excellent pack for those looking for a straightforward daypack with great durability and a comfortable design.
Best women's specific daypacks
Osprey Tempest 20
Osprey's women's packs are game-changers for many female hikers. The ergonomics, fit, and comfort have made their line of women's packs the industry leaders
RRP: $130 (US)/£94 (UK) | Weight: 30.4oz/861g (XS/S); 35.2oz/997g (M/L) | Volume: 18L (XS/S); 20L (M/L) | Compatibility: Day hiking, scrambling | Colors: Stealth black/Violac purple/Aluminium gray/Jasper green/Bell orange
Top-of-the-line fit and comfort, including extra small options
Very good ventilation and stable fit
Good color selection
Smart layout of pockets and zippers
No rain cover (sold separately)
Osprey has been a leader in women-specific pack design for years and the Tempest 20 is the perfect example why they are regarded as pioneers. 'One size fits all' simply doesn't work well for most women and thus, Osprey has done well to offer variations from extra-small to large. Our testers reported that the narrower shoulder strap geometry and waist belt location were huge improvements over trying to adapt to men's packs. The Tempest 20 stayed stable, even on jarring downhills and on scrambles. Pack ventilation is excellent, even on scorching hot days.
The Tempest is the women's counterpart to another pack on our best daypacks list, the Talon 22. As such, it has the same great pocket layout, generous panel-loading main compartment, hydration sleeve, and wide rear panel pocket as the Talon 22. As an added bonus, the variety of colors makes personalizing the pack fun.
Great fit, stylish lines, and optimal functionality makes the Tempest 20 our top women's daypack. The only slight gripe is that it doesn't come with a rain cover – you can buy one for a sizeable extra layout of $34–40 / £20–22.
North Face Women's Hydra 26
The North Face's auto-equalizing Dyno Lift System gives this daypack an edge when it comes to stabilization and comfort, all in a lightweight and durable package
RRP: $149.95 (US)/£109 (UK) | Weight: 30oz/850g | Volume: 26L | Compatibility: Day hiking, scrambling | Colors: Urban navy
Great stabilizing frame in a lightweight pack
Quick drying back panel
Good volume to weight ratio
Sternum strap lacks elastic adjustability
Shoulder straps could be softer
The Hydra 26 features best-in-class load lifters, a real boon for a pack as light as this. Usually, stability is the first aspect sacrificed when reducing material weight, but North Face pulls off the trick with great success. The shoulder straps can feel scratchy and the sternum strap features old-school nylon straps, but the pack fits well once adjusted to suit the wearer. Weight distribution into the hips spares shoulders and keeps the pack snug without endless fiddling and adjustments.
Because of the streamlined, no-frills design, the pack features are standard issue. This isn't a bad thing, it just means that the standout feature is the comfort of the steel frame rather than the pocket layout or exterior strap setup. The waistbelt does feature a nice map/snack pocket with wide zipper pulls, an intuitive touch that's worth the slight weight penalty on an otherwise ultra-light pack.
Lightweight summit/basecamp daypacks
An excellent summit pack that channels the best features of full-size daypacks into a top-notch, ultralight design
RRP: $80 (US)/£58 (UK) | Weight: 21oz/595g | Volume: 26L | Compatibility: Summit hikes, basecamp exploration hikes, short day hikes | Colors: Mint/Stone gray
Nice stability for a pack without any internal frame
Doubles as a stuff sack or pillow
Great durability to weight ratio
Sharp colors
Shoulder straps have a habit of getting twisted from time to time
No tight sleeve to house hydration bladder
The Scream 25 is one of the best summit packs around, thanks to its low weight, good feature set, and better-than-average fit. It's one of the few summit packs that can manage to carry 20–25lb/10kg without slinking down the back. Despite not having an internal frame, the shoulder and chest straps keep the load as stable as possible (pack smart, with heavier items stored lower). Deep side pockets give extra space for water bottles or hiking poles and the single ice-axe loop at the bottom makes perfect sense for snowy summit days.
Hydration bladders can affect the balance of the pack a bit, as it doesn't have a tight sleeve to hold a bladder in place. In addition being a great summit pack, it's a good option as a daybag when you're traveling, especially for those occasions where you only need to pack a few things like a sandwich or water bottle. When camping, the pack stuffs into its top compartment – put your softest fleece over it and you've got an instant camp pillow.
Mountain Hardwear UL 20
A featherlight summit pack that is ideal for efficient hikers who are aiming to go as light as possible
RRP: $80 (US)/£58 (UK) | Weight: 10.7oz/303g | Volume: 20L | Compatibility: Summit hikes, basecamp exploration hikes, short day hikes | Colors: Black/Blue/Blue and red
As light as it gets when it comes to summit packs
Single side-pocket design saves even more weight
Good balance
Doubles as stuff sack or pillow
Low volume means you'll have to pack smart on summit day
The UL 20 is as light as a pack can get while still being functional. If you know exactly what gear you'll need on summit day and don't want to go an ounce heavier than you need to, this is your pack. Because it lacks a waist belt, Mountain Hardware astutely made sure the shoulder straps and sternum strap worked together to keep modest loads from shifting. The single side pocket cinches tight, a savvy decision as peak bagger may be carrying a single water bottle and having it fall out could be catastrophic. A single ice axe loop and sparse but functional gear loops on the back of the pack round out a functional design that can punch above its weight if needed. Confident summit hikers who know exactly what they need will be delighted by the profile and fit of the UL 20. Like other summit packs, it will likely find use as a pillow or stuff sack when not on its way to the top.
What to look for when buying the best daypacks
When properly cared for, the best daypacks can last for decades. Rarely does a daypack suffer catastrophic failure like tents, nor are they prone to the intense wear-and-tear of boots. Parts that need replacing, such as straps, clips, and zippers are rarely cost-prohibitive. You're more likely to retire a daypack to the eager jaws of critters such as marmots or mice than from overuse.

The takeaway is that a daypack may be one of the very best gear investments you'll make, so investing in the best daypack to fit your exact style is a decision you will not regret. At the time of this writing, I still occasionally use a 25-year-old Eastern Mountain Sports backpack for climbing or scrambling when I know my pack will get beat up a little more than it would on a trail hike.
Because of the fabrics used in their construction, nearly all modern daypacks have a natural resistance to water. However, if you live in an area where rain, fog, and moisture is common, it's worth investing in a pack cover to keep your gear dry – and you can line your pack with a kitchen-size garbage bag for good measure.
This leads us to our next point. When you try on a daypack, be sure to do it with roughly the amount of weight you expect to carry and, if possible, with the jackets and layers you are likely to be wearing. Venting is more important to the desert hiker than it is for the winter snowshoer.
When purchasing a pack, we recommend considering the following factors:
Pack Volume
For many hikers, packs less than 18L are too small for most day hikes – specialized summit packs excepted. Standard size for daypacks ranges from 18L–22L for less volume and 22L– 30L for more volume. Above that, you start getting into overnight backpacks.
A good sweet spot for an all-round daypack is 25L. It's more than enough space for layers, snacks, and extras like maps, guidebooks, or flasks of your favorite spirits. Larger packs, 25L–30L rucksacks, are good if you're adding in gear for your kids, dogs, thick winter layers, or climbing gear. Packs smaller than 25L are great for going light and fast, especially for warm weather hiking.
We have included a couple of summit packs here. These are ultralight daypacks that scrap excess materials, including an inner frame, for the sale of lightness. They are designed for summit hikes and exploratory adventures out of basecamp, but can be handy as a daypack option when you're travelling too.
Fit and Comfort
The best daypacks will distribute weight into the waist straps – not as dramatically as full-sized backpacking packs, but enough to give your shoulders a bit of a break at the end of a long day. Nearly all backpacks offer a degree of adjustability but these adjustments have their limits. Thus the various sizes of small, medium, and large daypacks. Gear shops can help you size up the right pack.
Gender specificity
Many women are perfectly fine using men's daypacks, which are often more-or-less gender-neutral. However, women with especially narrow shoulders or small torsos should consider trying on women-specific daypacks. A women's specific pack may carry weight as comfortably as a men's pack, but the shoulder straps may be much easier to put on, adjust, and take off, and the chest strap should take into account the female form.
Price
It can be tough to bite the bullet and pay upwards of $200 (US) /£150 (UK) for a relatively small pack, especially when there are many cheaper daypacks available. Beware, however, that a glorified bookbag will reveal its weaknesses on the trail. The most glaring difference between budget models and high-quality brands comes in the geometry and fit. Your shoulders will tell you all you need to know about that if you spend 6 or more hours with a poorly fitted pack.
As mentioned above, daypacks are a very good investment, even if the upfront price can sting. The best daypacks can be expected to last at least 10 years, possibly longer. One way to save some money is to make sure you're not paying for features you don't care about or need. Basic, panel-loading daypacks have the least frills but are ideal for some hikers – and this preference can save a bit of money.
Features
Finally, this is one category that is entirely based on your personal preferences. I keep a top-loader for mountain hiking when I know I'll likely be taking hats and gloves on and off throughout the day. I also have a nice panel loader for those days when I want to move quickly, suck up minor weather changes without re-layering, and only bring the basics. Personally, I like to have a single dedicated side-pocket for snacks and a hydration sleeve (both of which are standard on nearly all daypacks). Finally, I tend to stay with higher volume packs to carry my two dogs' gear and because I am loathed to have anything hanging on the outside of my pack.
Conversely, lighter daypacks use elastic cord to store jackets on the outside of the pack or may omit side pockets altogether.
There is no one right answer. But keep this in mind: the more zippers, pockets, and straps, the more potential failure points exist. The upshot is that a single broken zipper on a side pocket likely won't make or break your day. Whatever you prefer, aim to invest in the best daypack that is functional for your personal system.
All the latest inspiration, tips and guides to help you plan your next Advnture!
Thank you for signing up to Advnture. You will receive a verification email shortly.
There was a problem. Please refresh the page and try again.