The best daypacks 2023: for alpine treks and wild walks
Our selection of the best daypacks for everything from short, speedy day hikes to hut-to-hut treks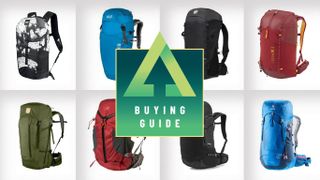 (Image credit: Future)
The best daypack treads the middle ground between a large hydration pack and a small expedition pack, allowing you to stow everything you need to stay safe and comfortable during one-day adventures in the great outdoors. For us, the best daypack is the one you forget you're wearing, a backpack so well balanced that it might as well be a part of you.
Brands design daypacks to be lightweight, durable and resistant to the weather, while the best daypacks boast handy storage solutions and innovative touches like integrated emergency whistles. Most feature ventilated back systems in an attempt to make sweaty backs during hiking missions a thing of the past.
As with all the best hiking backpacks, different daypacks are good at different jobs. Some are tailored towards summer speed hiking, with a minimalist designs, smaller capacities and compatibility with hydration reservoirs. Larger daypacks feature attachment loops for ice axes and poles, clearly built with winter in mind.
The best daypacks are perfect for hikes that don't involve lugging camping gear around. Think standard day hikes, alpine hut-to-hut treks and fast peak bagging missions. For trail runners and those who like to go ultralight, the best hydration packs are preferable. For a hikers' daypack, we love the Exped Impulse for its robust build and storage options.
The best daypacks for technical hiking
Best for technical hikes
Specifications
Weight (empty):
978g / 2.1lb
Variations available:
20L / 30L
Compatibility:
Daywalks in all conditions and across all sorts of terrain
Reasons to buy
+
Tough
+
Versatile
+
Sustainably made
+
Plenty of pockets
Reasons to avoid
-
Sizes slightly small, internal capacity a little less than 30L
-
Only one harness size (although it's very adaptable)
A design-savvy Swiss-brand, Exped has established itself as a firm favourite with outdoor types, with an army of loyal fans who rave about their kit – everything from trusted daypacks to flock lined sleeping mats and pop-coloured dry bags. True to form, the Exped Impulse 30 backpack is a tough, multi-functional beast of a backpack. Made from a durable 210 Denier material, this daypack will withstand the toughest abrasion when scrambling through the mountains, but equally be at home when you're out and about on the hills, thanks to its versatile system. There are a number of adaptable features, from a removable back plate, to detachable hip belts for those who prefer to keep their adventures fast and light.
There are several well-considered technical features, from an inside mesh pocket to zipped pockets on the hip fins, which shows Exped really understand what hikers (and bikers, climbers, fastpackers) want from their packs: space to organise their kit and plenty of pockets. The internal mesh pouch is for holding a hydration bladder, plus there's a clip to keep the reservoir in an upwards position. An addition, two mesh side pockets make it easy to stow away drinks bottles to walking poles, making it the perfect practical pack for a multitude of activities. What's more, the pack has some of the greenest credentials if those on test, with the Oeko tex standard 100 certification, meaning every component has been checked to make sure the materials are not harmful to human health, whilst also being certified as PFC free. For those who want a backpack that can adapt to a range of mountainous and hill activities – this pack is perfect.
Best for peak bagging missions
Specifications
Weight (empty):
925g / 33oz
Variations available:
24L (women's) / 25L / 30L (women's) / 32L
Harness sizes:
Male/Female
Compatibility:
Daywalks in all conditions and across all sorts of terrain
Colors:
Black / Astro blue (men's) / Wakame green (women's)
Reasons to buy
+
Recycled materials used
+
Simple, effective design
+
Well featured and versatile
+
Lifetime guarantee
Reasons to avoid
-
No rain cover
-
Only available in dark colors
Not every trip into the outdoors is an alpine epic, and many backpacks are made overly complicated with fussy features and endless straps that most people will never use. Not so the Montane Azote 32, which is brilliantly designed to deliver everything you need for everyday escapades, as well as some extra capability for peak-grabbing adventures (including a pole and axe attachment), but with a clean look and more minimalist finish.
Note: this is the largest in a range that includes a 30L pack with a women-specific harness, and two smaller models for warmer/shorter/faster days out, when you don't need so much stuff.
On all Azote packs, the main harness is constructed with breathable mesh, with a foam frame behind it to minimise contact with your lower back, which significantly reduces sweating. The packs feature the ZephyrAD back system, which is fully adjustable. The waistbelt has hip fins that sit comfortably where they are meant to (with a women's specific design on the 24l and 30L packs), which are endowed with decent pockets. The pack's adjustable sternum strap has a Click-and-Go system, so you can operate it with one hand (even with gloves on).
Impressively, the Azote is mostly made from recycled fabric (the main section is constructed with RAPTOR Eco 100 denier Robic Nylon – 78% recycled), which is both durable and lightweight. One downside is a lack of integrated rain cover.
The best daypacks for climbing and mountaineering
3. Black Diamond Speed Ascent 30 backpack
The best for climbing and mountaineering
Specifications
Weight:
S–M 990g / 2lb 3oz; M–L 1,140g / 2lb 6oz
Materials:
BD X-rip 210d Nylon body fabric with UTS coating
Colors: :
Graphite /Sulphur
Compatibility:
Climbing, scrambling, mountaineering and high-altitude hiking
Reasons to buy
+
Lightweight
+
Tough and durable, with a welded front abrasion patch
+
Lots of removable elements for customization
+
Suitable for all-year use in mountain high alpine terrain
Reasons to avoid
-
Raincover needs to be purchased separately
-
Lack of pockets
-
Hip fins don't feel particularly padded or comfortable
Combining the light feel and ultra-tough durability of a high-performance alpine-orientated backpack with a fully strip-downable design – including removable waist belt, lid and frame sheet – the Speed 30 from Black Diamond's Ascent range makes an ideal choice for climbers, scramblers and mountain folk. Our favourite features include a top-loading hood buckle that's easily closable, even with gloves on; a drawcord skirt at the top, which is useful for stopping spindrift and snow getting in to the pack; and a welded front abrasion patch that protects the pack from jagged rocks and crampons.
The shoulder straps are made of dual density foam, which are comfortable to wear on long approaches and big days in the peaks, and the rear panel has been redesigned to improve its wicking performance. Fans of fast-and-light design will appreciate the smart simplicity of this pack, which is easy to use even in extreme circumstances. A highly durable bag, made with Black Diamond's new 'X-rip' 210d Nylon body fabric with a UTS coating that's ultra-tough and resistant to scuffs, this product is ideal for all-year-round use on mountain terrain. As with most mountaineering and climbing packs, there's a lack of pockets, but the Speed boasts plenty of useful tool attachments, including a new custom metal dogbone ice tool attachment with micro ice-tool PickPockets and removable 20 mm crampon straps.
The best small daypacks
4. Picture Organic Helio 18L
Best for speed hiking
Specifications
Weight (empty):
440g / 15.5oz
Size:
50 x 28cm / 19 x 11in
Variations available:
Unisex, one size
Materials:
100% Recycled polyester
Compatibility:
Ideal for day walks in good conditions, summit pushes, trail running, urban use and as little bag when travelling
Colors:
Military / Iceberg / Black
Reasons to buy
+
Made with 100% recycled polyester
+
Ultra lightweight
+
Good features
Reasons to avoid
-
Basic harness
-
Can only accommodate a small hydration bladder
-
No rain cover
This nifty little lightweight daypack is made from entirely recycled polyester, which is an excellent start. It's far from a flimsy feel-good bag, though – the design is genuinely smart and it has a high level of functionality whether you're hitting the trails for a walk, making a dash for a summit, or pacing the streets in a city. It also works brilliantly as a daypack to take away travelling, as it weighs so little and can be stashed in larger luggage without taking up much space. The main compartment is uncomplicated and spacious, with a drawcord and a single clip keeping the contents securely shut away.
There's a generous front pocket for extra storage and another pocket in the lid, both of which zip shut. Mesh water-bottle pockets feature on either side and inside there's a small pouch and a Velcro hook for taking a hydration bladder, with the portal for the hose located centrally, so you can loop it over either shoulder. The harness system is pretty basic and your back is in contact with the rear of the pack, but it does employ mesh to aid ventilation and includes easily adjustable waist and sternum straps. It's shower resistant, but there's no rain cover.
5. Mountain Hardwear UL 20
Best for ultralight hiking mixed with running
Specifications
Compatibility:
Summit hikes, basecamp exploration hikes, short day hikes
Colors:
Black/Blue/Blue and red
Reasons to buy
+
As light as it gets when it comes to summit packs
+
Single side-pocket design saves even more weight
+
Good balance
+
Doubles as stuff sack or pillow
Reasons to avoid
-
Low volume means you'll have to pack smart on summit day
The UL 20 is as light as a pack can get while still being functional. If you know exactly what gear you'll need on summit day and don't want to go an ounce heavier than you need to, this is your pack. Because it lacks a waist belt, Mountain Hardware astutely made sure the shoulder straps and sternum strap worked together to keep modest loads from shifting. The single side pocket cinches tight, a savvy decision as peak bagger may be carrying a single water bottle and having it fall out could be catastrophic. A single ice axe loop and sparse but functional gear loops on the back of the pack round out a functional design that can punch above its weight if needed. Confident summit hikers who know exactly what they need will be delighted by the profile and fit of the UL 20. Like other summit packs, it will likely find use as a pillow or stuff sack when not on its way to the top.
The best large daypacks
The best large daypack
Specifications
Weight (empty):
1180g / 41.6oz
Size:
64 x 31 x 29cm / 25 x 12 x 11.5in
Variations available:
Unisex, one size
Back length:
Medium–Large (50–58cm/20–23in)
Materials:
Recycled polyester lining; eco-dyed air mesh
Compatibility:
Day walks in all conditions, fastpacking adventures, one-night escapades and longer hut to hut hikes
Colors:
Blue jewel / Fiery red / Black
Reasons to buy
+
Good capacity & easy access
+
Comfortable harness & excellent back ventilation
+
Robust build
+
Lots of great features
+
Recycled elements used in construction
Reasons to avoid
-
Thin waist belt
-
Sternum strap can become detached and lost
-
Hydration hose has to come over right shoulder
This generously proportioned daypack has a large main compartment, capable of taking enough gear to see you through a lightweight overnight adventure or multi-day walk if you're going from hut to hut or using some other accommodation. It's designed primarily for big days in the hills, however, with tailor-made carry hoops for technical items such as trekking poles. The ACS (Air Control System) harness is comfortable and easily adjustable (with a pull-forward tightening system), although the waist belt is a bit narrow and the sternum strap can come detached from the pack and get lost if you're not careful.
The rear of the pack is concaved and a mesh very effectively keeps your back nice and ventilated. You can access the main compartment from the front of the pack via a large semi-circular zip that open the pack right up, and is extremely useful for finding buried items without emptying the entire bag on the side of the trail. There are loads of pockets and extra storage pouches, so organising your kit is easy.
The lid has two zipped pockets, one on the inside and one on the outside. There is a huge pouch on the front of the pack for stashing larger items you want to keep easy access to (such as maps and waterproofs) and deep bucket pockets on either side, for water bottles or a multitude of other things. The pack has an internal pouch and Velcro hanging hook for a hydration bladder, with the portal for the hose on the right shoulder.
Read our full Jack Wolfskin Crosstrail 32 LT daypack review
Best fitting large daypack
Specifications
Compatibility:
Day hiking, mountain hiking, winter hiking – a great all-around pack
Colors:
Lapis-midnight/Khaki-ivy/Black
Reasons to buy
+
Exceptional fit, especially when climbing or scrambling
+
Smart pocket layout
+
Affordable
Reasons to avoid
-
A bit big and heavy for minimalist hikers
The fit of this daypack is spot-on, carrying both light and heavy loads without shifting, even after hours on the trail or miles of scrambling. Venting panels on the shoulder straps and back support strike a good balance of moisture wicking and padding. Deuter has wisely eschewed side pockets (often more trouble than they are worth) for a streamlined, tight rear panel pocket and one-sided bungee strap for poles. The pack comes with a rain cover, a nice bonus. Internal pockets include a hydration sleeve, a wallet/key fob pouch under the lid, and a generous top lid compartment. With 30L of storage, there will be no problem carrying gear in every season. Winter gear, dog supplies, and even a modest amount of climbing gear fit comfortably inside the pack. A final point of emphasis: the Futura 30 carries reasonably heavy loads with ease, but also doesn't float up your back when carrying lighter loads. As an all-around performer, the price and comfort can't be beat. The only consideration that might be off-putting is the larger size for hikers who prefer a more minimal pack set-up.
Best daypack for sustainability
Specifications
Weight (empty):
1400g/49oz
Variations available:
One size
Compatibility:
Cabin-to-cabin hikes and lightweight day trekking
Colors:
Stone grey / Navy / Green
Reasons to buy
+
Side zipper for easy access to main compartment
+
Rain cover included
+
Emergency whistle on chest strap
Reasons to avoid
-
Only one size
-
Back length not adjustable
-
No pockets on waist belt or harness
The beautiful-looking Abisko Hike 35 is sized in that sweet zone where it's large enough to swallow enough equipment to see you through a quick overnight escapade (especially during summer, when kit requirements are less, or when you're sleeping in a hut), but isn't too big to be used for even the most casual day walk. It is made with materials that are organic or recycled, and features fluorocarbon-free impregnation, so the eco creds are high, and it's really well designed too. Our favourite feature is the side zip, which allows you to access the main compartment and locate whatever you're looking for (fleece, hat, food, bivvy, whatever) without having to dive in from the top and take everything out all over the trail.
The top lid has a spacious pocket, and there's a large front-of-pack pocket, with a full-length zip, perfect for a map. There are several compression straps that help secure the contents and keep the pack tidy when it's not full. The sternum strap is easy to adjust, with a double slider, and there's built-in emergency whistle on the buckle. The waist belt, with pull-forward adjusters, has substantial hip fins. There is a lack of easy access pockets on the harness, however, which is a bit of a shame, as these are always handy for storing snacks, compass and so on. It's very comfortable to carry, with padded shoulder straps, a substantial hip belt and a lightweight frame that keeps the overall pack weight down. There is one side pocket for a water bottle – and the compression straps can be co-opted to secure trekking poles – and an internal pouch takes a hydration bladder, with a port for the hose to exit over the right shoulder. There are reflective elements on the rear, for safety when walking on lanes and roads at night, and a UN-blue raincover is included, but it's not integrated into the pack, so can be lost.
Best top loading daypack
The best daypack for stability
Specifications
Compatibility:
Day hiking, mountain hiking, warm-weather hikes
Colors:
Black/Granit/Olive/Sapphire/Sunlight
Reasons to buy
+
Lightweight
+
Great stability and fit
+
Smart shoulder strap/chest strap design
Reasons to avoid
-
Streamlined designed leaves out outer pockets and extensive outer pack storage options
The shoulder strap system on the Ducan makes it a stand-out pack. It features an elastic, padded material that merges comfortably with the chest strap – something other daypacks seem to incorporate as an afterthought. The shoulder straps also include a snug, elastic pocket built in that is actually big enough to hold a smartphone. Combined with the Ducan 24's gossamer weight, the superior venting of the back panel makes this the perfect pack for hikers who put out a lot of heat, or prefer to explore in hot temperatures.
Despite its light weight, the Ducan carries moderate loads quite comfortably. Under heavier loads, the pack will set lower on the hips but nonetheless stays in place without much trouble. The rain cover is integrated into the pack but is detachable for those who want to shave a few more ounces off.
Because it uses a thinner Polyamide/Polyester blend to save weight, the skin of the Ducan isn't as tough as thicker denier nylon packs, but the compromise saves weight, and for hikers who want to go fast and light, the Ducan is ideal. The lack of outer pockets is a slight nit-pick.
The best panel loading daypacks
10. Mystery Ranch Coulee 25
The best panel loading daypack
Specifications
Compatibility:
Day hiking, mountain hiking, warm-weather hikes
Colors:
Black/Hummus/Garnet/Del Mar
Reasons to buy
+
Excellent weight distribution
+
3-ZIP design provides easy access to all your gear
+
Deep, secure side pockets
Reasons to avoid
-
Venting can be an issue on hot days
Mystery Ranch Packs are in a class of their own when it comes to weight distribution. Regardless of the load, the Coulee 25's frame sheet and patented Futura Yoke takes the burden off the shoulders and disperses it comfortably to the hips. This is evident after a long day of hiking, when the fatigue that normally settles in on the neck and shoulders is pleasantly absent. Mystery Ranch is able to do this without adding excessive weight to the pack, which in itself is a bit of a wonderful mystery.
The 3-ZIP interior pack access is more than a novelty. It makes finding gear that has settled to the bottom of your daypack a cinch (one of the key benefits of any panel-loading pack). The top triangle of the 3-ZIP system actually hides a gear compartment, which could technically qualify the Coulee 25 as a hybrid panel-loader top-loader.
The side-stretch pockets on the sides are deep, snug, and don't interfere with the full zipper that runs down the length of the back of the pack. Compression straps, hydration sleeve, and zipper pulls are good quality, standard fare for higher-end daypacks.
If you plan on carrying a heavier load, the Coulee 25 can't be beat for comfort and weight distribution. Minor downsides are the higher price tag and the lack of a sophisticated venting system.
The best compact daypack
Specifications
Weight:
25.6oz/725g (small/medium); 27.2oz/771g (medium/large)
Volume:
20L (small/medium); 22L (medium/large)
Compatibility:
Day hiking, mountain hiking
Reasons to buy
+
Compact and comfortable design
+
Well-vented for hot weather
+
Lightweight
Reasons to avoid
-
Pack volume is small, hindering its use as a winter pack or on longer days when you need more gear
Osprey's Talon 22 hits a particular sweet spot for daypacks that are compact, comfortable, and reasonably priced. The suspension system utilizes a bioStretch harness, an elastic strap system that fuses with the well-vented shoulder straps and back panel. This creates a balanced fit that prevents the pack from wandering off your shoulders, even with a decent load.
Other smart features include a zipped top pocket, deep n' stretchy side pockets, and a snug rear panel compartment. Every element of the pack is nicely streamlined, which contributes to excellent stability even while scrambling or surfing scree. Another nice touch is the slightly oversized waist harness pocket, which is big enough to hold a smartphone and a few snacks.
Osprey's craftsmanship and attention to detail are apparent in everything from the smooth gliding zippers to easily adjusted strap sliders and rain cover. The Talon 22 is at home on every trail and can even serve light duty as a four-season pack. Given its compact design, the 22L volume is a bit small if you're carrying a lot of gear or weighed down with extras like climbing equipment.
The best women's specific daypack
The best women's specific daypack
Specifications
Weight:
30.4oz/861g (XS/S); 35.2oz/997g (M/L)
Volume:
18L (XS/S); 20L (M/L)
Compatibility:
Day hiking, scrambling
Colors:
Stealth black/Violac purple/Aluminium gray/Jasper green/Bell orange
Reasons to buy
+
Top-of-the-line fit and comfort, including extra small options
+
Very good ventilation and stable fit
+
Good color selection
+
Smart layout of pockets and zippers
Reasons to avoid
-
No rain cover (sold separately)
Osprey has been a leader in women-specific pack design for years and the Tempest 20 is the perfect example why they are regarded as pioneers. 'One size fits all' simply doesn't work well for most women and thus, Osprey has done well to offer variations from extra-small to large. Our testers reported that the narrower shoulder strap geometry and waist belt location were huge improvements over trying to adapt to men's packs. The Tempest 20 stayed stable, even on jarring downhills and on scrambles. Pack ventilation is excellent, even on scorching hot days.
The Tempest is the women's counterpart to another pack on our best daypacks list, the Talon 22. As such, it has the same great pocket layout, generous panel-loading main compartment, hydration sleeve, and wide rear panel pocket as the Talon 22. As an added bonus, the variety of colors makes personalizing the pack fun.
Great fit, stylish lines, and optimal functionality makes the Tempest 20 our top women's daypack. The only slight gripe is that it doesn't come with a rain cover – you can buy one for a sizeable extra layout of $34–40 / £20–22.
Comparison table
Swipe to scroll horizontally
Best daypacks comparison table

| | | | | |
| --- | --- | --- | --- | --- |
| Daypack | Price | Weight | Style | Best use |
| Exped Impulse 30L | $153 (US) / £115 (UK) | 978g / 2.1lb | Technical daypack | Technical hiking, cycling, climbing and scrambling |
| Montane Azote 32 | $135 (US) / £110 (UK) | 925g / 33oz | Technical daypack | Technical hiking, cycling, climbing and scrambling |
| Black Diamond Speed Ascent 30 backpack | $185 (US) / £140 (UK) | S–M 990g / 2lb 3oz; M–L 1,140g / 2lb 6oz | Mountaineering and Climbing daypack | Climbing, scrambling, mountaineering and high-altitude hiking |
| Picture Organic Helio 18L | £59.95 (UK) / €65 (EU) | 440g / 15.5oz | Lightweight daypack | Ideal for day walks in good conditions, summit pushes, trail running, urban use and as little bag when travelling |
| Mountain Hardwear UL 20 | $80 (US) / £58 (UK) | 303g / 10.7oz | Ultralight daypack | Speed hiking, hut-to-hut trekking, scrambling, winter walking |
| Jack Wolfskin ACS Crosstrail 32 | $149.95 (US) / £110 (UK) | 1180g / 41.6oz | Large hiking daypack | Day walks in all conditions, fastpacking adventures, one-night escapades and longer hut to hut hikes |
| Deuter Futura 30 | $130 (US) / £95 (UK) | 1480g / 52oz | Technical daypack | Technical hiking, mountaineering, climbing, scrambling |
| Fjällräven Abisko Hike 35 | $155 (US) / £150 (UK) | 1400g/49oz | Hiking daypack | Hiking, hut-to-hut-trekking |
| Mammut Ducan 24 | $130 *US) / £95 (UK) | 907g / 32oz | Hiking daypack | Speed hiking, hut-to-hut trekking |
| Mystery Ranch Coulee 25 | $175 (US) / £127 (UK) | 1304g / 46oz | Hiking daypack | Hiking, hut-to-hut trekking |
| Osprey Talon 22 | $120 (US) / £87 (UK) | 725g / 25.6oz (small/medium); 771g / 27.2oz (medium/large) | Compact daypack | Speed hiking, hut-to-hut trekking, scrambling |
| Osprey Tempest 20 | $130 (US) / £94 (UK) | 861g / 30.4oz (XS/S); 997g / 35.2oz (M/L) | Women specific, compact daypack | Speed hiking, hut-to-hut trekking, scrambling |
How we test the best daypacks
Our reviewers test daypacks on trails in a range of environments and conditions – from hiking, running and fastpacking, through to commuting and travelling – carrying various weights. Features (including design, carry capacity, harness comfort, hydration-considerations, product weight, materials, pockets and ease of access) are tested against claims made by the brand, and we assess factors such as value for money, durability and functionality.
What to look for when buying the best daypacks
When properly cared for, the best daypacks can last for decades. Rarely does a daypack suffer catastrophic failure like tents, nor are they prone to the intense wear-and-tear of boots. Parts that need replacing, such as straps, clips, and zippers are rarely cost-prohibitive. You're more likely to retire a daypack to the eager jaws of critters such as marmots or mice than from overuse.

The takeaway is that a daypack may be one of the very best gear investments you'll make, so investing in the best daypack to fit your exact style is a decision you will not regret.
Because of the fabrics used in their construction, nearly all modern daypacks have a natural resistance to water. However, if you live in an area where rain, fog, and moisture is common, it's worth investing in a pack cover to keep your gear dry – and you can line your pack with a kitchen-size garbage bag for good measure. However, you can also employ smaller dry bags within your pack to ensure the essentials stay dry.
This leads us to our next point. When you try on a daypack, be sure to do it with roughly the amount of weight you expect to carry and, if possible, with the jackets and layers you are likely to be wearing. Venting is more important to the desert hiker than it is for the winter snowshoer.
When purchasing a pack, we recommend considering the following factors:
Pack Volume
For many hikers, packs less than 18L are too small for most day hikes – specialized summit packs excepted. Standard size for daypacks ranges from 18L–22L for less volume and 22L– 30L for more volume. Above that, you start getting into overnight backpacks.
A good sweet spot for an all-round daypack is 25L. It's more than enough space for layers, snacks, and extras like maps, guidebooks, or flasks of your favorite spirits. Larger packs, 25L–30L rucksacks, are good if you're adding in gear for your kids, dogs, thick winter layers, or climbing gear. Packs smaller than 25L are great for going light and fast, especially for warm weather hiking. You should also consider the best hydration packs if you're someone who likes to hit the trails with a bit of speed.
We have included a couple of summit packs here. These are ultralight daypacks that scrap excess materials, including an inner frame, for the sale of lightness. They are designed for summit hikes and exploratory adventures out of basecamp, but can be handy as a daypack option when you're travelling too.
Fit and Comfort
The best daypacks will distribute weight into the waist straps – not as dramatically as full-sized backpacking packs, but enough to give your shoulders a bit of a break at the end of a long day. Nearly all backpacks offer a degree of adjustability but these adjustments have their limits. Thus the various sizes of small, medium, and large daypacks. Gear shops can help you size up the right pack and it's worth learning properly how to pack a backpack.
Gender specificity
Many women are perfectly fine using men's daypacks, which are often more-or-less gender-neutral. However, women with especially narrow shoulders or small torsos should consider trying on women-specific daypacks or one of the best women's hiking backpacks. A women's specific pack may carry weight as comfortably as a men's pack, but the shoulder straps may be much easier to put on, adjust, and take off, and the chest strap should take into account the female form.
Price
When you're thinking about how to plan a backpacking trip, budget is often a real consideration. It can be tough to bite the bullet and pay upwards of $200 (US) /£150 (UK) for a relatively small pack, especially when there are many cheaper daypacks available. Beware, however, that a glorified bookbag will reveal its weaknesses on the trail. The most glaring difference between budget models and high-quality brands comes in the geometry and fit. Your shoulders will tell you all you need to know about that if you spend 6 or more hours with a poorly fitted pack.
As mentioned above, daypacks are a very good investment, even if the upfront price can sting. The best daypacks can be expected to last at least 10 years, possibly longer. One way to save some money is to make sure you're not paying for features you don't care about or need. Basic, panel-loading daypacks have the least frills but are ideal for some hikers – and this preference can save a bit of money.
Features
Finally, this is one category that is entirely based on your personal preferences. We keep a top-loader for mountain hiking when we know we'll likely be taking hats and our best hiking gloves on and off throughout the day. We also have a nice panel loader for those days when we want to move quickly, suck up minor weather changes without re-layering, and only bring the basics. We like to have a single dedicated side-pocket for snacks and a hydration sleeve (both of which are standard on nearly all daypacks).
Conversely, lighter daypacks use elastic cord to store jackets on the outside of the pack or may omit side pockets altogether.
There is no one right answer. But keep this in mind: the more zippers, pockets, and straps, the more potential failure points exist. The upshot is that a single broken zipper on a side pocket likely won't make or break your day. Whatever you prefer, aim to invest in the best daypack that is functional for your personal system.
All the latest inspiration, tips and guides to help you plan your next Advnture!
Writer, editor and enthusiast of anything involving boots, bikes, boats, beers and bruises, Pat has spent 20 years pursuing adventure stories. En route he's canoed Canada's Yukon River, climbed Mont Blanc and Kilimanjaro, skied and mountain biked through the Norwegian Alps, run an ultra across the roof of Mauritius, and set short-lived records for trail-running Australia's highest peaks and New Zealand's Great Walks. He's authored walking guides to Devon and Dorset, and once wrote a whole book about Toilets for Lonely Planet. Follow Pat's escapades here.