Advertisement Feature
Collections from komoot: discover your next long-distance hiking adventure
Make the most of komoot's content by building up your own library of route ideas, adapting existing hiking Tours to suit your own adventures, or taking inspiration from other komoot explorers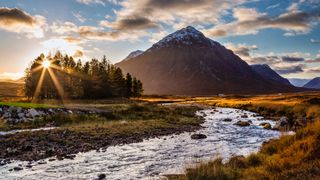 (Image credit: Getty)
There's no finer way to become intimately connected to the great outdoors than on a multi-day hiking adventure. Whether you're wild camping, hut-to-hut trekking or spending your nights in more luxurious lodgings, on a long-distance trail there's a tangible sense of adventure, of becoming one with the landscape.
From the verdant, rolling hills and honey-hued villages of the Cotswold Way and the secluded coves and staggering cliff scenery of the South West Coast Path, to the rugged majesty and windswept grandeur of the Pennine Way and the wild, mountainous wonder of the West Highland Way, Britain is home to some of the world's greatest multi-day hiking adventures. Beyond our shores, Europe boasts epic, once-in-a-lifetime expeditions, such as the challenging scrambling found on Corsica's GR20, Switzerland's beautiful and varied Trans Swiss Trail and the sensationally remote and spectacular Kungsleden in northern Sweden.
The trails listed above are just a drop in the ocean. There are hundreds – if not thousands – of inspiring long-distance hikes just awaiting discovery. This is where komoot Collections come in. Route-planning app komoot has been on a mission to make great adventures accessible to all, striving to change the way people explore and inspiring millions of users from all walks of life to take to the trails and have fun. Collections are a big part of this.
What is a komoot hiking Collection?
A komoot hiking Collection is series of day hikes (called Tours) combined into one inspirational and easy to use package. They comprise an introduction to the route, a route map, Tour descriptions and statistics (such as distance and elevation change), user photographs and the hiking Highlights you'll discover along the way. You can also find Collections for other sports, such as road cycling and gravel riding, while komoot Premium users can even create their own personal Collections.
Hiking experts and ambassadors from across the continent have been working painstakingly to make komoot's Collections the comprehensive source of long-distance hiking routes. From well-known classics like Wainwright's Coast to Coast and the Dales Way, to regional rambles and hidden gems, no stone has been left unturned. What this means is, no matter where you live, there'll be a Collection for you.
Here's the Wainwright's Coast to Coast as you'll see it on komoot:
And this is the Dales Way route:
Where can I find Collections?
Collections can be viewed and used on mobile or on desktop. You can find a variety of Collections in the komoot Discover feed, which uses your profile information to display Collections local to you, as well as other inspiring journeys across the globe. You can also access Collections on komoot's Long-Distance Hiking Trails page, which is an absolute treasure trove of carefully curated routes just waiting to be explored.
You can tailor your search on a mobile by pressing the Find your next adventure button on the top of the Discover feed. Once you've opened up the Collections in a particular region, it's worth noting that some will be long-distance hiking routes, while others will be made up of several individual day hikes that are not necessarily linked in terms of start and finish points. Using the Find your next adventure feature, you can also search for Tours (individual day hikes) or Highlights (landmarks such as a summit, a waterfall or a café, to give just three examples).
If you are using komoot on your desktop, you can use the Find the Perfect Tour feature at the top of the Discover feed to find the perfect Collection. This will open a page with details of individual Tours on the left and as a menu of inspiring Collections on the right side of your browser window.
How do I use Collections?
Once you've found a Collection you are interested in, you can like it, leave a comment, or share it with friends using social media. Komoot is designed with community in mind and it's the comments and tips that you leave as a user that make the experience so much richer. You can also bookmark a Collection for use on a later date; doing so stores it in your profile.
Not everyone walks long-distance trails all in one go; many members of the komoot community prefer to pick sections off over the course of a number of weekends or simply hike the section that most appeals to them in isolation. If this sounds like you, komoot gives you the option of saving individual Tours within a Collection to your profile. Just simply access the Collection, open the Tour you are interested in and hit Save if you're using a mobile or Create a Copy of This Tour if you're on a desktop.
One of the most enjoyable parts of an adventure is the planning stage. Although a komoot long-distance hiking Collection usually follows a trail's traditional itinerary, once you've saved a Tour it's yours to edit as you please. If you fancy adding an additional summit to your route, or you want to plan in a detour to a pub or café, or maybe you simply want to make the hike a little bit shorter, you can! Simply open up the route using the Edit Tour function.
Editing a Tour
When you choose to edit a Tour, you can change the start and end points, change your intended path by editing waypoints along the route and add and remove hiking Highlights too. If there's a tarn that you are eyeing up for a wild swim, or an exciting ridge traverse that you want to include, simply select the Highlight and include it on your route. Komoot will automatically calculate the easiest path between your selected waypoints.
When you're finished editing, you are presented with a wealth of information about your planned itinerary: including distance, difficulty, estimated duration, elevation change (along with a tour profile showing this as a graphical representation) and the types of surfaces you will encounter. You can even save your Tour as a GPX file, meaning you can use it with a GPS device.
Start exploring your local long-distance trails
Komoot's Collections make adventures in the great outdoors more accessible and enjoyable for all. If you've been inspired to hit the long-distance trails, you can visit https://www.komoot.com/account/gift and use the code ADVNTURE to choose your free bundle of offline maps, saving yourself £8.99.
All the latest inspiration, tips and guides to help you plan your next Advnture!