Advertisement Feature
Introducing komoot: find, plan, and share your adventures
Driven by a desire to explore, komoot's mission is to inspire great adventures, making them accessible to all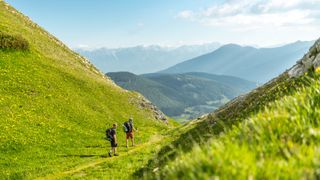 (Image credit: komoot)
If you hang out with hikers and bikers of one ilk or another, you've likely come across someone talking or posting about how they have logged their latest walk or cycling adventure on komoot.
Or, perhaps this name is entirely new to you, but you're looking for a tool to help you plan, record and share outdoor escapades and experiences, which isn't driven by competitiveness and full of people obsessing about how fast they're going.
Komoot (opens in new tab) is exactly this: an app that values experience over performance. With a unique and ever-evolving suite of tools, it enables you to research new walking, running and riding routes, navigate your way around them with ease, and then share the experience and some of the highlights with a wider community of likeminded adventurers.
It has been soaring in popularity over the last year or so, and for good reason. This is social media for outdoor-active types, minus all the misinformation and one-upmanship. And the basic package, which is super functional, is free.
If you're new to Komoot use our Advnture voucher code to get an offline region map bundle for free. Head to www.komoot.com/g (opens in new tab) and enter the code ADVNTURE. Valid until December 31, 2021.
Scroll down to learn more...
Planning
A good starting point is to use komoot to map out a route you want to take on upcoming adventure, which you can then use to navigate while you're out on the trails, and share with anyone else who intends to join you for the entirety of the outing, or just meet you along the way to do a section of it.
To do this, you open the app, navigate to the start point of your escapade, select your activity type – from a menu that includes walking, mountain biking, gravel cycling, trail running, mountaineering, road riding and bike touring – and enter your fitness level (from a scale that begins with 'Couch Potato' and extends to 'Pro'). You can then choose to plot a round trip, or a one-way A-to-B journey. With either option, you can plan the route so it takes you via various waypoints, highlights, facilities and points of interest, such as cafes, viewing points, historical markers, public toilets, and – of course – pubs.
While you're planning – on your laptop, tablet or phone – you can toggle between various overlays on the map to get a really good idea of what the route looks like on the ground.
Designed and operated by outdoor enthusiasts for outdoor enthusiasts, the app has an inbuilt understanding of what walkers and bike riders are looking for. That means komoot will select appropriate trails according to your activity choice – so it will preference footpaths over roads if you're hiking, and bridleways if you're mountain biking (and if you insist on including a waymarker that is only accessible via a pedestrian-only path while plotting a cycling route, it will warn you that you'll need to dismount for that section of the route).
Komoot wants you to enjoy the experience too, so if your route includes a savagely steep ascent, it will warn you that you might be pushing your bike for a bit – giving you the opportunity to revise the plan.
Once you have finished plotting the route, komoot will reveal the exact percentage mix of terrain (paved/unpaved) and waytype (bridleway/road/footpath/singletrack) you will encounter. It also tells you what elevation gain to expect, and you can check to see if there are any current warnings. If there are, or if you want to change or update the route, you can simply alter it by dragging waypoints on the map.
On the trail
Once you're happy with the route you have created, you can upload it to your account and komoot's app for iOS or Android will turn your smartphone into a GPS device, complete with voice navigation prompts to keep you on track when you're out on the trails.
And once your route is saved to your device, it will work offline, so you can venture deep into the wilderness without having to worry about losing signal or reception.
Komoot is integrated with Garmin and other GPS devices for data syncing, and they recently launched an advanced proprietary app for Garmin, which can be downloaded from the Garmin Connect IQ store (opens in new tab).
Inspiration
If you are visiting a new area and you're after some advice on where to go and what to do, you can punch in your pursuit of choice and browse komoot's 'Guides', which will suggest a range of 'Tours' taking in the most scenic routes for walkers, runners, cyclists, based on information uploaded by users of the app.
On top of that, recommendations from local hikers and regular runners and riders appear on the map as 'Highlights', indicating the location of anything from a jaw-dropping view to cracking café or a walker-friendly pub, a particularly sensational stretch of trail or an amazing wild-camping spot.
You can, of course, pay this on and nominate 'Highlights' of your own, or save routes you have pioneered as a 'Tour', so that others can enjoy the treasures you have discovered on your trail travels.
Community
You can of course simply use the app as a planning tool and navigation aid, but most users record their adventures for posterity and to share the experience with others. You can also upload images to accompany your activity, and friends and family (and others, depending on the privacy settings you select) can choose to follow you.
Unlike most other activity-focused apps, komoot is powered by community ethos rather than competitiveness, which is a big part of its appeal for many, especially hikers and mountain bikers, and people who prefer to enjoy time spent outside as a quality experience, rather than treating each outing as a training session.
With multiple language settings, the app has rapidly become very popular across the planet, and more than 16 million people are regularly using it to enrich and expand their outdoor adventures and horizons. There are literally millions of Tours spread across the globe for people to explore, and in Europe, komoot is home to the largest digital group of outdoor experts on the continent.
Start exploring
Komoot is free to download and to use, so you can sign up and start exploring straight away. With the free-to-use version, maps can be purchased for offline use for £3.99 each, £5.99 per bundle, or you can unlock the entire world for £29.99.
And for the more adventurous outdoor enthusiast and cyclist, komoot recently launched a premium version aimed at those among its community who would like to go that bit further. Komoot Premium has advanced features such as dynamic, on-Tour weather forecasting, a multi-day Tour planner and sports-specific maps.
All the latest inspiration, tips and guides to help you plan your next Advnture!
Thank you for signing up to Advnture. You will receive a verification email shortly.
There was a problem. Please refresh the page and try again.