Advertisement Feature
Map out your adventure with Ordnance Survey
How Ordnance Survey is transforming the way we use maps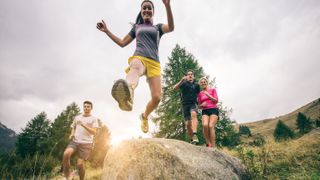 (Image credit: Ordnance Survey)
Maps are the first step on a great adventure. Whether you're looking for breathtaking new hiking paths, fresh trail running challenges or different off-road cycling work-outs, maps are the starting point – the inspiration. In Great Britain, Ordnance Survey has been providing the finest, most detailed geographical mapping in the world for over 200 years, and its iconic, paper-based maps have long been outdoor explorers' trusted companions.
But those maps are just the tip of the iceberg these days, and OS maps are now more mobile than ever. Literally. The smart modern adventurer is equipped with a smart phone and the OS Maps app, which not only provides everything the paper maps can offer in a convenient, electronic, pocket-sized form, but a whole load more features besides. This app isn't just a gateway to adventure, it's a way of enhancing it in all sorts of ways once you're out there.
OS has been a pioneer of digital mapping ever since completing the first digitalisation of its entire Great Britain map collection back in 1995. This head start has allowed OS to develop its electronic offerings in line with all the latest technological developments ever since, so that it remains at the forefront of delivering the best and most powerful features outdoors addicts could hope for.
For starters, the app boasts all 607 OS maps for Great Britain, incorporating the entire OS Explorer 1:25,000 series of maps and the OS Landranger 1:50,000 series. This gives you access to over half a million premium ready-made routes throughout Great Britain from selected partners, such as Country Walking, Mountain Bike UK, BBC Countryfile, Sustrans, Trail Magazine and Trail Running. You can also view all public rights of way in Great Britain.
If you discover a route you really like, you can favourite it so that you can find it again easily, or share it with friends as adventurous as you are. Or maybe just to highlight in visual form that really massive climb you managed to pull off.
If you fancy creating your own individually-tailored excursion, though, OS Maps has all the tools you need to make it a reality. You can create unlimited routes for anywhere in Great Britain, easily adding waypoints, route descriptions and difficulty levels. If you're planning a journey through a National Park, there's even a Snap-To-Path function to quickly plot the best routes through them.
And when you're out in the wild, the app even makes sure you won't get lost. No, you don't have to keep a constant eye on your mobile's screen and risk missing that majestic view or that red kite swooping by (or coming a cropper on a gnarly downhill if you're on your bike). The app will give warning alerts if you stumble off course.
On the other hand, if you're the kind of explorer who loves going off-piste, you don't have to follow a route. Simply press record and the app will track you every step of the way. And there's no need to worry about losing the signal when you're in the deepest, remotest countryside – which can happen all too often – because you can download your routes to your phone to peruse off-line. Or you can even go properly old-school, and print out your maps beforehand – with or without routes – in A3 or A4.
And all of this is automatically synced across all your devices – mobile, tablet and PC.
Then there's the fun, 21st century stuff the app has to offer. Even before you journey out, you can get a feel for the terrain you'll be tackling using the 3D visualisation mode to create some glorious aerial fly-by views. Then, when you're out and about, you can explore the surrounding area in greater detail using the AR (augmented reality) mode – your phone can actually "caption" the landscape around you so you can learn what those hills in the distance are called, or what landmark might be over the next rise.
Who says you should leave your phone at home to enjoy the great outdoors? With the OS Maps app, the outdoors can be even more fun.
The OS Maps app is available for just £23.99 a year or £2.99 monthly. Visit os.uk or download OS Maps on the App Store/Google Play.
All the latest inspiration, tips and guides to help you plan your next Advnture!