Who was Tom Ballard? A striking figure in solo climbing
By Julia Clarke
Who was Tom Ballard? We look at a short but well-lived life of an innovative and bold solo climber who was born with climbing in his blood and died on the mountain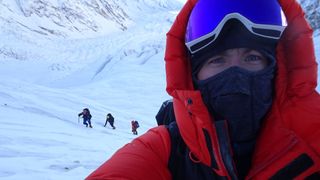 (Image credit: Tom Ballard)
Tom Ballard was a record-breaking British climber and alpinist who became the first to solo climb the six major alpine north faces in a single winter season. He died in an avalanche in 2019 on the world's ninth tallest mountain, just 100 miles from the peak that had claimed his mother's life 24 years earlier. Though he was only 30 years old at the time of his death, Ballard's reputation as an innovative and bold solo climber sealed his status as one of the great climbers of our time. So who was Tom Ballard?
In this article we take a look at the short but well-lived life and captivating achievements of this world-class climber.
Born with mountaineering in his blood
You could say that Ballard had mountaineering in his blood. He was born in 1988 in Derbyshire, England, to two mountaineers named Jim Ballard and Alison Hargreaves. Hargreaves was the first woman to summit Everest without the help of Sherpas to carry her gear or the use of bottled oxygen.
Tom, his sister Kate, and their father would accompany Hargreaves on her expeditions to the Himalayas and the Alps and he was exposed early and often to dramatic peaks, busy base camps and Sherpa life, staples of the mountaineering existence.
The family moved to the Scottish Highlands in 1995 to support Hargreaves' climbing training as she prepared for Everest, and she died later that year in a climbing accident on K2, in the very mountain range that would later claim her son's life under similarly tragic circumstances.
Cutting his climbing teeth
The remaining members of the Ballard family moved to the Alps and then the Dolomites in 2009, and it was here that Ballard really cut his climbing teeth and quickly became known as a pioneer for creating new routes. In his first year of living in the Alps, aged 21, he climbed the first of several new routes he established on the Eiger, which he called the Seven Pillars of Wisdom. In an interview with The Alpinist, Ballard said that during his first free ascent of the Scottish Pillar in 2009 he realized there were inconsistencies with the way the established routes were drawn, so he created the new route.
"The Eiger is like another family member!" he said. "My 'experience' started before I was born – my mum climbed the '1938' Heckmair Route in 1988 whilst six months pregnant with me! In summer 1993 she soloed the Lauper Route as part of her Six North Faces project to climb the six great north faces of the Alps alone, in one season. I was with my father and sister waiting down in Grindelwald."
These unique and inspiring early experiences of the mountains no doubt fuelled Ballard's obsession with scaling the treacherous heights of the world's tallest peaks, and it drew in his sister too. He recounted the pair's expedition on the Eiger to the Alpinist, during which Kate set a new record herself.
"At the end of April 2013 my sister and I climbed the West Flank to the summit, then we descended, me on my skis, whilst she slid down on her snowboard, becoming the first woman to do so."
Starlight and storm
From December 2014 to March 2015, during a project named "Starlight and Storms" after the famous climbing book, Ballard solo climbed the six major alpine north faces, almost 20 years after his mother – something he told the BBC was just a coincidence. His mammoth feat was documented in a 2015 film named Tom which won Best Mountaineering Film at multiple film awards around the world.
At the time, it seemed like there was nothing the young climber wouldn't accomplish, and he even hinted in interviews at the time that he hoped to summit K2, the mountain that had claimed his mother's life. Sadly, he never made it.
The last mountain
In 2019, it was reported that Ballard had disappeared in bad weather while climbing Nanga Parbat, a treacherous mountain in Pakistan which has claimed the lives of many climbers. He had been attempting a route known as the Mummery Spur with climbing partner Daniele Nardi, with whom he'd previously unsuccessfully attempted the North East face of Link Sar in Pakistan.
Several days before their disappearance was reported, Ballard had told his Facebook followers that they were enjoying their time waiting for the weather to turn for the better.
"Basecamp life is becoming, almost, like a holiday while we wait for that elusive weather window," he wrote on February 19, in his last post
A full-scale rescue mission was launched on February 24 involving high-altitude drones, military helicopters and mountaineers but was hampered by heavy snowfall and, according to BBC reports, tensions between India and Pakistan. Though their tent was found buried by an avalanche, there was no sign of the climbers.
After six days with no success, the search was called off. The following day, a Basque climber spotted the outline of two bodies roped together on the Mummery Spur and after communicating images to the families, the two climbers were officially declared dead due to an avalanche.
Thirty forever
Ballard was one of the most daring solo climbers of his generation and had he lived, he would certainly have gone on to breaking new ground in the world of climbing.
Ballard's life and legacy was documented in the 2021 BBC film The Last Mountain. In it, his mountaineer father who has now lost both wife and son to the mountains, appeared to find comfort in knowing that Tom died doing what he loved most.
"Tom was a mountain warrior, his mum was a mountain warrior. Tom will be 30 forever. At the peak of his physical, doing what he wanted to do, where he wanted, and if nature took him back there's nothing we can do apart from raise our hats to life well lived."
Julia Clarke is a staff writer for Adventure.com. She is an author, mountain enthusiast and yoga teacher who loves heading uphill on foot, ski, bike and belay. She recently returned to her hometown of Glasgow, Scotland after 20 years living in the USA, 11 of which were spent in the rocky mountains of Vail, Colorado where she owned a boutique yoga studio and explored the west's famous peaks and rivers. She is a champion for enjoying the outdoors sustainably as well as maintaining balance through rest and meditation, which she explores in her book Restorative Yoga for Beginners, a beginner's path to healing with deep relaxation. She enjoys writing about the outdoors, yoga, wellness and travel. In her previous lives, she has also been a radio presenter, music promoter, university teacher and winemaker.
All the latest inspiration, tips and guides to help you plan your next Advnture!
Thank you for signing up to Advnture. You will receive a verification email shortly.
There was a problem. Please refresh the page and try again.