Who was Alison Hargreaves? A trailblazer in solo climbing
By Julia Clarke
Who was Alison Hargreaves? We uncover the breathtaking accomplishments of one unsung hero who pushed the boundaries of solo climbing to a new edge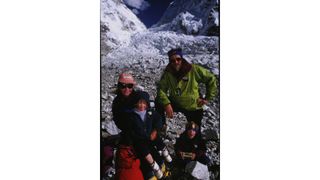 (Image credit: John van Hasselt - Corbis / Contributor)
Though hers might not be considered a household climbing name along with the likes of Hillary and Honnold, Alison Hargreaves was one of the finest climbers of all time and a pioneer whose pursuits are worthy of our attention. So who was Alison Hargreaves?
Who was Alison Hargreaves?
Hargreaves was an innovative British mountain climber and author whose list of climbing accolades paved the way for future women climbers. Most notably, she was the first woman to summit Everest without the help of Sherpas to carry her gear or the use of bottled oxygen, and she was the first climber to solo all six of the great north faces of the Alps in a single season.
Though she died in a climbing accident at the young age of 33, in her short time on earth she managed to push the boundaries of solo climbing to a new edge at a time when women climbers were a rare breed. In this article, we took a look at the towering accomplishments of a climber who pushed the envelope and at times cut a controversial figure in pursuit of her love of climbing.
Early life: a climber in the making
Hargreaves was born in 1962 in the mill town of Belper in Derbyshire, England, where she lived almost her entire life. Growing up on the edge of the Peak District exposed Hargreaves to the joy of the outdoors early in life. She was the daughter of avid hillwalkers and no stranger to roaming the peaks of Yorkshire and Scotland in her hiking boots even as a young child. Hargreaves started rock climbing aged 13, inspired by one of her teachers who was the wife of mountaineer Peter Boardman.
The London Sunday Times quoted her enthusiastically recalling her first rock climb to fellow climber Matt Comeskey:
"Everyone at that school did a morning's rock climbing. I had really looked forward to that first morning for weeks, and it was brilliant. I could channel my aggression, but still use mental agility to get myself up. That was the first rock climb."
In the 1970s and 1980s it was still quite rare to see women on the crags but Hargreaves didn't let that stop her. After high school, she and fellow mountaineer, James Ballard, started a mountaineering equipment company. Later, they were married and had two children, Kate and older brother Tom, who went on to become a record-setting climber in his own right.
A skilled and confident climber
Hargreaves possessed innate athleticism and confidence on the rock, and she wrote with pride about her expeditions in the Alpine Journal. Perhaps for this reason, in addition to being a woman, she remained an outsider in British climbing circles despite her undeniable skill and outstanding achievements.
Though she might have been snubbed in British circles, she caught the eye of American climber Jeff Lowe who invited her to join an expedition to the Himalayas in 1986 where they established a new route on Kantega Peak in Nepal. It was here that Hargreaves got her first glimpse of Everest, and she was determined to conquer it.
Her plans to summit Everest, however, would be delayed when she became pregnant with Tom. She didn't let her pregnancy prevent her from climbing altogether – in fact, at six months pregnant, she first climbed the Eiger north face, a move that drew criticism from some.
For the next couple of years however, her climbing was mostly limited to the cliffs of Derbyshire and the Alps as she tended to her growing family, but bigger climbing goals were always looming large in her mind.
A hard day's summer
Ready to get back to bigger climbs, Hargreaves set a goal to solo climb the six great north faces of the Alps in a single season, something that no climber had ever achieved. Hargreaves did so in under 24 hours in the summer of 1993.
There was reported to be some debate over her accomplishment as adverse conditions forced her to use alternate routes to climb the Grand Jorasses and she did not have pictures to prove her summit. Unfazed, she solo climbed the Corz Spur again the following winter in order to have her accomplishment recognized by the climbing community.
She recounted the ground breaking feat in her book, A Hard Day's Summer, which was published the following year.
On top of the world
Her whistle now whetted for higher peaks, Hargreaves and her family moved to Scotland in 1995 so she could devote herself to training for Everest on Ben Nevis. Later that year Hargreaves made her first attempt at Everest, solo and without supplemental oxygen. She was turned back by adverse conditions but returned six months later when she made a quick, solo ascent and arrived at the peak via the same route mapped out by George Mallory in 1922. Alison Hargreaves was now the first woman and second climber to reach the summit of Everest without Sherpas or supplemental oxygen.
"I am on top of the world and I love you dearly," she radioed to her children upon reaching the summit.
Death on K2
In June 1995, Hargreaves was part of an expedition attempting to summit K2. The group was made up of climbers from several expeditions that included Edmund Hillary's son Peter. Hillary decided to turn back, noting a change in the forecast, which he wrote was troubling.
"An ominous bank of cloud had blanketed western China and had drifted up against the northern boundary of the Karakoram Range. The northerly wind was driving towers of rising cloud up over K2, and as it drifted over the summit, periodically obliterating my view of the mountain, it would sweep the flanks with showers of falling snow."
Six others including Hargreaves pressed on to the summit of K2. All six climbers would die in a violent storm descending the mountain, in addition to a seventh climber who didn't reach the summit. The following day, two Spanish climbers who knew Hargreaves reported spotting her body thousands of metres below the summit. Her body remains on the mountain that claimed her life.
Legacy
Though her name might not be as widely known as other climbers, Hargreaves no doubt blazed a trail for other climbers, and especially women in the field.
Her son Tom followed in her footsteps to become a record-setting climber himself before dying at the age of 30 on the same mountain range as his mother in eerily similar circumstances.
While critics proclaimed her to be a selfish mother that fell victim to her own ambitions at the expense of her children, she was known to her friends as a family-oriented woman who brought her husband and kids with her on her climbing trips.
An entry she wrote in the Alpine Journal recounting her successful climb of the six great north faces revealed her hope for a long and bright future:
"To me the mountains had been gentle; to many others, not so. I was fortunate enough to travel home at the end of the year and to make plans for future dreams and aspirations."
Though her plans and dreams were cut short, Hargreaves legacy lives on through climbers today, emboldened by her bravery and success.
Julia Clarke is a staff writer for Adventure.com. She is an author, mountain enthusiast and yoga teacher who loves heading uphill on foot, ski, bike and belay. She recently returned to her hometown of Glasgow, Scotland after 20 years living in the USA, 11 of which were spent in the rocky mountains of Vail, Colorado where she owned a boutique yoga studio and explored the west's famous peaks and rivers. She is a champion for enjoying the outdoors sustainably as well as maintaining balance through rest and meditation, which she explores in her book Restorative Yoga for Beginners, a beginner's path to healing with deep relaxation. She enjoys writing about the outdoors, yoga, wellness and travel. In her previous lives, she has also been a radio presenter, music promoter, university teacher and winemaker.
All the latest inspiration, tips and guides to help you plan your next Advnture!
Thank you for signing up to Advnture. You will receive a verification email shortly.
There was a problem. Please refresh the page and try again.