Wild camping: the best places to pitch your tent in the UK
Wild camping is a fantastically freeing experience – but where best to take your trusty tent? Our expert extreme sleeper and wild camping expert has some tips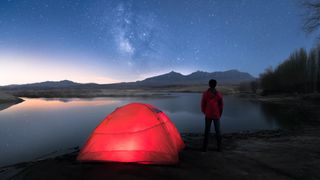 (Image credit: Getty)
The concept of wild camping is an alluring one, but faced with the enormity of the outdoors – plus opaque rules around its legality in different places – many people aren't sure where to start. I've spent over a decade perfecting the art of pitching my tent and sleeping on the wildside, and while I'm going to keep my absolute favourite spots a secret, I have some recommendations about where to start looking for your own.
Where to go wild camping: 1. Mountains
From sheltering in a naturally formed cavern (known as a howff in Scotland) on the flanks of a peak, to pitching up right on top of a summit, mountains offer the chance to spend a night in a view – without a room.
Wild camping is legal in the Scottish Highlands, and when you're looking to lay out your sleeping bag somewhere special, there's a multitude of mountains to choose from, with many standing well over 1000 metres. Of course, you'll need one of the best camping tents in order to cope with some of the more extreme conditions you might encounter.
Some mountain regions are even home to bothies (join the Mountain Bothies Association for a mere £25 a year), which are free-to-use shelters left open for outdoor lovers to seek refuge from the elements and offer a little slice of the wild even in winter when it may be too cold for canvas. In Wales, the Carneddau range is an often-overlooked part of Snowdonia National Park where you'll also find Dulyn Bothy.
Where to go wild camping: 2. Riverside
It's often been said that waterways offer us the fastest way of slowing down. Wandering alongside them we meander rather than sprint, soothed by the sound of the water running, babbling and gushing alongside us. Sleeping by one is an utter delight – you have fresh water on tap for cooking, cleaning and boiling for drinking, and, if the weather plays ball and the mood takes you, a place for a swim or a bracing plunge in the morning. Scotland offers some beautiful options – not least the Great Glen that splits the country almost in half – and, if you're fishing in the rest of the British mainland or on a kayak adventure, you can legally camp aside a tidal river while waiting for the water level to rise.
Where to go wild camping: 3. Coast
There's something very special about the coast. That place where the land meets the sea, where sea cliffs are both carved and crumbled and the power of nature is visually apparent. In Britain – a country with a 17,800km of coastline (more than both Brazil and India) we are also blessed with a huge diversity: from bays to islands, shale spits, fossil rich limestone edges and great towering banks of chalk, which means there are so many options for a wild camper to explore. Up in Scotland, where wild camping is permitted in most places, there are huge swathes of golden, sandy beaches, perfect for a pitch, with sea so blue you'd swear you were in the Caribbean. Head to the far north or the Outer Hebrides for some of the most idyllic nights in the wild.
Where to go wild camping: 4. Forest
From ancient broadleaf trees – like the mighty oak, the beautiful beech and the conker-providing horse chestnut – to the needle sporting conifers, woodlands can provide the location for some of the most memorable wild camps. That's because they offer so much more than just a location. There are the foraging opportunities – think nuts and wild herbs (if you know what you're looking for) – the wildlife watching (woodpeckers, owls, squirrels, deer and badgers); not to mention the deadwood that can be used to create your own den under the boughs. Plus, they are ideal for hammocks and tarps, so you can get all bushcrafty and feel at one with the outdoors without the need for a tent. Kielder Forest Park in Northumberland often gives permission for wild camping in several spots around its boundaries – but do check before arriving.
Where to go wild camping: 5. Moorland
Quintessentially British (15 percent of the world's moorland is found in the UK), high moorland can feel like a very wild place even just 1km from your car. Often evocatively barren, with low level vegetation (mainly colourful heather) and the occasional weather-scoured rocky tor, and prone to high levels of rainfall and mist, it's no wonder moors provide the moody setting for a number of Sherlock Holmes novels, as well as haunting tales like Emily Bronte's Wuthering Heights. Wild camping in this terrain is only for the committed outdoor lover, but the rewards are great: there are fewer people and a backpack-load of atmosphere, plus the night skies – far from sources of light pollution and uninterrupted by trees and peaks – can be jaw dropping. One of the most famous moors in the world is Dartmoor in southern England where, thanks to an old byelaw, wild camping is permitted by authorities without special permission being needed. So take your tent and get exploring…
Phoebe Smith (www.phoebe-smith.com) is host of the Wander Woman Podcast (wanderwoman.buzzsprout.com), an award-winning travel and adventure writer, photographer, broadcaster and presenter and author of 10 books on the outdoors including Extreme Sleeps: Adventures of a Wild Camper and Wilderness Weekends. Along with Dwayne Fields, she is co-founder of the #WeTwo Foundation which works with underprivileged young people to change their lives through adventure.
All the latest inspiration, tips and guides to help you plan your next Advnture!
Creator and host of the Wander Woman Podcast, extreme sleeper Phoebe Smith is an award-winning travel and adventure writer, photographer, broadcaster and author of 10 books about the outdoors. She's the first person to have slept at all the extreme points of mainland Britain, solo on consecutive nights. In 2021, Phoebe and Dwayne Fields will take a group of underprivileged young people to Antarctica through their #WeTwo Foundation. The strangest place she ever wakes up is in her own bed – as she's so rarely there…