Where to fish for big carp: top tips for the best spots in England and Wales
Discover where to fish for big carp with the help of former Angler's Mail Where To Fish editor, Ben Hervey-Murray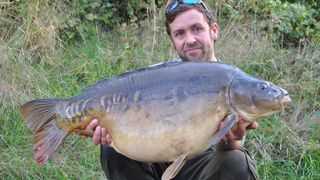 (Image credit: Angler's Mail)
Welcome to Advnture, the new home of AnglersMail.co.uk
If you want to know where to fish for big carp, then you've come to the right place. Ben Hervey-Murray, a former Angler's Mail Where To Fish editor, has caught UK river carp to 32 lb 2 oz. Here he reveals the prime stretches of running water in every part of the country where you an find these river giants.
The resurgence in carp fishing on wild, unstocked venues is great to see – the mystery of angling for unknown specimens, often on free-to-fish stretches of river, is really addictive and a world away from tackling busy day ticket waters.
I tapped up Angler's Mail magazine's knowledgeable correspondents in every corner of the country for their prime river carping venues to discover the best tips for where to fish for big carp. They've also added some wise choices of canals and drains.
They're listed below region-by-region with details on how to tackle them, plus local contacts. Some prices may have risen since I researched this piece, but the info is solid so get started and discover where to fish for big carp.
Where to fish for big carp: East Anglia
LITTLE HOLLAND DRAIN, Holbeach, Lincolnshire PE12
Carp of all sizes inhabit the Little Holland Drain between Whaplode St. Catherine and its confluence with the South Holland Main Drain.
Boilie and buzzers or pole and pellet tactics can be equally effective on their day.
Full info from controlling club Holbeach DAC on 01406 365601 or 370056.
RIVER NENE, North Bank, Cambridgeshire PE6 0RW
One of the first British rivers with a reputation for carp, the Nene at Peterborough was coughing up 30s when Kevin Nash was still in shorts!
Fish that size are rare, but still around, though more realistic targets are upper doubles and low 20s with the North Bank the place to head for. The main road runs alongside the river from the outskirts of Peterborough to the Dog in a Doublet sluice near Whittlesey, where the tidal water starts.
Day tickets are a bargain at £5 adults; £3 concessions. Call Ken for tickets, bait and peg info on 01733 565159 or check out www.peterboroughfishing.co.uk.
RIVER LARK, Barton Mills, Suffolk IP28 6EA
Looking for where to fish for big carp out east? The Gasworks Pool at Barton Mills, on the outskirts of Mildenhall, is the place where the Lark changes character from a tinkling trout stream into a wider, slower Fenland river.
Carp are present all the way from here down to its confluence with the Great Ouse at Branch Bridge, near Littleport, but the biggest ones – fish to mid-30s – have proved elusive in recent seasons.
A good source of detail for the Lark's middle reaches is Lark Angling Preservation Society on 01842 861392.
Check out: Everything you need to know about carp floats
Where to fish for big carp: South East
GRAND UNION CANAL, Red Lion Section, Marsworth, Buckinghamshire, HP23 4 LU (nearby pub)
Although a mixed fishery, this half-mile stretch of the Grand Union Canal is well known for its carp, with better specimens topping 20 lb. At this time of year carp can show to floating baits such as crust or dog biscuits.
A lot of the carp come from far bank cover on legered, hair-rigged boilies and big pellets, but waggler or pole and corn or pellet also score well. Never neglect the margins, particularly at the end of the day, when some of the larger carp can be caught about 1 ft from the edge.
Day tickets are £5, but free to members of Tring Anglers, with more on their website www.tringanglers.org.uk. Get more from canals guru Dick Pilkinton on 07796 178313.
RIVER COLNE, Waters Drive, Staines, Middlesex, TW18 4RT
Although this is a mixed fishery, there is a fair head of river carp. Several years ago whilst fishing the section using light legering tactics I landed four to just over 14 lb in a session, and only a single chub.
Most carp tend to be caught by barbel anglers targeting the big fish with boilies or large pellets. The carp tend to show throughout the section, but they get caught mostly upstream of the bridge. Davies Angling in Staines is the best contact on 01784 461831.
KENNET AND AVON CANAL, Beat One, Burghfield, Berkshire, RG30 3UN
There is good flow through this half mile section. It is about 15 metres wide and noted for chub to 6 lb and barbel to 10 lb, but there are an increasing number of carp being caught, including mid-20s.
The carp appear to be increasing in both numbers and size, possibly due to the boilies and large halibut pellets introduced by barbel anglers. It appears that some of the break-ups on heavy barbel gear are due to carp rather than their target barbel.
This is a Reading DAA venue where members fish free, but there are day tickets for non-members at £10, in advance from local tackle shops or the website www.rdaa.co.uk. RDAA enquiries are on 01189 867430.
RIVER THAMES, East Molesey-West Molesey, Surrey, KT8 9HF (nearby)
This section is about 2.5 miles long with several islands and is one of the noted better carp stretches, holding some real 'lumps' to over 40 lb.
However, most of the carp come out at night to legered, hair-rigged boilie when there is little boat traffic.
It pays to backlead and keep the feed to a minimum to avoid attracting hordes of bream. This is free fishing. The Tackle Exchange at Walton on 01932 245453 normally has the latest.
RIVER MEDWAY, Teapot Island-Yalding Stretch, Yalding, Kent, ME18 6HG.
This section is known locally at The Cut, and is really a canalised section of the River Medway. It is only about 12 metres wide and has depths to 10 ft.
It holds all the main species found in the main river, with carp to well over 20 lb. The population of carp appears to increase dramatically when the main river is in heavy flood. Bream anglers often get broken up by carp, particularly when using pellets with fishmeal groundbait.
Most of the carp come to legered, hair-rigged boilies. The fishing is free. Call the Trade in Tackle, in Maidstone, on 01622 814294.
Check out: How to use pellets to catch carp
Where to fish for big carp: Midlands
BIRMINGHAM-FAZELEY CANAL, Minworth, Birmingham, West Midlands, B35 6AE
This Dams & Lock stretch of canal, on the outskirts of Birmingham, has held some big carp for many years.
Some years back they were barred or had a weight limit in contests. Since those days they have thinned out a bit, but there are still plenty to warrant the attention of those seeking canal carp. They are big fish, too, and will feed on all the usual carp baits.
This is not free fishing, and anglers should purchase a day ticket from the Drome Café, next to the canal off the A38, before fishing. They cost around £4. Another contact can be found by calling 07940 431961.
STAFFS-WORCS CANAL, Tixall Wides, Tixall, Stafford, ST18 6AE (nearby Bottle Lodge and access track)
The Potteries Angling Society has the fishing on Tixall Wides and the adjoining sections, some of which are also quite wide.
There has always been a head of carp in the Wides – the numbers may not be great, but they are large fish. There are problems in summer with moored boats, which are nose to tail at times.
All is not lost, however, because there are also carp on the wider piece by the swivel bridge, which is a shorter walk anyway! The canal here has produced a number of 20 lb-plus carp over the years. Members only. Call 01782 312133 for membership details.
EREWASH CANAL, Ilkeston, Derbyshire
Nottingham AA has over four miles of this canal. Some of it suffered a devastating pollution not so long back, but due to restockings by the C&RT the position is looking more favourable, although there is obviously a bit to go yet.
There are some very decent-sized carp showing, and often a big double appears in the contests. That tells me they could be a worthwhile proposition for carp anglers. There is no night fishing.
Day tickets are available from the local tackle shops. Nottingham AA has lots of very good venues. Membership contact is 0115 919 9500.
RIVER NENE, Great Billing and Cogenhoe, Northamptonshire
There are lots of gravel pits, lakes and commercial fisheries alongside the River Nene, and this is why the UK's tenth longest river produces some huge carp from time to time.
Some big old carp have been in some stretches of this river for many a year, and it is no exaggeration that there is probably a 'forty' or two amongst them.
They can be caught at town bridges or way out in the country, so this is one case where you will have to do your homework. The two areas mentioned – Great Billing and Cogenhoe – are just starting points, but you may have some of your own.
I would suggest you look at websites or visit tackle shops, and if that fails ask at some of the fisheries near to the river. There is also a clue to get you started in the main copy (Billing Aquadrome).
Check out: How to cast for carp
Where to fish for big carp: North
SHEFFIELD CANAL, Sheffield, South Yorkshire
This canal has carp nudging 30 lb, and there are plenty of smaller specimens all through. You can find them by fishing close to obvious features.
Use boilies and meat for success, while floaters will score in hot weather. Pre-baiting pays off handsomely.
It might be worth fishing with a friend in some areas, for personal security reasons.
Extensive free fishing, but the Plumper's at Tinsley length requires a season ticket, at £18. Local info from 01709 540998.
RIVER WEAVER, Winsford to Northwich, Cheshire
The slow-flowing Weaver has good stocks of carp throughout, and many carp angler love to fish it.
Key times are early and late, and the far bank is often the productive spot, especially where features are to be found.
Once again, regular pre-baiting of a swim will encourage often nomadic carp to stay around.
Winsford DAA issues day tickets on various lengths, otherwise it's yearbook only for Northwich and specific parts of Winsford's water. Tel: 01606 46060 for full details.
RIVER RIBBLE, Walton-le-Dale, Preston, Lancashire
There are some lovely carp in this tidal length of the Ribble. Catching them is never certain, though, but they are there to over 20 lb, and your best bet is to fish for barbel and have a good chance of a carp taking your boilie.
Alternatively, when the river is low and clear you can stalk them in the margins early in the morning. Bread is also a rated bait here for carp. Free fishing. Contact: 01772 841 927.
BRIDGEWATER CANAL, Boothstown, Manchester
The basin at Boothstown is home to some sizeable carp, but you will need to work hard to catch them.
The area is very popular with walkers, cyclists and boaters, so early mornings and evenings are the best times.
Bait a swim for a few days before fishing, to enhance your chances. Warrington Anglers tickets are £20 (canal only). Contact: 01928 716238.
LEEDS LIVERPOOL CANAL, Silsden, West Yorkshire
Jacksons Boatyard is well renowned for its hefty carp, some of which top 30 lb. They probably hang around for plenty of free food, so catching them won't be easy, as their bellies are often full.
With some dedication you will triumph, I am sure, especially with a pre-baiting-based approach over an extended period. What a great feeling of satisfaction to catch a big carp from any of these natural waters!
Tickets are £4, in advance from local tackle shops. Tel: 01535 667574.
Check out: How to catch carp on bread
Where to fish for big carp: South West
BRISTOL AVON, Jack Whites, Keynsham Road, Keynsham, Bristol, XBS31 2DD
Big carp have long been a feature of this stretch of river, and while there are occasions when silver fish anglers hook them, you really need to adopt a specimen approach with strong gear and offer boilies or pellets for the best chance of success.
There are plenty of tree lines and cover to hold the carp, but be aware this stretch has had a lot of carp angling attention, so they are not mug fish. Call 07935 494398 or visit www.keynsham-angling.co.uk for more info.
DORSET STOUR, Throop Fishery, Holdenhurst Village Road, Bournemouth, Dorset, BH8 OEF
Throop produces some very big carp, with 20s and fish to around 30 lb again mostly to boilies, although they will pick up other baits, especially large pellets or pellet wraps.
Some observation to locate carp is, as ever, vital when river carping. Find their haunts and regular baiting with some fairly modest amounts of freebies can put a few whackers on the mat. Call Chris Allport on 07789408503 or visit www.ringwoodfishing.co.uk for more info.
KENNET & AVON CANAL, Devizes, Wiltshire, SN10 1PJ
Devizes itself holds a decent head of carp, mostly doubles. Some of the best carp fishing is on the west side of the town just above and below the main Caen Hill flight of locks. In places the canal widens out considerably, and is favoured with carpers.
Successful tactics can include surface baits, or Method feeder has been very effective over the years. Call 01380 725189 or visit www.devizesaa.org.uk for more info.
EXETER CANAL, Canal Banks, Exeter, Devon, EX2 6LT
A difficult carp water, but with many big carp, numerous 30s and at least one confirmed 40. Generally 12 ft deep and weedy, so location is vital and so is strong specimen gear when you do find the fish.
At this time of year if you put the groundwork in you may well see some big fish cruising, but they tend to be nomads. Never easy, but a venue where you could catch a whacker if you have the time and dedication and pre-baiting will help too on such a big body of water.
Call Exeter Angling Centre on 01392 436404 or visit www.exeteranglingassociation.co.uk for more info.
RIVER EXE, Weirfield Fishery, Clapperbrook Lane, Exeter, EX2 8QE
Close to the city centre, the Weirfield is a favourite with local carp anglers in summer, having a decent head of carp that can show in multiples, mostly doubles, but reach 25-30 lb. It is a long walk from the car park, so travel light or use a small barrow to transport kit.
Locate the carp and they will often oblige, coming to a wide variety of proven carp baits and standard specimen rigs. It can also produce when it's mild in winter.
Call Exeter Angling Centre on 01392 436404 or visit www.exeteranglingassociation.co.uk for more.
Check out: Best fishing times: how knowing when to go can improve your chances of success
Where to fish for big carp: Wales
RIVER WYE, Red Lion Hotel, Bredwardine, Herefordshire, HR3 6BU
The deeper and steadier sections have produced big carp, with most falling to barbel anglers. On the Red Lion Hotel water at Bredwardine, the best reported fish weighed 27 lb, but much bigger carp have been spotted. There is one mile of water on a £10 day ticket, and information is on www.redlion-hotel.com or call 01981 500303.
A number of big carp have come from the Belmont section at Hereford. The Wye's heaviest recorded fish came from here a couple of years ago when Tredegar angler Danny Baker hooked a 35 lb 2 oz mirror on feeder and maggots during a match, and one of 35 lb fell to feeder and bread flake fished by Ian Taylor. Day tickets at £7 are at Woody's Tackle in Hereford on 01432 344644 and details of this and other Hereford DAA waters are on www.hdaa.blogspot.com.
Carp to 30 lb have been caught from the town section at Ross on Wye, and some real whackers can often be spotted from Wilton Bridge. A £7 day ticket is available at the town's Wye Angling 01989 566986 and the Ross AC website www.rossanglingclub.co.uk has more on the river.
MONMOUTHSHIRE AND BRECON CANAL, Crumlin Arm, Gwent
Pontymister AC controls the fishing on several miles of the canal in Gwent from Rogerstone to where the waterway ends at Pontywaun, and there are carp all the way through.
The heaviest reported was just short of 20 lb, but with some areas weedy and lightly fished, there could well be bigger fish to be caught. Good places to try are at Risca; the deeps at Cross Keys; and near the road bridge at Pontywaun.
A day ticket is just £3 from Pontymister Angling Centre in Commercial St, Risca. This is run by club secretary Steve Byatt, who can fill you in with the latest form on 01633 615723.
RIVER ELY, Cardiff, South Wales
Since the construction of the barrage that created Cardiff Bay, the now non-tidal and sluggish reaches of the river downstream from Penarth Road Bridge have become ideal for carp, with good weed growth and bankside cover.
Mirrors and commons to 30 lb have been caught from the 200 hectares of water that make up the Bay, and some of these fish have moved into the river to boost the existing head of fish.
Carp to over 15 lb have been caught by anglers feeder fishing for other species, and there are reports of much bigger fish by experienced carp anglers, though most are keeping quiet about their catches.
A new Welsh river-caught carp record is on the cards for someone prepared to put in the effort.
Cardiff Harbour Authority controls the fishing, and £8 day tickets are at Cardiff Bay Visitor Centre or in the city's tackle shops. Visit www.cardiffharbour.com or call 02920 378161.
All ticket prices in this article were correct when it was first written – please do check prices and details before you go using the contacts and local tackle shops noted here.
All the latest inspiration, tips and guides to help you plan your next Advnture!
An obsessed fisherman since childhood, Ben's career in fishing has taken him from working as a magazine writer and editor to running his own guiding business in California, where he targets salt and freshwater fish. Ben has decades of experience in selecting the right tackle and honing the best tactics to target all sorts of species, from surf sharks to freshwater catfish, and loves sharing this knowledge. His favorite fishing moments usually involve helping clients catch the fish of a lifetime – and not getting eaten by great white sharks while out on his kayak.