How to choose bass fishing bait: an elite bass pro selects real fish-catching lures
Learn how to choose bass fishing bait with this expert guide from pro angler Carl Jocumsen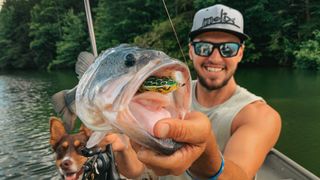 (Image credit: Carl Jocumsen)
Knowing how to choose bass fishing bait can be a daunting task if you are new to the sport, so we're going to break down four key tried and tested baits and techniques that will help you to know exactly what you need to catch big bass.
Depending where you live, bass can be very different but there are definitely types of baits that just work wherever you find bass. From Florida to New York, San Diego to Seattle and everywhere in-between, a bass is still a bass and they generally all have something in their diets that's closely related.
To match a bass's varied diet, there are hundreds of variations on baits out there but these are our four go-to choices for all-round bass fishing, particularly if you want to move beyond some of the more basic and less selective options available.
By the end of this article, you'll know how to select the best lures for bass fishing wherever you live and fish, all under the expert guidance of an elite bass fishing professional who uses this information every day in his own tournament angling.
How to select the best topwater bait for bass fishing
We're going to start with topwater baits (lures that are worked on the surface of the water) as this has to be one of the most exciting techniques there is. The explosive topwater bass bite is enough to get any seasoned angler's heart racing and looking for every opportunity to fish with a topwater lure!
The number one bait to start with is a walk-the-dog-style bait, or stick bait, and one of our favorites is the Molix 110 Baitfish. This bait has three treble hooks which will help with your hook-up-to-landing ratio and comes in many different colors. It's the perfect in-between size to fish all over where you find bass; largemouth bass, spotted bass and smallmouth bass.
This type of lure has a few key features that make it a great choice. The solid, stick-shaped body (hence the name) casts well and creates lots of disturbance when retrieved in an erratic walk-the-dog-style, especially with its concave nose. It also has metal balls inside the body of the bait to create an audible signature rattle for the bass to hone in on and the UV coating adds to its visibility.
All-in-all, this type of topwater bait has a ton of features going for it and is a great choice for catching bass off the surface, which is something you should try if you've not done so. You can thank us later.
How to select the best spinnerbaits for bass fishing
All three main species of bass are going to bite a spinnerbait, which is a lure made from a revolving spinner blade (or blades) on the end of a V-shaped metal arm, with a skirt or plastic lure on the bottom metal arm and the main line attached to the apex of the arm. There are lots of variations on this format of lure and they're proven fish catchers wherever you target bass.
They create lots of disturbance in the water when retrieved at any speed and combine a bright, erratic flash of the spinner blade and the enticing skirt or plastic attractor (often a baitfish imitation) on the hook. They're a great all-round choice for non-topwater bass fishing and excel in low light or low visibility conditions when you need maximum attraction to grab a fish's attention.
A great example of this type of lure are those from Bassman Spinnerbaits. For over 20 years, they have become one of the leaders in spinnerbait design and they catch fish all over the world. From the two different sizes available, the TW and the Compact, the TW is a standard size that will work almost anywhere you find bass.
As with any lure, choose a few different colors to suit the bait fish in your area in a 1/2oz and 3/4oz size. The Compact comes in 3/8oz and 1/2oz for fishing lighter set-ups and is a more versatile bait that will get bites just about anywhere. Bass haven't seen a compact style of spinnerbait as much, so this style of lure will be sure to get more bites.
How to select the best jig for bass fishing
There are many different types of jigs in hundreds of colors and shapes so it can be confusing to pick the best one for the job, but let's narrow it down to two types to carry in your tackle box: a jig you can drag on the bottom, and a jig you can flip into structure.
The dragging jig is often called a football jig due to the football-shaped head. This shape of jig will help the bait navigate through rock and cover and not get hung up due to its streamline shape. A favorite jig in this style is the Molix MF Football Jig - this is the bait Carl used to win the Elite Series event at Lake Tenkiler in 2019. The unique head shape glides through structure easily and the hand tied skirt will get you the bites. Try a 3/4oz for your deep water bass fishing and 1/2oz for everything else.
A good choice for a flipping jig – one used for targeting heavy structure – is going to have a few slightly different attributes and the Molix Kento Jig is a great choice because it has a smaller profile and different head shape. This is great for targeting bass wherever you can think of; docks, laydowns, stumps and rocks, it will do the job. The main size is 1/2oz for this application but you can drop down to 3/8oz for super shallow water fishing.
Both types of jigs are weedless, which means they have a small bunch of soft plastic bristles guarding the hook point. They're positioned in such a way that the jig won't get hooked onto structure or weeds when retrieving, but fold under pressure from the bass biting the lure, thus hooking the fish. Using a weedless-style bass lure allows you to fish into dense cover and structure, where big bass love spending time, without getting snagged or hung up.
How to select the best frog bait for bass fishing
By far our favorite way to catch a bass is casting over heavy cover and watching a giant largemouth blow through a thick mat of grass to eat a frog imitation lure – this is as good as it gets! Obviously, to do this you'll need a good frog lure to replicate the amphibians bass like to eat in your area, so here are two main baits that seem to work all over the country. If they are on frogs, they will eat these.
One of the most successful designs is the Molix Super Nato Frog, a versatile hybrid style of bait. It has toad-style back legs with lots of movement so you can simply wind it back and get bites. But our favorite way to fish this frog is to skip it under docks and overhanging trees, and give it short sharp twitches. The bass will eat it on the pause most times, when it gets out of the strike zone simply wind it back and you may get a bite on the way back to the boat. There are many different colors and they all work great depending on your local conditions and frog colorations.
The other is a walk bait or popping frog, which is a combination of the topwater baits we talked about first of all in this article and the more traditional frog baits. These are the most popular amongst frog anglers and work great with their concave nose creating a ton of bass-attracting disturbance. Again, we like the Molix range as they have a Sneaky Frog and a Pop Frog – both are proven bass-catching baits.
Other great baits for bass fishing
The above covers some awesome go-to bass baits but there are hundreds of other variations on plastics, worms, swimbaits, glidebaits, wakebaits, creature baits, crawfish, finesse lures and so on that might also work in your area. Local knowledge is wonderful and a nearby tackle store is a good option for learning more about how to choose bass fishing baits, but also enjoy experimenting and finding the best lures for bass fishing in your area now you're armed with this knowledge. You'll soon find that perfect bass bait for your local water.
All the latest inspiration, tips and guides to help you plan your next Advnture!
Pro bass angler Carl Jocumsen has been successfully competing with the best-of-the-best on the FLW, Bassmaster and Bassmaster Elite Series tours for several years and is a go-to expert for anything bass, lure and tackle-related. During the competition season, he truly lives the fishing life with his wife and dog chasing the hot bite and pro tournament schedule from their RV. There's nobody more enthusiastic about catching bass of all shapes and sizes!