How to catch bass: tips and tactics for beginners from a pro bass angler
Learning how to catch bass is easy and a fine gateway to some exciting fishing – here elite angler Carl Jocumsen explains what you need to know to get started in bass fishing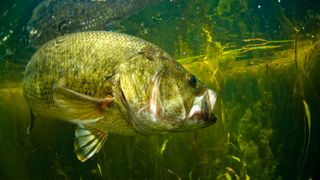 (Image credit: Getty)
Catching bass is by far one of the greatest experiences a person can have in their life – just one bite as a kid has changed people's lives and directed them into a life of outdoors and pursuit of this little green fish. They fight hard, feed readily and look awesome.
But the best part about the largemouth bass – the most common type of bass – is that they live all over North America. If there is freshwater present, a bass is probably living in it. This makes them the most versatile fish around and they can be enjoyed by everyone from kids to grandparents and in all sorts of waters, from small ponds and streams to the Great Lakes and huge rivers.
If you want to know how to catch bass, this expert guide can help you out.
Finding the right bass fishing tackle and baits for beginners
Depending on where you live, your approach will be different so it'll require a different combination of tackle, but one of the best ways to speed up your learning curve is to call into your local tackle store and speak with an expert in your area. I worked in the tackle industry for ten years and putting anglers onto fish was one of the most satisfying parts of the job.
Having a decent idea about what you want and doing some research is important before you head in to the shop to spend money. If you know roughly what you're looking for, it will make the process easier and more enjoyable. Consider your local bass fishing and where you're most likely to fish regularly. If you're new to fishing, you'll want to start with a light spinning rod and reel outfit, these are easy to learn with and anybody can use them. They are tangle-free and make for the best experience from the bank, dock or boat.
The best baits and rigs for bass fishing beginners
The next and most important factor to consider when thinking about how to catch bass is your lure or bait selection – if you're new to the sport, keep it simple. You want something that won't get hung up or be covered in grass and slime each and every cast, so when it comes to your first lure choice it needs to be a weedless, snag-proof style. This means the hook is rigged by just tucking the point into the plastic bait so that it can't snag on weeds or branches, but comes free when a bass bites. Any soft plastic bait that can be Texas-rigged is a great choice for this style of rig.
You set up a Texas rig by simply threading a small sinker – check out our guide to the best fishing weights) with a hole (called a bullet weight) onto the line and then tying on the hook, usually a specialist worm hook matched to your bait size and type. The stick bait, a basic soft plastic worm, is by far the most fish-catching bait on the market. You can throw it around any structure; from docks, laydowns, brush piles, grass lines to just open water, bass will eat them.
Simply casting a stick bait out and letting it sink is all that is required - once the bait is on the bottom, move it along slowly, or lifting it and letting it fall will also create bites. Color is also important and you can't beat either green pumpkin or black and blue – these two colors catch bass all over the country. This is a slow way of fishing but can be relaxing and enjoyable at the same time.
Choosing baits and colors for bass fishing beginners
Another option for a more active style of bass fishing is to use a lure called a spinnerbait – this lure is built to come through all sorts of structure and will work all year round. The spinnerbait is made to mimic fleeing bait fish, with one or more spinning blades and a skirt plus other garish enticements that work to create vibration so that bass can find the bait in colored water.
If the water color is dirty in your area, you need brighter colors and slow your retrieve down as slow as possible. If the water is clear, you want a more subtle, transparent color and you can speed your retrieve up to almost as fast as the lure will allow. I use Bassman Spinnerbaits, these are a custom-style bait and will have an option to suit your needs wherever you might be fishing.
Rig both the Spinnerbait and Texas rig on 15lb fluorocarbon line – I prefer Sunline FC as it has the perfect amount of stretch and toughness around cover and structure, which is a good starting place to find bass. You can also add a soft plastic trailer addition to the spinnerbait to enhance the look and create more bites – this can be a small swimbait or fluke, and match the colors as best you can.
The best part about fishing is figuring out what they want to bite and making adjustments and then getting one to eat your presentation, so start small and build your lure and tackle collection slowly so you have a range of baits and lures for every different scenario.
I hope this 'how to catch bass' guide helps you to get out on the water and enjoy the amazing fishing the United States has to offer. Fishing is an amazing sport that you can take to any level. You never know what that one bite will do!
Pro bass angler Carl Jocumsen has been successfully competing with the best-of-the-best on the FLW, Bassmaster and Bassmaster Elite Series tours for several years and is a go-to expert for anything bass, lure and tackle-related. During the competition season, he truly lives the fishing life with his wife and dog chasing the hot bite and pro tournament schedule from their RV. There's nobody more enthusiastic about catching bass of all shapes and sizes!
All the latest inspiration, tips and guides to help you plan your next Advnture!
Thank you for signing up to Advnture. You will receive a verification email shortly.
There was a problem. Please refresh the page and try again.