Summer fishing baits for lakes
Summer fishing baits choices are explored here by Jon Arthur of Drennan International...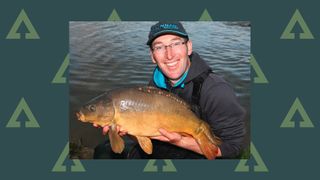 (Image credit: Angler's Mail)
Welcome to Advnture, the new home of AnglersMail.co.uk
Summer fishing baits and additives seem to create two different camps. Some top anglers I know are ultra confident, keep things simple and use bait plain, straight out of the bag (at least that's what they say!). Others, like me, love to experiment.
It doesn't matter if it's bait or tackle I have an unquenchable urge to try and tweak and improve things. It's an aspect of the sport I love playing around with. I don't honestly know if it catches me any more fish but I'd find it way too boring turning up and doing the same thing all of the time!
With the warm weather now upon us I've gone through my tackle larder and picked out a few important bait-related items I use and will explain their importance to my fishing. I hope these summer bait tips help you…
Box of tricks
I usually have a bag with me that's stuffed with goodies. I regularly change the contents depending on the venue but I generally carry hard and soft hook pellets, boilies of all colours and sizes, a few glugs, oils and dyes.
There are too many items to list them all but to give you a taster it includes things like Crab & Krill Yum Yums and Yum Yum Bait Booster, red Marukyu JPz in standard 6mm and 8mm Tough varieties, Mainline Fosoil, GOT Baits Atomic Cloud, yellow Sensas Tracix powder and Dynamite Slow Sinking Nuggets.
I still rely a lot on standard baits for much of my fishing but it's always nice to have some form of change bait on my side tray. Some days it's surprising what a difference some of these items can make.
Mini boilies
I definitely prefer dumbells/barrels to spherical boilies as you can easily band, drill or spike them. I also think a hair-rigged dumbell shape is harder for a fish to blow back out and helps the hook 'turn' and drive home.
I carry sinkers, floaters and wafters as bouyancy can be crucial at times. I think orange is the most versatile colour for F1s, carp and bream with white coming a close second.
Pellet Grinder
Old leftover pellets from various fisheries are ground down and reused as groundbait with my trusty Cuisinart Coffee Mill. I also grind down a lot of expander pellets at certain times of the year.
Another useful tip is to grind down coarse groundbaits or any leftovers if you like to sieve them. This model has several settings so you can alter the coarseness of anything you grind down. I probably wouldn't use it for coffee afterwards, though!
Coarse groundbait
Although I do grind down a lot of feed I think a lot of match anglers are obsessed with feeding groundbait for carp that's ultra fine, particularly when margin fishing. Feeding too much fine groundbait just encourages gill-feeding and increases the chance of foul-hookers.
For big weights of proper carp I've been using quite coarse particle mixes for a number of years and Marukyu EFG 151 and Old Ghost Specimen Carp are two of the best I've come across. These still smell strong and 'fishy' to me, which I think is important, whereas some other coarse 'margin mixes' I've come across seem to be bulked out with what I can only describe as rabbit food! A 50/50 mix of coarse groundbait and crushed expander has caught me a lot of fish over the years.
Useful ingredients
I'm always playing with additives and ingredients and spend as much time looking through carp mags and the carp counter of tackle shops as I do the match/general coarse section. CC Moore produces some good stuff I like to play with, including proper fishmeal and salmon fry crumb.
I think this could become increasingly important with our bog-standard match baits and pellets getting less and less potent. Pellets definitely seem to be much blander these days with increasingly more ash/wheat/vegetable in them rather than oils and fishmeals.
What meat?
Summer fishing baits for commercial fisheries should include meat. And Plumrose Pork Luncheon Meat has to be the no.1 type for me as the texture, smell and fat content are spot on. I'm sure anglers must be responsible for a good 80 to 90 per cent of the company's sales!
Places like Home Bargains and B&M stores sell it for 99p a tin and I usually get funny looks at the till when I'm heaving several trays of the stuff onto the counter!
Meat cutters
I generally carry two or three meat cutters. Two are old metal Tilley-style versions that create roughly 8mm and 6mm cubes of meat (The wire mesh is 6 hole and 7 hole respectively). I also have an MAP meat cutter which has blades for everything from 5mm up to 10mm.
I know one cutter can technically do the lot but the Tilley variety is quicker when I'm in rush and creates slightly less uniform cubes which I actually prefer unless I'm loose feeding meat by catapult.
One problem with all of these meat cutters is that they are still based on the very old 350g-size tins that once fitted them perfectly. Nowadays Plumrose comes in smaller 250g tins so you get a gap when you push a tin through. One day I might get a new set custom made that won't take up so much precious space in my carryall!
Expanders
I always carry a mixed tub of dry expanders in a sealed, screw-top bait tub. In summer it's usually full of 4mm, 6mm and possibly 8mm expanders and in winter it's 2mm to 4mms. I prepare them with a Pop Down Pellet Pump, which takes seconds to use and is the best type I've come across.
Marvellous mud
I have always used a lot of mud when chopped worm fishing. It's something I picked up many years ago after rubbing shoulders with some really top-notch worm anglers. You can simply sieve the soil off a sack of dendrabaenas with a coarse groundbait riddle, but an easier option is to get some peat or worm cast.
The stuff I use is called Natural Worm Attract which I get from Ian's Tackle in Penkridge, Staffordshire. It's a lovely medium to feed chopped worms in and also clouds well if you are shallow fishing. It also helps to bulk your feed out nicely without overfeeding the fish.
Good luck with your summer sessions,
Jon
All the latest inspiration, tips and guides to help you plan your next Advnture!