Army veteran's quest to run 5000 miles for new mental health charity
Paul Minter raises awareness and money for inspiring retreat on solo, unsupported 218-day UK coast route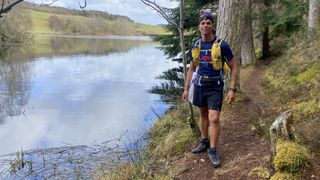 (Image credit: Fiona Outdoors)
Today, Paul Minter set off from Aberdeen to run south to Stonehaven in Scotland as he continues a 5000 mile run around the coast of the UK.
He has already run more than 1000 miles and worn out two pairs of On Running trail shoes. The overall tally by the end of the run in October will be 191 marathons in 218 days.
His feat is all the more extraordinary because he is running solo and carrying all his own kit and food.
Paul, who is originally from London and now lives in Leamington Spa, relies on the goodwill of strangers to give him a bed and meal each evening.
But the former Reconnaissance Soldier with the UK Army is not out to set records, such as a fastest time or the furthest distance run each day. Rather, Paul is on a mission to raise awareness and funds for a new charity that is very close to his heart.
Along with three other Army veterans, Paul has founded Head Up, a charity that aims to promote mental health awareness for UK Armed Forces, as well as helping military personnel to build a positive mindset and improve mental resilience.
The charity also hopes to raise enough money to develop an inspiring retreat. The Retreat will be a safe haven for serving military staff and veterans to enable them to deal with mental health difficulties and to improve their mindset and outlook in a non-militarised environment.
Paul said: "The Retreat will be a unique and holistic place that will enable guests to take a step away from military or post-military life, and learn life skills to allow them to deal with mental health issues.
"Seven-day residential courses will provide personalised mental health support for serving and retired members of the Army, RAF, Navy, and Royal Marines, including all reservists."
The impact of Army life for runner Paul
Paul knows personally the impact of military life. He served in the British Army for almost 18 years and completed several frontline tours in Afghanistan and Iraq.
He was lucky to survive two incidents when his team was hit by explosive devices, although very sadly friends and colleagues were killed. Paul has also lost military friends to suicide.
In 2019, he suffered a period of what he describes as a deep depression. He says: "I was affected severely by paranoia, anxiety and other symptoms associated with PTSD.
"I tried to fight the feelings for a long time but, the more I fought, the worse it became. It seemed as if soldiers and veterans were killing themselves on a weekly basis.
"An old friend I had served with hung himself, followed shortly by another friend and serving soldier who hung himself outside my room door.
"At the time, I was in the worst place I've been mentally. But with a lot of hard work, digging deep and soul searching both by myself and with some amazing individuals in the military, I'm now in a place where life has light, promise and prosperity."
Now, through Head Up, Paul wants to help other military personnel to have the right support to overcome mental health issues.
Research revealed that many servicemen and women want guidance on how to improve their lives and mental well-being post-service. It also showed that many veterans want to remove themselves from a triggering environment, so the charity came up with the seven-day retreat idea.
Paul said: "Many servicemen and women struggle with their mental health as a result of the high-pressure conditions they work under. But it can be difficult to access the right support for conditions like PTSD, depression and anxiety.
"We want Head Up to offer something different in terms of support for military personnel and The Retreat will be a safe haven for those in need."
5000-mile coastal run for charity
Paul's UK coastal run, which started on March 1, 2022, is his way of spreading the word to as many people as he can about the charity and its aims.
He said: "The run doesn't have an aim to break any records although my targets are ambitious. I am often running more than 30 miles each day.
"The goal, instead, is to meet as many different people as possible as I run around the coast. I am going to as many villages and towns as I can and chatting to anyone who is interested.
"Many people do seem to want to know what I am doing and they stop me to ask me about the large flag I carry with me. I have had many people contacting me and running or cycling with me and this has been great for my motivation and also a good way to spread the words about Head Up.
"I have also been very grateful to all those who have given me a meal or a bed for the night. Everyone has been very generous.
"There is a huge amount of money to raise – around £3 million to set up The Retreat – and I want to do all I can to make it a reality. I am more than half way to my target of £50,000 during my fund-raiser run."
Paul welcomes people to run with him and if anyone can give him a place to stay overnight during the next five months, you can contact him via the Head Up website and on social media. There is a full run schedule download.
All the latest inspiration, tips and guides to help you plan your next Advnture!
Fiona Russell is a widely published adventure journalist and blogger, who is better known as Fiona Outdoors. She is based in Scotland and is an all-round outdoors enthusiast with favourite activities including trail running, mountain walking, mountain biking, road cycling, triathlon and skiing, both downhill and back country. Her target for 2021 is to finish the final nine summits in her first round of all 282 Munros, the Scottish mountains of more than 3,000ft high. Aside from being outdoors, Fiona's biggest aim is to inspire others to enjoy the great outdoors, especially through her writing. She is also rarely seen without a running skort! Find out more at Fiona Outdoors.