Big pike waters – top 5 fishing spots revealed
Big pike historian Neville Fickling revealed his top 5 fishing waters of 2017.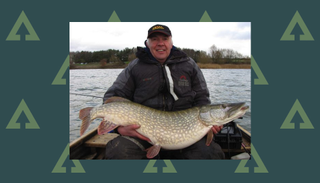 (Image credit: Angler's Mail)
Welcome to Advnture, the new home of AnglersMail.co.uk
Big pike maestro Nev won't have surprised anyone with his first choice on the Top 5 list, but his comments throughout the chart make fascinating reading.
01. Chew Valley
"No.1 for me which has produced huge pike consistently for the last five years and shows no signs of easing up, and large 30s and even 40s are on the cards.
"Mind you I wouldn't want anyone to think that it is an easy water – I fished four whole days there last week and blanked although my boat partner did catch.
02. Blagdon House
"Although it has only just opened for fly-only piking for a limited period, Chew's smaller neighbour has to be second already.
"I am convinced that the unreported record pike caught there are genuine. I strongly suspect that they will want to keep the pike fishing going there after this year's trial as it is a very clear money-spinner.
"If they allowed lures as well in future that would add to the record breaking potential.
03. Lake of Menteith
"Another primarily trout fishery, this time in Scotland, which has produced plenty of big pike in the past but is now recovering after a few years in the doldrums."
04. River Trent
"Some might find this surprising but I would put the Trent fourth.
"There are hotspots but pike fishing is great along its whole length. The main factor influencing the number and size of pike in the river is the improvement in water quality.
"When I first started fishing it back in the 1980s the water was quite dirty but now it is very clean with huge numbers of bait fish and pike thrive in those conditions.
"The river might not produce a record breaker but its great for large pike.
05. Loch Ree
"I would select Loch Ree in the middle of Ireland. Again it had gone off the boil but is now producing big pike consistently again and well worth a visit for the UK angler."
All the latest inspiration, tips and guides to help you plan your next Advnture!
Running from 1964 until 2020, Angler's Mail was the UK's leading weekly magazine devoted to coarse fishing, telling readers everything they needed to know about which fish to catch, where to catch them, and what kit they needed to do it. Now, loads of the magazine's expert advice can be found on Advnture.com, as a helpful resource for angling newcomers and experts alike.