Video: indecisive great white shark seems to have second thoughts about blissfully unaware surfer
Drone footage captures the shark having a moment of doubt in crystal clear waters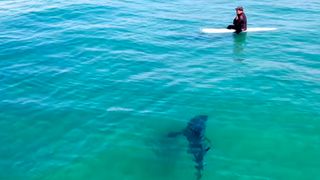 (Image credit: Scott Fairchild / Instagram)
A surfer seems blissfully unaware of the behemoth lurking his board, when a great white shark in the waters off San Diego, California appears to have second thoughts about having a close encounter with a longboard.
The footage, which captures the moment in crystal clear Californian waters, was captured by a drone camera operated by videogrpaher shark advocate Scott Fairchild.
"Great white being a little indecisive!," says Fairchild in his Instagram post. "It happens, we all change our mind sometimes."
The shark takes a beeline towards the surfer, getting uncomfortably close, but then turns tail in the other direction.
Much to the amazement of many commenters on the post, the surfer seems not to notice the near miss, despite the clear waters.
"That surfer stayed so clam," says one. "Did he know the shark was there? He looked straight at it."
"He didn't know it was there at that moment," confirms Fairchild.
Then the surfer himself joins the conversation: "Crap, that was too close to me! The viz was good, but I didn't even see him."
Fairchild is sympathetic: "That low angle when surfing just reflects everything off the water."
Fairchild's drone is apparently a familiar sight in the area, with another poster commenting, "They should put up warning signs at beaches. 'If you hear or see a drone, pull your legs out of the water.'"
On his social media platforms Fairchild shows great white sharks interacting with surfers and swimmers along California's coastline, showcasing the real character of sharks that often get a bad reputation in mainstream media.
In an interview for Oceanographic he says, "I don't think of myself as a shark conservationist but I guess I am. They are incredibly important animals that are vital for the health of our oceans and thus our planet. Because of Jaws, most of the media, including TV channels and movies, we simply don't like sharks. Yet we love lions, tigers, bears, and so on. Sharks need our respect and, more importantly, our protection."
All the latest inspiration, tips and guides to help you plan your next Advnture!