Study reveals top 10 most active destinations
Find out the location of this summer's outdoor hotspots and attractions in the UK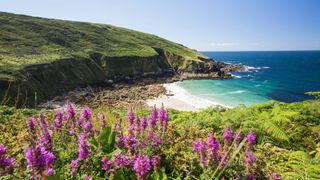 (Image credit: Getty)
A new study has revealed a huge increase in people enjoying outdoor activities this summer – and where they are visiting.
The research, supported by outdoor clothing and equipment retailer Winfields Outdoors, assessed Google Mobility data to discover the areas in the UK that saw the biggest increase in trips to beaches, national parks, castles, public gardens, campgrounds, dog parks and marinas. These figures were then compared to data for the summer pre-Covid.
The 10 areas of the UK that saw the biggest increase in trips to outdoor locations this summer were:
Cornwall with a +285.01% increase
Scottish Highlands +222.53%
Dorset +198.69%
East Riding of Yorkshire +198.21%
Lincolnshire +190.69%
Devon +182.27%
Northumberland +173.53%
Pembrokeshire +159.68%
Cumbria +159.64%
Gwynedd +155.85%
Researchers were also able to see the 10 areas of the UK that saw decreases and the lowest increases in trips to outdoors locations. They included:
City of London -62.96%
Borough of Halton -0.38%
Bedford +8.25%
Liverpool +8.88%
Northamptonshire +12.33%
Armagh +17.43%
Cardiff +17.63%
West Midlands +22.22%
Port Talbot +22.01%
Derry and Strabane +22.51%
The percentage increases show how more or less active each region was throughout the summer months of May, June, July and August compared to the pre-Covid era when Google first began publicly sharing mobility data.
A nation of outdoors fans
Joe Winfield, managing director of Winfields Outdoors, believes it's great to see more people enjoying time outdoors.
He said: "With the UK being urged to get more active it's great to see a huge rise in the number of trips to national parks, beaches and other outdoor beauty areas throughout the summer.
"It's a really encouraging development as regular trips to outdoor beauty spots are proven to have huge mental and physical benefits.
"The significant rise in trips in places such as Cornwall, the Highlands, Dorset and Devon are also indicative of a summer in which many more Brits than normal decided to staycation and enjoy the wilderness and beauty spots that the UK has to offer.
"Let's hope that this trend continues into autumn and winter and that Brits continue to stay active, stay fit and stay safe as we all enjoy the outdoors."
All the latest inspiration, tips and guides to help you plan your next Advnture!
Fiona Russell is a widely published adventure journalist and blogger, who is better known as Fiona Outdoors. She is based in Scotland and is an all-round outdoors enthusiast with favourite activities including trail running, mountain walking, mountain biking, road cycling, triathlon and skiing, both downhill and back country. Her target for 2021 is to finish the final nine summits in her first round of all 282 Munros, the Scottish mountains of more than 3,000ft high. Aside from being outdoors, Fiona's biggest aim is to inspire others to enjoy the great outdoors, especially through her writing. She is also rarely seen without a running skort! Find out more at Fiona Outdoors.