Urban Bait boss nets new offers after Dragons' Den snub
Carp ace Terry Dempsey reflects on bidding for £150,000 on Dragons' Den.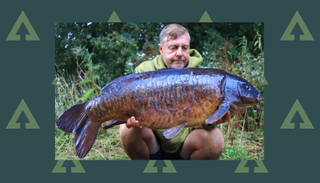 (Image credit: Angler's Mail)
Welcome to Advnture, the new home of AnglersMail.co.uk
Urban Bait boss Terry went on the show to try and expand the business in return for a 15 per cent stake in the company.
He clearly was not business minded enough to get Dragon money, and blanked on the evening.
Although Urban Bait boilies catch plenty of carp, none of the Dragons were hooked by the bait. Terry was unable to convince them that it was a worthwhile investment.
On the show Terry explained that he started carp fishing as an 11-year-old and was soon making his own baits.
He then went on to catch some of the biggest carp in the country with a PB of 54 lb.
The Urban Bait boss said "I set up my own bait company four years ago with one freezer in a garage and now have two units and an annual turnover last year of £480,000 but very low profit level.
"I want to expand the business but don't have the space or funding to do so, and am optimistic that with financial backing it could become one of the biggest bait companies in Europe.
Terry added: "I actually really enjoyed doing the show, I was nervous but it was a great experience.
"The producers canvass companies they think have something to offer and had been asking me to go on for a year. In the end I thought why not, I've got nothing to lose.
"In fact whatever the outcome, there is no better publicity than a show like this and the episode has already been watched by over 6 million viewers – its free advertising."
Urban Bait boss nets support
Terry explained: "I did an audition at White City then I went up to the studio in Manchester to film the programme about two months ago, and it took a day.
"Unfortunately, on the show I didn't reel 'em in and I was done hook, line and sinker but since it was shown I have been inundated with emails and messages, over 600 of each.
"I have been approached by banks and loads of millionaires expressing an interest in investing in the company.
"Of course you have to be careful to choose the right person but I'm sure I will now be able to raise the finance to expand.
'I have managed to do some fishing this year, spending 22 nights in all at places like Savay Lake and Woolpack, where I had a great session catching three 50-year-old warriors that I had fished for the first time round in 1991 when I was 19.
"I had my biggest this year, a 42 lb common, plus a 39 lb fully-scaled and a 38 lb linear," added Urban Bait chief Terry.
All the latest inspiration, tips and guides to help you plan your next Advnture!
Running from 1964 until 2020, Angler's Mail was the UK's leading weekly magazine devoted to coarse fishing, telling readers everything they needed to know about which fish to catch, where to catch them, and what kit they needed to do it. Now, loads of the magazine's expert advice can be found on Advnture.com, as a helpful resource for angling newcomers and experts alike.