Best high visibility vest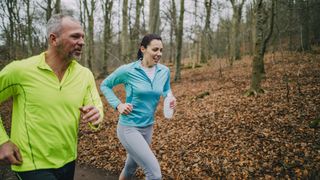 (Image credit: Getty)
Finding yourself on a highway after dark when running or walking can be a frightening experience. Knowing that you can't be seen properly by drivers is unsettling and a situation you want to remedy as soon as possible. The answer is to invest in some high visibility clothing. You can slip it on before heading out on a run or walk or keep it in your backpack for when dusk falls.
Using a luminescent yellow, orange or pink fabric with reflective strips, hi-vis clothing instantly makes the wearer more easily seen in low-light environments. It's no wonder it's a standard issue in the construction industry and among emergency workers. When worn for running, walking, and hiking, the breathability of your hi-vis garment is important. Pockets to stash small items in are handy too along with an adjustable fit so you can wear it over cold-weather clothing or just a t-shirt when it's warmer. Here is the reflective gear we would recommend:
Bottom line
High visibility clothing is essential for anyone who wants to be out running or walking when it's darker and they might come into contact with other road and trail users. You owe it to yourself to make sure you can be seen from a good distance to keep everyone safe. The high-vis clothing we would recommend to most people is the BALEAF Men's Cycling Running Jacket. If you are regularly running, cycling, or walking in low-light, you can't go wrong with this bright, lightweight jacket that will make you stand out and keep you dry if it rains. The level of breathability is impressive and the performance of this jacket generally makes it a good choice for anyone exercising outdoors.
For a more basic vest that you can slip on over other clothes when the light fails, the Reflective Vest Running Gear is a good choice. It does exactly what you expect at a good price and will be worth every cent if it helps drivers spot you in the gloom.
All the latest inspiration, tips and guides to help you plan your next Advnture!
Thank you for signing up to Advnture. You will receive a verification email shortly.
There was a problem. Please refresh the page and try again.