Friday 5: interview with record-breaking mountain climber James Forrest
The first in a regular quick-fire interview series with adventurers and outdoors people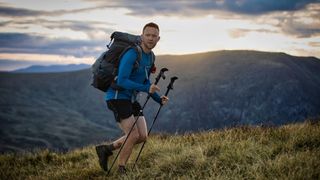 (Image credit: www.inov-8.com Dave MacFarlane)
Welcome to the Friday 5, a new interview series where we ask adventurers and outdoor people five quick-fire questions. To kick things off, we asked James Forrest to take the interview chair.
James Forrest is a British adventurer, hiker and author. He's best known for climbing all 1001 mountains across the UK and Ireland in the fastest known time. More recently, he broke the self supported record for completing all the Wainwrights in a continuous circuit.
If you could only keep one item out of all your outdoor gear, which would you keep and why?
Erm... tricky question. I absolutely love my MSR Hubba Hubba NX NX two-person tent, so perhaps I'd say that. It's so spacious and comfy inside, but still pretty lightweight and stands up strong against the weather.
Although can I please still keep some other things too? Other favourite items of mine are my Thermarest Questar 20F sleeping quilt sleeping quilt (much prefer it to the claustrophobic feel of a traditional sleeping bag), my Leki Black Series Micro Vario trekking poles , and my uber-grippy and ultra-comfy Inov-8 Roclite G345 GTX boots.
What's your pet peeve in the outdoors/adventure space?
Probably how utterly terrible the weather always is (!) – or perhaps how some cantankerous, old-school outdoorsy types can be really condescending and patronising to newbies on social media. We all had to start somewhere and I much prefer to see the outdoors community being kind, supportive and friendly.
If you could be instantly transported to the start of any adventure, what would it be, where and why?
I'd love to do one of the world's classic long-distance trails and take on a thru-hiking adventure for a few months – just me and the open trail. The start of the PCT, or maybe the Te Araroa trail in New Zealand would be my dream places to be transported to.
We're sitting round a campfire. Tell us a funny or entertaining story about one of your adventures
Back in 2016, I hiked and wild camped the Cotswold Way with my friend Joe. We set up camp one night in a small copse just outside Tormarton, oblivious to the fact we were about to sleep rough in the grounds of vacuum billionaire James Dyson's country mansion, Dodington Park. All was well, until at about 11pm two beaming 4x4 headlights sliced through the darkness and aimed straight for us. A short man, wearing a dark-green shooting jacket and with a rifle slung over his shoulder, stepped out of the car. The gamekeeper looked us up and down inquisitively, as if mentally calculating our worth. Was he angry, or bemused, or about to march us off the land at gunpoint? I couldn't tell. And then he said... "Look, lads – just don't disturb the pheasants, all right? They are more important than you." And that was that.
Is there any gear that's on your shopping list at the moment?
This is going to sound incredibly minor, but I hate it when you go wild camping but have an awful night's sleep because of the noise from the rain or wind. I've recently discovered a potential solution: silicone earplugs. I've heard good things about the EarHub Sleepwell earplugs and I've told Santa to put a pack in my stocking this year.
If I was being more extravagant, I'm really intrigued by the Milo action communicator – a walkie talkie like device for social adventures. It looks great for things like skiing and biking. I'm also fascinated by environmentally-friendly innovations in outdoors gear, such as the Jack Wolfskin Ecoloader 24 Pack, which is made using algae via an innovative manufacturing process, and the new On Cloudrock Edge Raw boots which are undyed and made from recycled materials.
To find out more about James and his adventures, visit jamesmforrest.co.uk
All the latest inspiration, tips and guides to help you plan your next Advnture!
An adventure writer based on Dartmoor, England, Emily is an active member of Mountain Rescue and a summer Mountain Leader, but loves all things adventure – before her third birthday she had lived on three continents. Founder of Intrepid magazine, she works to help break stereotypes about women in the outdoors. Her expeditions have included walking all Dartmoor's 119 tors in a single two-week outing, cycling to Switzerland and back, and riding the Rhine from source to sea.