Peak-bagging: your guide to Britain's great multi-summit challenges
Once you've got the peak-bagging bug, it's hard to look back: as Britain's most accomplished peak-bagger explains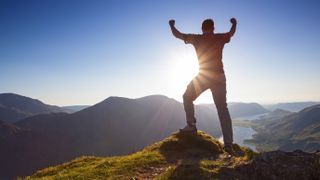 (Image credit: Getty)
Peak-bagging is ticking off, or 'bagging', a pre-defined list of mountain peaks. Each summit climbed is another one 'in the bag', so to speak. Dare I say it, but the common perception is that peak-bagging is for anorak-wearing, compass-wielding, middle-aged men who don't have girlfriends (or dislike their wives) – but that seems to be an outdated observation. Lists like Scotland's 'Munros', England's 'Wainwrights' and Colorado's '14ers' have gone mainstream, with social media flush with a new type of peak-bagger: families, solo women, experience-chasing millennials and BAME hikers. It's a wonderful thing to see. Isn't it time you got your hiking boots out and bagged some summits for yourself?
But what drives peak-baggers to spend their precious spare time climbing obscure lists of hills? Is their approach adventurous and admirable, or does it suck the romance and heart out of mountain-climbing? My personal belief is that peak-bagging is a double-edged sword. The negatives are that you can easily become a slave to the list, an unhinged fanatic slogging up a boring mountain in a loveless box-ticking exercise. But the positives are that it gives you an overarching mission, bringing structure and meaning to your hill-walking; encourages you to explore new places and have new experiences; and offers a wonderful sense of achievement when you reach a milestone.
Peak-bagging has genuinely changed my life. Aged 30, I was utterly fed up. A city-based, office-centric existence had left me feeling depressed – and in desperate need of deliverance from the mental mire I'd sunk into. So I challenged myself to bag the 'Wainwrights', the 214 Lake District fells described in Alfred Wainwright's seven guidebooks – and it brought me the solace I needed. In the city I felt agitated and frustrated, but out walking I was happy and free. I found the process of climbing mountains therapeutic. It cleared my head, helped me de-stress and put life's little problems into perspective.
Fancy packing your hiking backpack giving it a go yourself? Well, now that I've convinced you of the benefits of peak-bagging, here comes the complicated bit. There is, in fact, no universally accepted definition of a mountain in Britain. Two thousand feet is often cited as the required height, but not always – and there is little consensus about anything else. To be considered a separate mountain, distinct from its surroundings, does a summit need to have a drop of 15m on all sides, or 30m, or some other arbitrary figure? And is 2,000ft the correct qualifying height, or should it be 600m, or is relative height far more important than absolute height? Many questions, few definitive answers.
But let's not get bogged down with the geeky detail. If you want to become a peak-bagger, here are three of the best options for you. I'll presume the 'Seven Summits' – the most famous of all peak-bagging lists, consisting of the highest mountain in every continent – is out of bounds and unaffordable for mere mortals. So, instead, I've focused on three epic yet attainable British challenges:
Peak-bagging the 'Wainwrights' – the one for beginners
This list of 214 fells in the Lake District National Park is based on the seven Pictorial Guides To The Lakeland Fells by Alfred Wainwright. The list is extremely popular because it hits the sweet spot between challenging and achievable, thanks to Wainwright's poetic rather than mathematical approach to mountain classification. Unlike most peak-bagging lists, a 'Wainwright' doesn't have to reach a certain height. Instead Alfred includes lots of small, easy fells (Latrigg, Loughrigg, Castle Crag, to name but a few), judging peaks by virtue of beauty, drama and significance, not their height.
Peak-bagging the 'Nuttalls' – the one for the serious English or Welsh hill-walker
Based on The Mountains Of England And Wales books by husband and wife duo John and Anne Nuttall, a 'Nuttall' is defined as any summit of 2,000ft or more which rises above its surroundings on all sides by at least 50ft or, in metric terms, 610m and 15m. There are 257 in England and 189 in Wales – that should keep you busy for a few years.
If you don't fancy the 'Nuttalls', an alternative is the 'Marilyns' – a list of 2,011 peaks across the UK and Ireland (175 in England, 158 in Wales, 1,219 in Scotland, five on the Isle of Man, and 454 in Ireland), compiled in Alan Dawson's book The Relative Hills Of Britain. Dawson focuses on hills and mountains of any height with a drop of 150m or more on all sides, thus prioritising relative height over absolute height.
Peak-bagging the Munros – the one for those who love remote, rugged, wild terrain
Compiled in the 1890s by peak surveyor extraordinaire Sir Hugh Munro, the 'Munros' are an iconic list of Scottish mountains over 3,000ft. There are 282, including many of the UK's most dramatic and remote mountains, and completing the list is a lifelong ambition of all self-respecting British peak-baggers. For the truly intrepid, you can also combine the Munros with the Corbetts (Scottish peaks between 2,500ft and 3,000ft, with 500ft of drop on all sides), and the Grahams (Scottish peaks between 2,000ft to 2,500ft, with 150m of drop).
James Forrest's book Mountain Man: 446 Mountains. Six Months. One Record-Breaking Adventure is available now, published by Conway Books.
All the latest inspiration, tips and guides to help you plan your next Advnture!
James is passionate about hill-walking, wild camping and peak-bagging, and describes himself as a 'self-taught adventurer' – which is a polite way of saying he gets lost a lot (he once walked for two days in the wrong direction on the GR20 hike in Corsica). The first part of his three-year mission to climb 1,001 mountains across the UK and Ireland (including all 446 'Nuttalls' in England and Wales, the 273 Irish 'Vandeleur-Lynams', and Scotland's 282 'Munros') is recounted in the book Mountain Man: 446 Mountains. Six Months. One Record-Breaking Adventure.