10 biggest tench ever caught
The biggest tench ever caught changed radically after a sensational early summer period for the species in 2015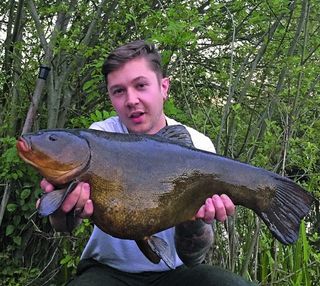 (Image credit: Angler's Mail)
Welcome to Advnture, the new home of AnglersMail.co.uk
Every wondered what the biggest tench ever caught is? Read on to find out.
In March 2015, the Angling Trust updated their record lists for species in conjunction with specialist angling groups.
The list provided by the Tenchfishers, was typical in having some contentious fish on it – the catch they listed at the top (16 lb 10 oz) is not recognised as the official British record by the British Record Fish Committee.
That honour belongs to the 15 lb 3 oz 6 dr tench by Darren 'Tetley' Ward caught back in 2001 at Feltham Piscatorials' club lake, Sheepwalk, near Shepperton, Middlesex.
So, when it came to creating our biggest tench list below, we stayed true to the British Record Fish List, and its efforts for accuracy and authenticity.
Three of the new additions to the table below were caught in recent weeks when this list was first created in 2015, and some other giant tench will have altered the Tenchfishers' own records further down.
Most were caught by carp anglers, on boilies aimed at carp – not a style of capture which is 'fitting', in the eyes of some anglers. But the list aims to document the heaviest of the species, not to judge on tactics used.
Read on to discover the biggest tench ever caught...
The biggest tench ever caught: the updated British top 10
1. 15.03.06 Darren Ward, Sheepwalk Big Lake, Middx. June 2001
2. 15.02.00 Mike Cox, Oxfordshire club lake, September 2007
3. 14.12.00 Dai Gribble, southern lake, June 2015
4. 14.11.00 Chris Bromley, Abbotts Lake, Hertfordshire June 2015
= 14.11.00 Will Hart, Southern Stillwater, June 2007
6. 14.08.0 Chris Jacob, Tippings Lake, Berkshire May 2015
= 14.08.00 Alan Brennan, Swangey Fen, Norfolk, July 2010
= 14.08.00 Karl Connolly, Fishers Green, Essex, October 2004
= 14.08.00 Gordan Bevan, Herts Lake, September 1993
10. 14.04.00 Gary Newman, Bury Lake, Herts August 1994
= 14.04.00 Stuart Harbour, Colne Valley lake, June 2015
The biggest tench ever caught by deliberately
After catching a 13-pounder down in Kent this spring, Stafford-based Dai Gribble recently weighed in with a 14 lb 12 oz giant down south by design, on specialist big tench tactics.
It's believed to be the biggest tench caught deliberately, and sits third overall on the list above.
Blogging for the Korum website, Dai revealed: "The water is large and little fished so it was difficult to decide where to fish, but by studying aerial photographs I located an area which I thought would make a good ambush point.
"Just before dark I cast out my favoured Heli-rig setups utilising Korum Adjustable Heli-rigs, together with a 2oz Combi Feeder and size 10 Specimen hooks tied to Xpert hook mono.
"My hookbait were rubber casters attached to the hook with a small rig ring. I baited the swim with my reliable mix of assorted 2mm Sonubaits pellets (S pellets, F1 and Krill), Sonubaits Hemp, casters and maggots."
All the latest inspiration, tips and guides to help you plan your next Advnture!