9 rock climbing holds you need to know
We get a grasp on nine different types of rock climbing holds that can help you move up the crag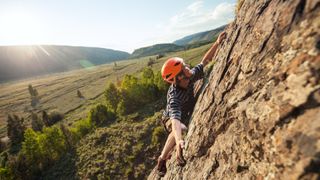 (Image credit: Daniel Milchev)
When you first start rock climbing, your approach is all about the vertical gain. As in: get your best climbing shoes on, look up, grab whatever you can, pull up and hope you don't fall off. But the more you climb, the more you realize there's a subtlety to climbing that requires different types of rock climbing holds for different routes and moves. Sometimes you have lovely big slabs to grab onto with your entire hand, and other times you need to get creative with tiny holds and reach down rather than up. In this article, we take a look at 9 different rock types of climbing holds you'll encounter as you start to get better at rock climbing.
1. Jug (bucket)
Jug holds are probably the ones you've already been doing if you're a beginner climber. These use those big rock protrusions that you can get your entire hand around, which means you have great leverage for pulling yourself up using the muscles of your arms as well as your hands and fingers. They don't require much finger strength and you can rest on these holds while you figure out your next move.
2. Horn
Horns are similar to jug holds, as they involve large rock protrusions, but in a horn hold you can get your hand around the back of the rock, which offers excellent protection and leverage.
3. Flakes
For most climbers, flakes are awesome if they're big enough. A flake is just a section or slab of rock that's detached from the main crag, leaving a gap between the two, and usually an excellent piece of rock for you to wrap your hand or hands around. Flakes can run in any direction and you can be reaching up, down, or out to the side to use one, but basically they always give you a really firm hold and potentially a place to rest.
4. Undercling
An undercling is any hold that you grip with your palm facing up, so it could be on a flake or a protrusion. These make you use your biceps to help you hug yourself closer to the wall, and it's useful to find good, high footholds while you're using it, to help you move upwards.
5. Edges (ledges)
Edges are just ledges on the rock, and they can be any size, from ones where you can use your whole hand to tiny ledges that are only big enough for your fingertips. They can be just a few inches wide or run the length of a cliff. Of course, if a big ledge is up above you, it's brilliant because you can reach up with both hands and pull yourself up, but ledges can run in any direction, including vertically, so you might also reach out to one side to grab an edge and use it to help you stay glued to the rock as you traverse.
6. Crimps
Crimps are tiny ledges that only have enough room for your fingertips, and crimpy holds become increasingly common as you climb harder routes. A full crimp involves bending your knuckles to about 90 degrees and the use of your thumb which can cause you to over-rely on your hand and finger strength, and therefore, full crimp holds are associated with tendon injuries such as finger pulleys. A half crimp involves the same degree of knuckle bend but doesn't use your thumb, and might mean you use it more to stay flat on the rock than to actually pull. The safest approach is called an Open Crimp hold where your knuckles are barely bent and you're not placing too much strain on your fingers. You may want to try hangboarding as part of your training to help increase your finger strength.
7. Slopers
Slopers are interesting because they use a bulge in the rock, but provide no discernible angle or edges for you to grip onto. As a result, your hand and fingers can be quite spread out. and it's difficult to rely on your hand strength. Sloper holds are quite advanced and it's best if you can get yourself under the hold before using it, keep your center of gravity low and get a good, high foot hold – and of course, use plenty of climbing chalk.
8. Pinch
A pinch hold in climbing just means that you pinch the rock, in this case between your fingers and thumb. Often, a pinch hold will be useful if it's out to the side of you and you're trying to traverse – reach out with one hand and squeeze the rock between your fingers and thumb so you have some security as you move across the crag. You won't have the pulling power you get with a jug hold, but it will be easier on your fingers than crimping.
9. Pocket
A pocket hold is when you use a hole – or pocket – in the rock. These may be big enough to insert your whole hand, making them easier to use, or so small you can only fit a finger or two. If it's the latter, make sure you use your middle and ring fingers, since these are the strongest according to a 2016 study in the Journal of Hand Surgery, although you should still be careful not to place too much tension on your fingers.
All the latest inspiration, tips and guides to help you plan your next Advnture!
Julia Clarke is a staff writer for Advnture.com and the author of the book Restorative Yoga for Beginners. She loves to explore mountains on foot, bike, skis and belay and then recover on the the yoga mat. Julia graduated with a degree in journalism in 2004 and spent eight years working as a radio presenter in Kansas City, Vermont, Boston and New York City before discovering the joys of the Rocky Mountains. She then detoured west to Colorado and enjoyed 11 years teaching yoga in Vail before returning to her hometown of Glasgow, Scotland in 2020 to focus on family and writing.