How to get better at rock climbing
We ask the experts for their top 11 tips for how to get better at rock climbing and improve your performance on the crag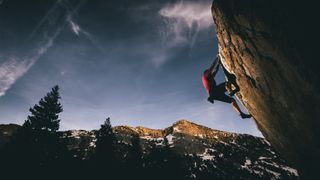 (Image credit: Vernon Wiley)
Whether you've just got your first pair of rock climbing shoes or you're a more practiced climber feeling like you've stopped making vertical progress and hit a plateau, learning how to get better at rock climbing helps you maintain a fresh approach and stay stoked about scaling rock.
When you first start climbing, it can seem like you're in a perpetual state of progress. Every day is new, exciting and ultra challenging. Some climbers need advice from the very start, while others seem to accelerate quickly in the beginning but inevitably come to a rolling stop. Whatever the cause, if you don't feel like you're improving anymore, or you find you're climbing the same old routes every time, you need some advice on how to get better at rock climbing.
To gather the best tips for this article, we spoke to Rek Nikol of KooKoo Climb as well as several seasoned climbers from around Scotland to find out what has helped them improve. Read on for their practical and creative approaches to helping you advance your climbing technique so you can keep growing on the rock.
1. Focus on your feet
In the beginning, it's easy to keep your eyes up and focus on your hands and arms, trying to scale the rock as though it were a ladder, according to Nikol.
"Beginners are usually very enthusiastic, and they love to throw themselves at the wall. They have a perception that climbing is all about strength, and often start doing push and pull ups at home>"
However, it's just as important to focus on your feet, and in particular bringing your feet up as high as possible. Nikols explains that trying to use as much of your foot as possible, something you might do intuitively, may not be the best approach.
"We advise you to use the front of your foot – that is as if placing your toe onto the footholds rather than the side of your foot."
Climber George Wicks recommends the following footwork drills that have helped him:
Silent feet: Focus on placing your feet as quietly as possible – this introduces an element of control, rather than blindly slapping your feet on the holds and making lots of noise, which is usually an indication of lack of control.
One touch: Once you place your foot on a hold, you are not allowed to move it. This teaches you to be precise the first time and hopefully gets rid of the bad beginner habit of bouncing your foot on a hold.
These drills are best done as a warm up for roughly 20 minutes, which means they're super convenient to do.
2. Train your mind as well as your muscles
Of course, there is physical training for rock climbing that you can do, and we'll get to that in a moment, but when it comes to climbing, often that crux move is all about mind over matter. If you find you're getting psyched out on a tricky move, Nikol's motto is "cool head, feet high," advising you to start thinking ahead, rather than waiting until you get stuck and then panicking.
"We see a lot that when climbers are above the last quickdraw and stuck, as the route is not obvious, they go a little into survival mode, and try to grab as high as they can."
Instead, start planning your route properly while you're down on the ground chalking up your hands.
"Ask for information about crux, look at the holds, and plan how you could approach the route with your body, and during climbing, always plan the next step for your feet."
Nikol's says the successful approach to sending a tricky move always involves the same two simple steps:
Breathe and find two good holds (these can be lower/shoulder level).
Raise your feet to a good position – as high as possible – and lift up.
3. Give yourself a second chance
Preparation is key to staying calm under pressure, but it can also have physical benefits too, according to climber Tobi Watson, who finally figured out that when it comes to your next move, you don't only have one chance.
"For a long time I felt like once you move up then you can't move back down at all – turns out that was wrong."
When seeking the next move or gear placement, Watson recommends the following approach:
Reach up for three seconds to scout the rock, then return back to a relaxed position.
Prep the gear you need or plan the move before then going for it again.
"This reduces the time you spend with arms bent under pressure and takes stress out of the harder moves," explains Watson. In other words, giving yourself more time will actually conserve energy and let you climb longer.
4. Balance your breathing
Another common mistake that climbers can fall foul to is unconsciously holding your breath, which you might be doing to focus or because you're under stress. Either way, it's not helping your performance.
"We often see climbers inhale, then hold their breath and push through hard moves, until they fall off tired, or get into a critical point and start shallow hyperventilation. Neither helps the body to sustain pressure, nor the mind to think how to approach the route," warns Nikols.
Instead, Nikols advises this steady breathing pattern that you should begin with you're approaching the wall, and keeping at it throughout the climb:
Take a deep inhale through your nose into your belly.
Hold the breath in for the count of four, but do not tense the diaphragm.
Exhale through a slightly open mouth (that creates valve-like pressure and slows down the exhale a little).
5. Strength training
In addition to climbing and mental preparation, there are of course exercises that you can do off the rock that can reap dividends once you're in your climbing harness. As well as working out your arms, Nikol recommends a strong focus on core strengthening exercises, and hangboarding:
Core work: Integrate dynamic movements such as sit ups and side plank crunches and wipers.
Hanging endurance: Work on your hanging endurance by hanging as long as you can on a bar.
Hangboarding: Easing into lattice work on a hangboard – hang on your fingers for 7 seconds, take a 5 second break, repeat 7 times, do three sets.
6. Open those hips!
Climbing is such an athletic endeavor because it requires both extreme strength as well as remarkable mobility in order to get really good, and oftentimes if you're not careful, one of those things comes at the expense of the other. Nikols suggests that giving ample attention to your ability to move your body, and especially your hips, through a large range of motion allows you to tackle increasingly more complex routes and moves.
"Being able to shift your weight in strange positions, and to raise your knees high up and step onto high holds often increases the climbing grade. We love yoga, hip opening exercises, back stretches. This is especially important for men who sometimes tend to overlook stretching and go full gorilla style."
For a good starting routine that won't eat up too much of your precious climbing time, try our yoga for rock climbing sequence after your next climb.
7. Climb with people who are better than you and push your limits
Kind of like how being the smartest person in the room isn't always all it's cracked up to be, there can be limitations if you're the best climber on the wall. Namely, there's no one to watch for inspiration on tackling that 6b route and no one who can help you figure out problems. Don't be afraid to find a climbing partner who is better than you – climbers are always up for talking about climbing and you can get some great advice this way.
Likewise, if you're not getting any better at climbing, it might be because you're not testing your ability on new and harder routes. If you always succeed on the same route, it can offer you a sense of accomplishment, but you're not likely to improve much doing so which will ultimately be harder on the old ego.
"Actually push yourself and try harder climbs. Many people tend to stick to climbs they can complete rather than pushing their limits," advises Wicks.
8. Down climb
This one sounds a little nuts, but it actually might just work. As climbers, we're all focused on the vertical, but climber Jon Mulrine suggests you skip the rappelling and start working on down climbing when you're at the gym.
"If you are climbing indoors on autobelays or top rope, try and down climb every route you climb. You'll build up extra stamina, develop muscle groups that don't get used for up climbing and refine your footwork."
This technique can also help you tackle tough hikes safely and with conscience, he adds.
"If you climb or scramble a lot outdoors you'll never regret spending time getting comfortable with down climbing."
9. Train sideways
While you're thinking about changing directions, here's another one – in addition to climbing up and climbing down, Nikols advises you to start working on moving sideways on the wall, otherwise known as traversing.
"Gyms usually have a line drawn at about two meters high that signals the point above which one shouldn't climb without a harness," explains Nikols. Instead of tying your figure 8 and moving beyond that line, stay below it and start going horizontal for as long as you can.
"This is a brilliant exercise that combines everything that climbing requires – finding good rest spots, planning ahead and executing movements, endurance and core strength, and the ability to use a variety of types of holds while shifting your body weight."
10. Nutrition, rest and recovery
In our article on Overtraining Syndrome, climber Rebekah Drummond shared that she had been caught in a cycle of over training, under resting and under nourishing as a young climber, and it turns out this can be a common obstacle to improving on the wall.
"To get better at climbing generally most people focus on the time at the wall or crag, although if you're undernourished, tired and stressed, it's safe to say you're gonna have a rubbish session," says Wicks.
"You should treat this like a workout and have a good meal with protein and carbs a few hours before, and obviously make sure sleep is decent the night before. If you're not quite feeling up to a big session if you're tired, perhaps dialing it back and working on footwork and slabby climbing may be the best option."
According to Nikols, being at the climbing gym every day may fulfill your social needs, but overdoing it can lead to injury and fatigue which will ultimately slow your progress.
"We strongly advise you to take rest days. Climbing can be damaging to the finger skin, tendons and muscles in fingers, hands, arms, back, legs, you name it, so rest well."
11. Climb the miles!
Finally, there's no replacement for experience and the best way to get better at climbing is to climb. Of course, this can sound contradictory to the previous advice about not overdoing it, but Nikols has some great advice for getting your miles in without wrecking your body. First of all, no matter what grade of route you're trying to get to, always warm up on easy routes.
"There is no shame in climbing easy routes, and a warm up prevents injuries, gets the nutrients flowing, and gives you head space to tackle more difficult projects," he says.
Once you're warm, you can move on to your project routes, but when you get too tired to climb them, instead of quitting, go back to climbing on easier routes to get the miles in.
Finally, if your belayer doesn't mind, climb an easier route three times in a row, or go up and down on repeat on auto belay.
"This fixes the muscle memory for certain moves, and helps you to manage the stress from being tired whilst still keeping up technique on routes you manage well."
All the latest inspiration, tips and guides to help you plan your next Advnture!
Julia Clarke is a staff writer for Advnture.com and the author of the book Restorative Yoga for Beginners. She loves to explore mountains on foot, bike, skis and belay and then recover on the the yoga mat. Julia graduated with a degree in journalism in 2004 and spent eight years working as a radio presenter in Kansas City, Vermont, Boston and New York City before discovering the joys of the Rocky Mountains. She then detoured west to Colorado and enjoyed 11 years teaching yoga in Vail before returning to her hometown of Glasgow, Scotland in 2020 to focus on family and writing.