The best women's climbing shoes 2023: for indoor climbing sessions, valley cragging and all-day mountain adventures
Our selection of the best women's climbing shoes for crag days and gym sessions, whether you're into bouldering, trad or sport climbing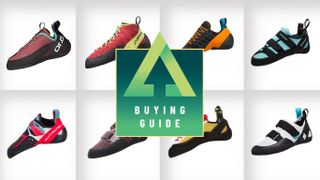 (Image credit: Future)
Choosing the best women's climbing shoes can be a mind-boggling experience, whether you're gearing up for sport climbing, focusing on your next redpoint project, eyeing up a bouldering problem or climbing at your local wall. There's a big selection out there, but locating a pair that fit comfortably, perform well and look good on the wall, while not making your feet too sweaty or breaking the bank, can be a challenge. They are an essential part of your climbing gear list, so it's important you make the right choice for you.
Our guide looks at the various features, functionalities and designs of the best climbing shoes out there. Versatility, comfort and build quality should all be factored into your choice, whether you're at the rock climbing for beginners stage looking for your first ever climbing shoes, or upgrading a favorite pair. What makes the "best" climbing shoes is dependent on many personal preferences, especially when weighing up considerations such as all-day-comfort levels, technical precision for boulder problems, and stiffer soles for longer routes.
For your information, I tend to have a normal-to-slightly wider footbed, with a neutral arch and medium-high volume foot, which means I wasn't just tied to testing low-volume (LV) women's-specific shoes, but rather have reviewed a mix of women's and unisex climbing shoes. All the shoes were tested outdoors on limestone, in addition to being worn inside.
From well-known, outdoor shoe brands such as Scarpa and La Sportiva, to rockhoppers' favorites like Tenaya, Boreal, Black Diamond and the revamped Five Ten, the following are the best women's climbing shoes you can get today.
Best women's climbing shoes for versatility
Lightweight, sensitive shoes that provide feet with support even when extreme edging
Specifications
Weight (per sole):
220g / 7.8oz
Outsole:
Vibram XS Edge 4mm
Upper:
Suede and Microfiber
Compatibility:
Sport and trad climbing, and bouldering
Reasons to buy
+
Downward turn
+
Grippy rubber
+
Very supportive
+
Good for high-volume feet
Reasons to avoid
-
Tight when feet expand in hot weather
Harder, better, faster, stronger – a precise performance shoe that encourages you to live by Daft Punk's mantra, thanks to its lace system, which allows for a much more noticeable, accurate fit, leaving no excuse for anything other than precise foot placement.
The fit bestows confidence and trust that the shoes could power you through everything from dinky pockets to high ledges for better transference. An aggressive last helped me push down through the toes, so even finding tiny edges on overhanging routes meant I could get purchase on holds I wouldn't normally trust.
The shoes' sensitive nature meant I could really feel where I was placing my feet, while the super-grippy Vibram XS Edge rubber made sure they stayed in place. But, as with all climbing shoes, the smaller, more aggressive sizing does have its slight drawbacks – they didn't feel comfortable when my feet inevitably started swelling in the hot weather, and I would advise against sizing down for this reason.
With the correct sizing, the Scarpa Instinct Lace are a technical powerhouse that will enhance any climber's collection.
A unicorn shoe! Versatile, well-balanced climbing shoe that's easy to adjust and technically suited to multiple rock surfaces
Specifications
Weight (per shoe):
170g / 6oz
Lining:
TXT-treated cotton
Outsole:
Vibram XS Grip 4mm
Compatibility:
Bouldering, outdoor and indoor climbing
Reasons to buy
+
Super comfortable
+
Easy to adjust
+
Supportive front rand
+
Good for slabs and vertical routes
Reasons to avoid
-
Light blue microfiber shows up dirt and sweat easily
Combining the precision and tight-fitting capability of a high-performance rock-climbing shoe with the desired flexibility and comfort of a middle-of-the-road climbing shoe, the Tenaya Ra LV is a low-volume version of the brand's popular Ra shoe, designed for tactile climbers who like to feel the rock surfaces beneath their feet. In these shoes, all your movements will transfer onto the rock below your toes.
In all honesty, I was initially unsure about the Tenaya Ra LV, with it being a velcro-strapped shoe. However, my expectations were completely exceeded by the technical performance. The fit was correct for my foot, the insole (TST multi-layer Stretchtex) and midsole (2D PLT 10) supplied good comfort, and I found them versatile, practical and quick to put on and take off.
This is a shoe that suits both beginners and experienced climbers, and works in an all-day scenario. It's ideal for bouldering and technical sport climbs, and good for multi-pitch climbs.
Familiar-feeling shoes that will still appeal to die-hard fans of the old Five Ten Pinks for your future wall adventure
Specifications
Weight (per shoe):
200g / 7oz
Outsole:
Stealth C4 rubber
Upper:
Partially lined microfiber
Colors:
Core Black / Crew Red / Acid Mint
Compatibility:
Outdoor and indoor climbing
Reasons to buy
+
Sticky rubber
+
Good for edging
+
Good for technical moves
Reasons to avoid
-
Slightly narrower
-
Regular width
-
Takes time to break in
Face or crack. Granite, limestone or sandstone. The choice is yours when wearing a reliable pair of the updated Five Ten NIAD Lace climbing shoes.
For the traditionalists, who might view "updates" to their favorite climbing shoes with suspicion, the NIADs are here to replace the Five Ten Pinks and they've been launched with their familiar dusty pink and duck-egg blue logo design, but with a twist.
At first, the NIAD Lace might look like a bit of a "fashion" climbing shoe. The exterior packaging, with its minimalist embossed logo design and much smaller box sizing, suggests the product is aiming at a different, broader-based market to the climbers Five Tens were targeting. A blue, diamond-shaped icon, plus black squiggles on the dusty red lining fabric are, in fact, cleverly thought-out details relating to a topo of the infamous rock feature, The Nose, in Yosemite National Park.
Five Ten have reduced weight and size, yet managed to retain a variety of technical features. The versatile Stealth C4 rubber edges grip and smear across all surfaces, both indoors and out. The form-fit heel and stiff midsole provide a positive feel whether you're standing up on sloping plastic holds at an indoor wall, or committing to starting moves on limestone. A lined toe box enhances comfort too, which is definitely appreciated when climbing in cooler temperatures, but might feel a bit tighter in fit in hotter temperatures.
Best women's trad climbing shoes
Supplying maximum efficiency on micro edges, this is a go-to lace-up climbing shoe for vertical or slightly overhanging routes and boulder problems
Specifications
Weight (per shoe):
170g / 6oz
Lining:
TXT-treated cotton
Outsole:
Vibram XS Grip 4mm
Colors:
Yellow & White, with an option of Red & Black laces
Compatibility:
Bouldering, outdoor and indoor climbing
Reasons to buy
+
Easy to adjust
+
Good for vertical routes
+
Good for small features (perfect on limestone)
Reasons to avoid
-
Can be fiddly to adjust lacing
-
Smaller Tenaya sizing
-
Can feel a bit tight later in the day
The Tenaya Masai is a distinctive, multi-climbing unisex shoe. Up until this group test, I had often longingly admired them from afar, with their distinctive yellow-and-white upper, and some rather jazzy lacing. Trad climbers (often those who rave about their Anasazi Blancos) have mentioned how much they like the stiffness of a Tenaya Masai, so with a Costa Blanca limestone climbing trip coming up, I was keen to try them out, seeking out routes particularly known for smearing and technical moves.
During this test, the Masai was one of the best for pitching as an ultra-sticky, technical climbing shoe, sensitive for edging and finding purchase on the smallest of holds. The TST multi-layer Stretchtex insole and 2D PLT 10 midsole combine to supply good comfort levels. With a combination of breathable synthetic materials, a sticky rubber outsole and a tongue that allows the shoe to be put on with ease (rather than a fixed tongue) the Masai is a shoe that combines functionality and form, well-suited to small edges, rounded holds and cracks galore.
A pair of retro-styled, classic-looking but comfortable climbing shoes for crack climbing on big routes and long days
Specifications
Weight (per shoe):
155g / 6oz
Outsole:
Boreal Zenith Pro outsole. 4-4.5mm thickness
Compatibility:
Outdoor climbing, including multi-pitch routes
Reasons to buy
+
Durable
+
Low volume toe
+
Cushioned ankle support
Reasons to avoid
-
Rubber doesn't feel super responsive
-
Heavy
The Boreal Ballets have been optimized for the demands of trad and big wall climbing, and offer a stiff midsole for support, and a high-cut collar for ankle protection.
The last shape features a low-volume toe, with mild downturn and a more symmetrical fit for increased versatility and comfort. Durable and sticky Zenith rubber is used on the outsole.
If you're after a climbing shoe that has an eye on performance, this shoe is well suited for bouldering, multi-pitches and indoor climbing. The split-leather upper features a lace closure for optimum fit, and boasts an extra rubber toe patch and ankle protection for crack climbing.
Best women's sport climbing shoes
Super-aggressive, high-performance climbing shoe suitable for steep climbing, and powerful pockets and smears whilst bouldering
Specifications
Weight (per sole):
210g / 7.4oz
Lining:
HF (toe-box and arch area only)
Outsole:
Vibram XSGrip2 – 3.5mm
Upper:
Leather / Lorica mix
Colors:
Hibiscus / Malibu Pink
Compatibility:
Bouldering and indoor climbing
Reasons to buy
+
Easy to tighten
+
P3 system tension ensures aggressive shape
+
Fast lacing
+
Easy to grab loops
Reasons to avoid
-
Not super versatile for outdoors
-
Uncomfortable for long routes
Want to climb like a pro, such as Brooke Rabatou or Margo Hayes? Of course you do! And according to La Sportiva, the brand's Solution Comps are a go-to shoe for indoor competition climbers.
Designed for maximum performance in climbing competitions, the inspiration for a comp-specific shoe originates from an update on La Sportiva's famous Solution climbing shoe. The tweaks include a women's specific fit, which focuses on lower structural rigidity alongside technical features such as greater coverage at the front, thanks to the rubber toe cap designed for toe hooks on overhangs and a more tapered heel to favor heel hooks on micro-holds. Perfect distribution of tension is guaranteed thanks to the P3 System technology, which allows the shoe to maintain its shape over time.
The La Sportiva Solution Comp is a soft, precise, very elastic and reactive climbing shoe. The lacing is noticeably precise and quick to adjust for tighter/looser fit, thanks to the Fast-Lacing system, which made it super straightforward to take off, compared to a traditional thick velcro strap. It has a lock-harness construction for a perfect foot binding, supplying confidence. The XS-Grip2 sole provides maximum grip for a precise and safe climb on rough, large volumes.
If you're looking for a precise, technical climbing shoe the Solution Comp is the go-to competition option.
Best women's climbing shoes for beginners
Comfortable, relaxed climbing footwear, among the best women's climbing shoes for beginners
Specifications
Weight (per shoe):
155g / 6oz
Colors:
Black / Alloy / White
Compatibility:
Beginners, indoor climbing and bouldering
Reasons to buy
+
Female-specific last
+
Durable
+
Comfortable
+
Easy on/off
+
Affordable
Reasons to avoid
-
Not great for edging/ technical moves
-
Uncomfortable for larger, wider feet
The Momentums have a flat neutral last, a soft midsole and a breathable upper fabric, made with Black Diamond's Engineered Knit Technology (EKT) that keeps feet from getting too sweaty.
If you're just starting out and you are looking for a comfortable pair of climbing shoes that won't break the bank (or if you're encouraging others to take up the sport) the Momentum is the ideal model. Despite its beginner credentials, the fabric packs some technical features. The mesh structure has been specifically designed to ensure there's both stretch and comfort, but the shoe also offers some rigidity and retains its shape.
They close with two velcro straps, for ease-of-fit adjustability, and the soft toe rands and flexible midsole supply good levels of comfort. There's not so much here for those operating on steeper, slightly overhanging walls though – this is very much a shoe for entry-level climbers wanting comfort and ease of use.
How to choose the best women's climbing shoe for you
Choosing the best women's climbing shoes involves a number of considerations. A major one, of course, will be what you're going to be using them for – climbing indoors, or sport climbing, trad climbing and bouldering or a combination – but personal preference in terms of material, designs and your climbing style will determine whether a shoe feels right for you.
Climbing shoes are one of the most important pieces of equipment in your crag pack. More so than most other kinds of sport shoe, they need to fit perfectly – finding the best climbing shoe for your feet can mean looking at both female-specific shoes (narrower, lower in volume) and unisex versions in order to fine tune the fit. Ultimately, wearing the best women's climbing shoes shouldn't make your feet painful or distract your focus from the climbing – instead you should be able to trust your footwork to commit on steeper, smaller holds. (Oh, and if you just starting your climbing journey and you come across some references here that make you go, "Huh?" feel free to browse our articles on rock climbing terms and rock climbing for beginners).
Versatility
Ask yourself how much you would like your climbing shoes to do. Will they need to be versatile enough to use across a range of activities, from day-to-day wear, practising climbing at your local wall, to long multi-pitch routes, or technical, precise sport climbing?
Support & rigidity
Different climbing shoes will provide a range of rigidity across the foot, from bespoke technical arch support that literally hold the foot in place, to a rigid midsole to support your calves and prevent them from becoming tired on longer, steeper routes.
Conversely, softer soles can allow for greater sensitivity on slabs. Choosing a climbing shoe that has a good rubber sole, such as Vibram XS Grip, will determine the amount of grip and power transference you get on smaller holds, thus inspiring greater confidence from the shoe. If you're looking to climb on steeper headwalls, a stiffer sole might suit you best, while people who are aiming for shoes that allow them to pad up delicate rockfaces may prefer a softer sole.
Looks
Does the shoe have a neutral profile, or a slight downturn? A downturn will suit boulderers or those wanting steeper sport climbing routes, while a neutral shoe that's less aggressive and not too tight will be better suited for those who want more of an all-rounder trad/sport and bouldering shoe.
Velcro or laces?
Some climbers may prefer the convenience of velcro, which enables you to take shoes on and off super quickly; this is especially handy for making those tiny micro-adjustments for a better fit when the routes become more technical. Others prefer lacing, which supplies a more secure and evenly-distributed fit.
Sizing
The best women's climbing shoes can vary widely, and those who want more sensitivity may find that they need to drop down to a size, or half a size than their trainer size. Be careful, though, because brands differ. For instance, Tenaya and La Sportiva sizing came up much smaller, whilst Black Diamond and Boreal came up larger during the test. Try before you buy if possible.
Protection vs weight
If you're intending on doing a lot of climbing that involves cracks and toe torques, or balancing on tiny edges, then good toe protection and a supportive midsole both contribute to the shoe's rigidity; it's worth paying a weight penalty to have these features. Climbing shoes can vary in weight, and if you're looking at all-day comfort, a heavier climbing shoe may be more robust and protect your feet more, while a lighter shoe will be less noticeable.
Breathability
The ability to keep your feet dry is good, so a breathable material is a massive bonus in helping towards all-day comfort. Velcro (as opposed to laces) can also help with encouraging feet to vent in-between climbs.
All the latest inspiration, tips and guides to help you plan your next Advnture!
A former brand ambassador for Merrell and current Ordnance Survey #GetOutside Champion, Jessie Leong's lifelong outdoor odyssey began with Duke of Edinburgh's Award walks in the Peak District. This segued into long hill hikes in the Yorkshire Dales, multi-day treks in the Lake District, scrambles in North Wales and adventures scaling alpine pinnacles. When not walking, she can be found rock climbing, wild swimming, cycling, photographing, filmmaking, writing and modelling. Jessie's most recent claim to fame is playing a Miss World contestant in the 2020 feature film Misbehaviour.