Ever thought about track running – but been too scared to give it a try?
We reveal the benefits of running on a track – and how to get started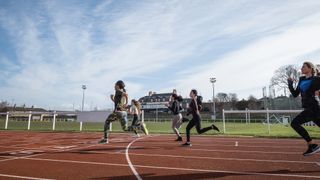 (Image credit: Getty Images)
Running should be fun and for many people that is enough. But what if you are keen to run a bit faster, or you want to achieve a personal best (PB) time in a forthcoming race? One of the best ways to increase your pace and decrease the time it takes to run a set distance is to take part in regular track sessions.
Is track running a good idea?
Research shows that track running, especially interval sessions for runners, where you focus on running faster for a short but set time, will improve overall speed in longer challenges, whether it's a 5k, marathon or ultra distance race.
There is scientific evidence, such as a study of 42 runners in America in 2018, which found that runners who included harder efforts over shorter distances – 200m intervals – improved their speed as well as VO2 max and leg strength, while they also lost body fat.
Further research showed that high intensity exercise may be an important success factor for designing effective exercise programmes and that high intensity may be particularly critical for improving cardiac function.
In addition, there are case study examples, of how track training can have a positive outcome. When Kenyan runner Eliud Kipchoge became the first person to break the sub-two our marathon, he included a mix of hard and easy efforts, strength work and track training in his build up to the race.
But track running scares me…
"There is no hiding on a running track," a friend told me recently. "Everyone can see you and it's obvious how fast or slow I am running."
Many runners find the idea of track running intimidating. In contrast, when you are running in a group in the park or on trails, you may feel less conspicuous because most runners have their mind on other things when running, such as chatting to friends or looking at the views.
However, it's on the track, where pace and distance can be so easily measured, that runners can make the most significant gains.
Most tracks are 400m in circumference with 100m markings throughout. You can easily see the markers and it's possible to keep an accurate time of each lap. This means you can run short intervals at a faster pace.
As noted above, running faster intervals as part of a mixed programme of running can make you stronger and faster overall.
How to enjoy track running
One of the best ways to try track running is to join a local running club. In this way, you will be part of a group and there will be a coach to tell you what distances to run.
The chances are you'll be part of a supportive group and with people of different fitness levels and experiences.
Remember that when people are running they are usually focused on their own session, rather than what other people are doing. This means you can be part of the running session but not feel like people are watching or judging you.
In addition, running with other people on a track gives you motivation and incentive to run faster. If you are with other people, who are also trying hard, the chances are you'll feel like doing the same.
If you still feel intimated by the idea of track running with a club, you could start by doing some track running on your own. Find a local track that is open for the public to use and run when you believe the track is most likely to be empty. For example, early morning, later in the evening or weeks days when many people are at school or work could be good times to try a track running session.
Another idea for people intimidated by track running is to go with a friend, or with a personal trainer.
More reasons to try track running
It makes a change. Doing the same runs, especially the same running routes, whether on tarmac or trail, can be boring. Many runners also stick to their own comfort zone of pace and distance. Doing a track running session adds variety to your running programme and this is likely to keep you more motivated and focused.
Easy to measure progress. A track allows you to easily track your progress when it comes to pace. Because tracks are flat and even underfoot and there are 100m markings, as well as a 400m lap, you will be able to see session after session whether you are getting faster and fitter.
You'll meet new people. If you join a running club that heads to the track each week, you'll be more likely to meet similar people.
New goals and races. There are races that take place on a running track, from 100m sprints to 24-hour challenges. It could be that once you get used to track running you and you enjoy it so much that you want to take part in track running challenges.
Are there any negatives to track running
Doing too much of one type of activity could lead to injuries. For example, it might be that you try to run too hard too soon on a track before warming up or before building up properly over the weeks. Always follow the advice of a running coach or personal trainer when starting a new activity.
Running tracks are flat and even which is good if you want to push yourself to run faster but it can leave you less experienced in running on the roads and trails. If you send too much time running on pristine tracks and not enough on other surfaces, you might end up becoming the master of smooth surfaces and not so good on other terrains.
Track running can become dull. Running round and round a track is unlikely to be as interesting as running on different trail and tarmac routes where you can enjoy a range of sights and sounds.
Why not give track running a try?
In conclusion, track running has been shown to be great for improving a runner's speed and strength if done as part of a mixed programme of running. Make sure you follow the advice of an expert when starting out on a track and it could be a good idea to join a club.
Overcoming your anxieties and fears of track running could be the route to becoming a more accomplished and better performing athlete, but remember that only doing one kind of running discipline might leave you bored and frustrated, so you should try to combine it with different sessions, from trail routes, to strength training sessions, plus shorter and longer sessions.
All the latest inspiration, tips and guides to help you plan your next Advnture!
Fiona Russell is a widely published adventure journalist and blogger, who is better known as Fiona Outdoors. She is based in Scotland and is an all-round outdoors enthusiast with favourite activities including trail running, mountain walking, mountain biking, road cycling, triathlon and skiing, both downhill and back country. Her target for 2021 is to finish the final nine summits in her first round of all 282 Munros, the Scottish mountains of more than 3,000ft high. Aside from being outdoors, Fiona's biggest aim is to inspire others to enjoy the great outdoors, especially through her writing. She is also rarely seen without a running skort! Find out more at Fiona Outdoors.