Is rock climbing a good workout?
Is rock climbing a good workout? We look at the main muscles used in rock climbing plus other surprising benefits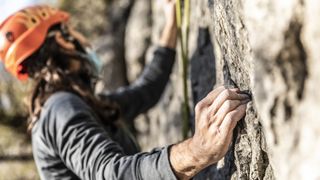 (Image credit: massimo colombo)
Is rock climbing a good workout?
If you're an experienced climber, it will seem like the answer is obvious, but if you're just getting started with rock climbing, it's a fair question. After all, like many athletes, expert climbers make their sport look effortless, even when they're free soloing the Dawn Wall. But of course if you look closer, you'll see how absolutely shredded they are, and it's mostly due to the time they spend on the crag.
Though we tend to associate aerobic activities like trail running and cross country skiing with "good exercise", rock climbing actually provides a phenomenal workout, and not unlike cross country skiing, it works your entire body. Think about it for a moment – not only do you perform constant complex and dynamic movements that bring all four limbs overhead, there are the additional actions of pulling yourself up the wall plus pinning yourself against the wall to keep from falling. All in all, that's a lot of muscles used.
Working a lot of different muscles at the same time by asking them to do different actions under stress has been found to be one of the most effective means of increasing strength and fitness, which is why cross training has become so popular in recent years. But instead of mixing up your workouts at the gym, you can just keep trying different routes on the wall, or different approaches to the same route, and you'll ensure a hefty return when it comes to physical conditioning.
Want to know more? We took a look at just some of the ways rock climbing makes for a good workout.
How does rock climbing build upper body strength?
Upper body strength is usually the first thing to spring to mind when you think about the muscles used in rock climbing, and while it's not the whole picture, your hands, wrists, shoulders, chest and back definitely take a good share of the load.
Any time you reach your arm up overhead, grab a hold and pull, you recruit major muscles like your latissimus dorsi, rhomboids, deltoids, biceps, trapezius and serratus anterior, a bit like doing a pull up at the gym and that's not to mention all the small muscles in your wrists and hands working to maintain the hold.
Or let's say you're standing on a tiny toe hold considering how to move three feet across the wall and using the fingertips of both hands to pin yourself as close to the wall as possible. Here you're strengthening similar muscles that you would on a rowing machine, like your biceps, triceps and pectoral muscles.
How does rock climbing recruit your core muscles?
Strong arms definitely go a long way in rock climbing, but it should come as no surprise that you can't really compensate for a weak core. Your abdominal muscles are basically working non stop when you climb, both to stabilize you and every time you bring a knee up.
Your transversus abdominis works to stabilize your spine while you reach your arms and legs in various different directions, your rectus abdominis and obliques work when you're flexing your spine, AKA rounding your back like when you're doing a lay back and they also perform movements like side bending and rotation of your spine which you'll do more and more of the more complex routes you tackle.
How does rock climbing strengthen your legs?
Next come your legs, which work in tandem with your arms to push you up from below and – depending on the move – pull you up the wall at times too.
Any time you're on your tiptoes, which you are most of the time in climbing, your calves are quivering away. Meanwhile, when you need to get your feet high, let's say during a mantle, your quads will initiate the push down and of course your glutes will come into play when you straighten your leg at the top of any move. And then there's the infamous heel hook, which requires a lot of hip flexor strength to get your foot up overhead in the first place, and then hamstring strength for the follow through.
Is rock climbing cardiovascular?
Even though it doesn't look like running, rock climbing provides a pretty intense cardiovascular workout too if it's challenging enough. Don't believe it?
Try doing a couple of minutes of bear crawling. Get down on all fours then lift your knees a couple of inches off the floor and crawl around in different directions. Are you out of puff yet? Though not identical, this is a pretty good way to simulate the movements you'll do on the wall and that's without the pulling actions needed to stay on the wall! The more challenging the climbing, the more of an aerobic workout it will provide.
Are there mental benefits to rock climbing?
Finally, rock climbing can give your mind and brain an amazing workout too. A study by the University of North Florida found that activities like balancing on a beam or climbing a tree, which they term "proprioceptively dynamic activities," improve memory and cognitive skills almost instantly. Let's face it, when you're working your way up a route you're not only moving your body – you're doing non-stop problem solving, advance planning, practicing safety and negotiating your gear. That's some serious brain training.
If you're looking for a full body workout that never gets boring, rock climbing should be up near the top of your list. You're guaranteed to get home feeling physically and mentally spent after a day on the crag, and you'll definitely want to use our yoga for rock climbers sequence designed for recovery on your rest days.
All the latest inspiration, tips and guides to help you plan your next Advnture!
Julia Clarke is a staff writer for Advnture.com and the author of the book Restorative Yoga for Beginners. She loves to explore mountains on foot, bike, skis and belay and then recover on the the yoga mat. Julia graduated with a degree in journalism in 2004 and spent eight years working as a radio presenter in Kansas City, Vermont, Boston and New York City before discovering the joys of the Rocky Mountains. She then detoured west to Colorado and enjoyed 11 years teaching yoga in Vail before returning to her hometown of Glasgow, Scotland in 2020 to focus on family and writing.