The benefits of cross country skiing: why you should try it this winter
The benefits of cross country skiing outweigh other types of skiing, and it's a fantastic way to escape the resort crowds and explore the wilderness in winter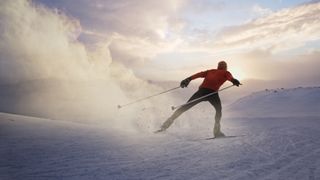 (Image credit: Per Breiehagen)
Watching the puff of your breath in the crisp, cold air as you glide through soft snow in Nordic skis just feels like it has to be good for you, but is it as good for you as other winter sports? In this article, we take a look at the compelling benefits of cross country skiing and make the case for you to take it up this winter.
In cross country skiing, also known as Nordic skiing, you use your own locomotion to travel across terrain that may be flat or hilly using movements like striding or skating, and often using your poles to help propel you forward. Cross country skiing can be a recreational activity that takes place in the back country or a Nordic ski resort, or a form of transportation, and it's harder work than riding a ski lift up and zooming down.
Best of all, cross country skiing is a bit more accessible than downhill skiing, which can be more dangerous and expensive, and it's a great way to escape the crowds that you often find at ski resorts.
All types of skiing bring great physical and mental health benefits, and while cross country skiing might not carry the same adrenaline rush vibes as downhill skiing, the benefits of cross country skiing outweigh the other styles by a mile. Now that the weather is turning colder and your hiking boots are heading for storage, our list of benefits of cross country skiing might just be the motivation you need to stay out of the gym and on the trails this season.
1. It's the best known form of cardiovascular exercise
While alpine skiing is a bit more about the adrenaline rush than aerobic activity, cross country skiing makes a more than adequate replacement for being in the gym in winter, according to Pete Petrovski, Senior Manager of Adult Ski School in Beaver Creek, Colorado who oversees Nordic and Snowshoe operations.
"One great benefit of cross country skiing is the cardio workout it gives you; it's an excellent opportunity to be outside in the winter while staying warm and working out," said Petrovski.
In fact, cross country skiing is reportedly the best cardiovascular exercise known, according to the book Essentials of Strength Training and Conditioning (by G Gregory Haff and N Travis Triplett), which found it to come in ahead of activities like long distance running, snowshoeing, cycling and rowing.
In cross country skiing, you use your arms and legs to move forward and you're carrying the extra weight of skis and ski boots on your feet. Cardiovascular exercise has obvious physical benefits, such as weight loss, reduced blood pressure and strengthening your heart and lungs, but studies have shown it can also have mental benefits such as improving your concentration span.
2. It's a fat burner
As an extremely aerobic form of exercise, it goes without saying that one of the benefits of cross country skiing is that it burns up loads of calories, and the fact that you do it in a cold setting boosts this benefit even further. Any time you exercise in cold temperatures, your body has to work harder to maintain homeostasis (constant temperature), which requires more energy, so basically cross country skiing trumps hot yoga any day of the week.
3. It strengthens all the major muscle groups
Cross country skiing is a full body workout, like swimming, that uses and strengthens all the major muscle groups in your arms, chest, back, abdominals and legs.
4. It's easy on your joints
Despite the strenuous physical workout it provides, cross country skiing is actually a low-impact sport. High-impact sports like running and jumping have you coming further off the ground and landing more heavily, which can damage your joints and muscles over time. Even though your feet leave the ground during cross country skiing, the movement is more of a glide and therefore much kinder to your joints.
5. It helps improve your balance
To be fair, all forms of skiing are great for improving your balance since they all involve staying upright on slippery surfaces while wearing skinny planks on your feet, but the shifting of your weight from side to side combined with the different strides involved with cross country skiing really up the ante when it comes to improving your balance and strengthening your stabilizing muscles. Having good balance helps prevent injuries and supports overall movement, and it becomes more important as you age.
6. It helps with your coordination
As your balance improves, so will your coordination, which is the ability of different parts of your body to work together effectively. Coordination utilizes the cerebellum, which plays an important role in motor control, and can be improved by doing complex physical tasks, like cross country skiing, where your arms and legs are doing different things but have to work together to keep you upright. Improving your coordination doesn't only make you better at cross country skiing, it helps you with all physical activities and might even help you process information faster, which is a function of your cerebellum.
7. It boosts your mood and wellbeing
The scenic settings of cross country skiing combined with the social nature of the sport make it feel intuitively wholesome, and the science seems to back this up. Exercise and spending time in nature are both proven to pack some serious mental health benefits, from helping with depression to lowering stress levels.
Petrovski reflected that this particular benefit is amplified in cross country skiing over some other types of skiing because it's not as high velocity.
"Another benefit is that the pace of cross country skiing gives you the ability to observe what's around you, and really be at one with nature."
We discuss this in more detail in our article on green exercise, but suffice it to say, cross country skiing gets you out into the great outdoors and life outdoors is better.
All the latest inspiration, tips and guides to help you plan your next Advnture!
Julia Clarke is a staff writer for Advnture.com and the author of the book Restorative Yoga for Beginners. She loves to explore mountains on foot, bike, skis and belay and then recover on the the yoga mat. Julia graduated with a degree in journalism in 2004 and spent eight years working as a radio presenter in Kansas City, Vermont, Boston and New York City before discovering the joys of the Rocky Mountains. She then detoured west to Colorado and enjoyed 11 years teaching yoga in Vail before returning to her hometown of Glasgow, Scotland in 2020 to focus on family and writing.