Running recovery tools: top pieces of kit to get you back on the road and trail
From foam rollers to compression boots, we examine the pros and cons of popular running recovery tools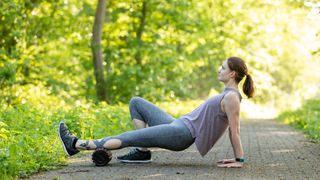 (Image credit: Getty)
There are myriad running recovery tools out there all clamouring for you to open your wallet, but which ones are really beneficial and worth the investment? Below we investigate seven of the top running recovery tools for your tired legs, back, whole body and brain so you can bounce back faster than ever from a long, hard run and be ready to go again sooner – even wearing the best kit (including the best trail running shoes) isn't going to help much if you're in no fit state to hit the road or the trails.
If you want something to help your body get rid of waste products, transport nutrients for rebuilding and repair, and reduce tightness, inflammation and DOMS (Delayed Onset Muscle Soreness) many of these recovery products will work for you. But should you choose a low tech foam roller or top of the range compression boots? Read on to find out what each running recovery tool does and how it might benefit you.
Foam roller
What is it?
A foam roller is a hollow or solid foam cylinder with foam lumps on that you lie on in various positions and roll back and forth to massage most parts of your body, notably the legs. Some have a vibrating or pulsing mode to enhance the massage and reduce pain.
How does it work?
Massage promotes blood flow around the body, which helps to remove the waste byproducts of running more quickly as well as delivering healing nutrients feaster to the area.
Pros
One of the easiest running recovery tools to use, not incredibly large to store and works on a wide range of muscle groups all over the body. Inexpensive unless you go for an all singing, all dancing, vibrating number which can be more comfy. You are in control of the pressure so if your whole body weight is too much to bear on your tight quads you can ease off.
Cons
Bulky to carry about if you want to travel light to a race, involves effort and coordination to roll yourself around on top of it at the right pressure without pain, especially if you feel super tired.
Massage ball
What is it?
A tennis ball sized ball with knobbly bits emanating from it that you roll under your foot applying some pressure, pressing it between you and a wall to target your shoulders and buttocks, and using it with your hand to massage other areas of the body. Some have a vibrating or pulsing mode to increase the intensity of the massage.
How does it work?
If you detect a knot (a lumpy, painful bit) in a muscle you can press the massage ball in that area to go deeper with the pressure and release the tension. The massage promotes blood flow to the area to speed up the removal of waste products from and flow of nutrients to the muscles.
Pros
Easy to use, store and carry anywhere, inexpensive.
Cons
Not easy to use on the whole of the leg like a foam roller, and if you press too hard it can be painful and you can further irritate or even damage the muscles if you don't listen to your body and ease off quickly.
Massage stick
What is it?
A stick around 30-40cm long with knobbly, rolling rubber or wooden balls on. You hold the handles at either end and roll it over your body, the thighs, calves, neck and back for example.
How does it work?
The massage promotes blood flow and quicker flushing of waste products and transport of nutrients to the muscles, but with less pressure than using your body weight.
Pros
This inexpensive running recovery tool is easy to use on the whole body, and to store and carry.
Cons
It's harder to massage as deeply with just using your hands to press down, and it can be tiring to do when you're fatigued after a run.
Massage gun
What is it?
A massage gun is a drill- or hairdryer-shaped rechargeable handheld device that you press against tired muscles to massage them.
How does it work?
Massaging enhances blood circulation and quicker removal of waste products from the muscles with little effort on your part.
Pros
Easy to use and small to store, and easy to press deeply into the muscles without much effort when you're fatigued. Lots of different settings and ball heads to target lots of different muscle groups easily and quickly.
Cons
You need access to power to recharge them, they make a small amount of noise, and it could be easy to go to town on a tight muscle and do some damage if you like pain…
TENS/EMS devices
What is it?
TENS stands for Transcutaneous Electrical Nerve Stimulation and EMS Electric Muscle Stimulation. Both are sometimes called Electrical Stimulation or e-stim for short. Both of these running recovery tools use small electrodes to deliver tiny electric pulses to the muscles, but the TENS is primarily for pain relief while the EMS delivers a stronger impulse to trigger repeated muscle contractions.
How does it work?
TENS machines interrupt the pain signals to your brain and can stimulate your body to produce its own natural painkillers – endorphins. EMS produces small, quick muscle contractions which can increase blood flow in that area to help remove waste products and speed up the flow of healing nutrients.
Pros
A modern TENS or EMS machine for sports use is safe and easy for most runners to use. They're compact, light and easy to store and carry. Some have a small screen and buttons while others are use an app on your smartphone. Although used in the medical profession for decades, the scientific research remains unclear. Even if the effect is a placebo, however, it's still helpful.
Cons
You need access to power to recharge them, possibly to download an app or read the instructions. TENS treats pain but not the cause so get injuries checked out by a professional. You shouldn't use these before talking to your GP if you have a heart condition – especially a pacemaker or similar device. You must buy from an FDA-approved brand otherwise the device is illegal and can be unsafe.
Compression clothing
What is it?
Tight-fitting clothing, often in the form of knee-high socks, calf guards, shorts and tights for runners, worn during and after running.
How does it work?
During a run, compression wear is designed to limit small movements (micro-oscillations) in the muscle fibres so they are less prone to injury, fatigue less quickly and make it less of an effort to run. This can lead to quicker recovery with less inflammation from microtrauma (small tears) to your muscles. After running, compression wear promotes circulation to the muscles to remove the waste products more quickly and allow the nutrients to reach them faster.
Pros
Easy and effortless to use (although some can be a little difficult to pull on if you're really achy and stiff!), easy to store and you can use them while you go about your normal day or sat still at the computer, travelling in the car, or on a plane.
Cons
Compression clothing from the best brands can be expensive, and you ideally need to buy from a quality brand that takes your measurements so you get exactly the right size. Scientific research has led to mixed conclusions about the effectiveness of compression wear on running performance, but there is evidence that it helps post-run to reduce muscle swelling, fatigue and promotes a quicker recovery.
Compression boots
What is it?
Fabric, thigh-length booties that zip up around each leg, inflating to compress and massage the leg all the way up to the top.
How does it work?
The different pressure settings for compression and massage help to enhance the circulation in the leg muscles, removing waste products faster and allowing the nutrients to be delivered more quickly.
Pros
Super easy and relaxing to use, simply zip your legs into them, press the setting you desire and sit back! Compression boots may offer superior compression to compression socks, calf guards, shorts and tights as they offer changing levels of pressure and massage the whole way up the leg.
Cons
Very costly, makes a small amount of noise, needs access to power to recharge, requires assembly to use and refolding to fit back in the carry bag.
All the latest inspiration, tips and guides to help you plan your next Advnture!
The co-founder and former editor of Trail Running magazine, Claire now runs the YouTube channel Wild Ginger Running, creating films packed with trail- and ultra-running content. An award-winning journalist, writing for outdoor and adventure sports magazines and websites, her first book The Ultimate Guide to Trail Running 5k to 50k is out in January 2021. Claire also speaks and presents at events and races.