Camping checklist: tick off all the gear you need for your camping trip or expedition
Our comprehensive camping checklist takes the stress out of preparing for your car camping trips and wild camping expeditions in the backcountry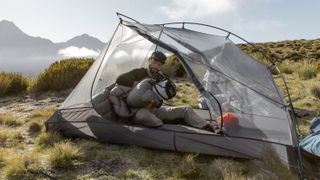 (Image credit: Sea to Summit)
Our camping checklist is for all those who've ever had that sinking feeling, halfway to the campsite, when they've forgotten something vital to the success of the trip. Read it as you pack, copy it onto an Excel spreadsheet or jot it down in a notebook; whatever you decide to do with it, our comprehensive checklist will ensure nothing important gets left at home.
There are things that are essential for every camping trip, while there are other items that you only really need if you're off into the wild on an expedition. Due to this, we've split our camping checklist into multiple sections: the absolute essentials, the expedition essentials and the luxury items.
After this, we feature guides on what the best kit for the job is. such as how to choose the best camping tent for your adventures or what to consider when choosing a sleeping bag.
Between us at Advnture, the team must have hundreds of years of camping experience. Distilling all that know how into one checklist is and agreeing on what is essential was no easy task. Hopefully you will enjoy the fruits of our labor on many camping trips to come!
Camping checklist: the absolute essentials
Listed below are our absolute essentials for every camping trip, regardless of location or style of camping. For a more detailed consideration of our camping checklist, scroll further down.
A tent or shelter large enough for you and your tent mates
Warm sleeping bags
Sleeping pads or mats (crucial for insulation)
A camping pillow
Plenty of water
A camping stove
Fuel for the camping stove
A lighter or matches (unless your stove has a piezo igniter)
Pots and pans for cooking food and boiling up water
Cutlery for your camp cuisine
A multitool or Swiss army knife
Lots of food, whether its meal ingredients or quick snacks
Your clothes! What these are will depend on the nature of your camping trip
Bin bags or an old dry bag to carry your trash out with you – leave no trace!
A headlamp, flashlight and/or camping lantern
Power sources: spare batteries, a USB power pack or solar charger
Repair tape (such as Tenacious Tape)
A hank of paracord and some cable ties, just in case
Tea bags, coffee or hot chocolate with your choice of milk
Zip-lock bags for storing things like tea bags
A mug for those hot beverages
Toiletries and hand sanitizer
A towel
Wet wipes
Face mask
Toilet paper
A first aid kit
Sponge scourer
Eco-friendly washing up liquid
Tin opener
Bottle opener
Sunglasses
Sun screen
Insect repellent
Camping checklist: the expedition essentials
The list above has detailed the absolute essentials for all camping trips. However, if you are heading out on a wild camping expedition, there are a few other items that are absolutely crucial. Weight is king here, so you will need to keep luxuries to a minimum and it's important to prepare to leave no trace. It's also worth reminding yourself of your hiking essentials as well as this expedition camping checklist.
A large backpack with at least 50 litres capacity for your gear
Your usual hiking clothes
At least one spare of the following items of clothing: baselayer, midlayers, socks, hat and gloves
Dry bags to keep your spare clothes and valuables out of the wet
An emergency bivvy bag, space blanket or blizzard jacket
The usual navigational tools
Your mobile phone
Spare batteries and a power pack for electronic devices
A plan for escape routes if you need to get back to civilisation quickly
A flask for enjoying hot chocolate, tea or coffee on the trail
Toilet paper
A trowel for burying your business (not including your toilet paper)
Zip-lock bags or similar for carrying out your toilet paper
Camping checklist: luxury items
Of course, if you're car camping or rocking up to a festival, you will probably want to take a few luxuries along too. In fact, even backpackers make weight allowances for a couple of wee treats. You may have your own idea of what your camping luxuries are, but below are some common choices. So before you zip up your pack, make a little room for the following luxuries:
Herbs, condiments, cooking oil and sauces to spice up those camp meals
Camping chairs for gazing up at the stars at night or enjoying the craic around the camp fire
Fold away camping table for food prep, dining and family games
A cooler and ice packs for keeping your food fresh
Plastic glasses for enjoying a beverage or two
Marshmallows and chocolate biscuits for s'mores around the campfire
Headphones or a wireless speaker for podcasts and rocking out
Reading materials (a Kindle is an excellent weight saver but obviously requires charging)
A pack of cards or a board game
A musical instrument for those camp fire singalongs
Binoculars for wildlife watching
An SLR camera for capturing those precious moments in ultra definition
A spare tent for storage
Everything you need for your trip
Camping checklist: the shelter
The adventure you're planning will suggest the first item on your camping checklist; what you're going to be sleeping in. With shelter, as with all kit, you often have to decide between specialist items that do one job brilliantly – maybe a particular high-tech tent – and kit that can be used in multiple ways, such as a tarp-poncho and bivy sack combination, or a hammock and flysheet. What you choose will have a bearing on most of your other kit choices, making your camping checklist a dynamic work.
Tents come in all shapes and sizes, suited to every possible kind of adventure. If you value comfort but still want to go as light as possible, you'll need the best one-person tent. Perhaps that's too tight? Then a 2-person tent allows you to luxuriate if alone, or get cosy with a partner. If the kids are in tow, you'll definitely need a 4-person tent and if this still isn't enough room, push the boat out and go for a large tent, fit for a king or queen (and all their children too).
Your checklist style will dictate whether you put in separate headings for pegs, hammock ropes or camping tarps, or just scribble 'bivy bag' and move on.
Camping checklist: sleeping
Choices of sleeping kit will be affected by what shelter you've opted for. Tents – especially small, double-layer tents – retain some of your warmth if correctly pitched. So do bivy sacks, but only if roomy enough to let your sleeping bag loft properly. Tarps, however cunningly set up, don't keep much heat in.
The best sleeping bag for the job is the one that suits where you're camping. You'll be considering whether to take one with warmer, lighter (and more expensive) down filling, which is useless if it gets wet (though modern hydrophobic treatments are changing that), or a bag with artificial fill which is heavier and bulkier to carry, but remains an adequate insulator even if soaked. Overall though, more warmth always costs in weight, and no bag is actually comfortable when soaked, so get your shelter right for the expected – and unexpected but possible – trip conditions.
When you come to make your choice between down or synthetic sleeping bags, makes sure you have considered ethical down.
Tip: A sleeping bag liner – silk, especially – adds warmth, and can be washed far more easily than a sleeping bag after a trip.
Closed-cell foam sleeping pads are bulky but cheap, close to indestructible, light and versatile (they can also be cut up for padding or used as a stove wind-break). Inflatable mats – such as those made by Thermarest, Alpkit, Vango, Mountain Equipment etc – have had the cold spots, bounce and slow leaks of the old-style lilo knocked out of them by new technology and new materials, but remain vulnerable to puncturing. Pick a mat for the climate and conditions you expect.
A camping pillow is a good idea for car camping, while backpackers might want to save weight and stuff fleeces and the like into a dry bag for a makeshift pillow.
Camping checklist: your backpack
Backpacks are usually designed with camping in mind. The bulk you end up with after making your tent and sleeping kit choices will set the parameters for what size backpack you're going to need. Innovations in pack design, particularly in weight saving (Osprey, OM) and in waterproofing to dry bag level (Sea to Summit) might threaten your favourite old-style backpack, but not necessarily; carrying weight in too-light backpacks is far from comfortable whatever the temptation to shave ounces. Don't skimp on volume because wrestling all your kit into a too-small backpack every morning will drive you mad.
Tip: Put a full-size dry bag liner inside your backpack, and then smaller dry bags inside that again for delicate items you really don't want to get damp, like sleeping bags.
Dry bags aside, organising kit inside your pack can be as simple and cheap as using Zip-loc bags, or light storage bags, preferably using different colours for quick identification.
A super-light daypack is always useful – especially slung over your front to carry extra food to camp or for side-trips. Sea To Summit's Ultra-Sil pack compresses to the size of a tangerine.
Camping checklist: clothes
Even if you're camping at sea level at the height of summer, once that sun goes down, so does the temperature. Whenever you go on a trip, the clothing you take forms an essential part of your camping checklist. As you tick off the items, if you get the feeling you're ready for four-seasons-in-a-day, then you've packed accordingly.
First things first, a good merino base layer is the bedrock of any layering system. After this, a fleece jacket is as an excellent mid layer, trapping warmth, while being soft and comfortable. For really cold nights, nothing holds onto heat quite like a down jacket. Finally, when nature calls but it's raining cats and dogs, you'll be awfully thankful you added your best waterproof jacket and waterproof trousers to the checklist.
If you're on a wild expedition and river crossings are on the cards, don't forget your gaiters, otherwise you'll be getting soggy feet.
Camping checklist: kitchen
How you're going to be preparing food – on an open fire, camping stove or just eaten cold and raw – has a bearing on whether you need fuel, lighters/matches and maintenance kits. Your heat source and your culinary ambitions also affect what other kitchen kit you need.
Pots and pans can double up as bowls if you're weight saving. Nesting sets save space. A one-pot solution can be a single three-quarter litre pot (the MSR Titan is a good example) big enough to cook for one, and use as a (big) mug.
An aluminium or titanium spoon with a long handle can shovel most foods into your mouth as well as stirring and turning cooking food. A separate knife for preparing food – or just getting into those pesky vacuum packs – can be far smaller and lighter than your everyday carry. Few tins need a tin opener nowadays, but some do – and ditto with some bottles needing a corkscrew – so a good camping knife or multitool is always a potential lifesaver.
If you're bringing one with you, make sure you know how to use a camping stove before you find yourself in the wilderness wishing you'd practised at home.
Camping checklist: food
Working out the best camping meals for a backpacking trip might require a whole new list and you'll need to check you've brought your best camping utensils along too. A lot of people put a huge emphasis on travelling light, but enjoying a warm feast at the end of a day on the trails is a sublime pleasure, so don't skimp too much.
Pre-prepared dehydrated or freeze-dried meals are one option, and there are some excellent options out there these days, but some backpackers prefer to DIY their menu. Either way, a small bottle of Tabasco sauce or some herbs and spices can inject a new level of flavour to any meal, and they weigh very little.
Tip: Zip-loc bags are good for storing dry ingredients such as tea bags and mixed salt and pepper, and they can be reused.
Camping checklist: hydration
Modern hydration packs and hydration bladders are robust and generously proportioned, but carrying enough water for an entire camping trip is a very heavy exercise. Depending on where you're travelling you might consider a filter system (LifeStraw, Katadyn, Steripen, Sawyer Mini), or chemical water treatments to ensure you have enough safe drinking water for all your needs.
Tip: Water containers such as Nalgene bottles can be filled with boiling water at night, used (carefully!) as a sleeping-bag warmer on colder nights, and will be there ready and full of perfectly safe drinking water for the next day.
If you can't get out of your sleeping bag in the morning without the Siren-like call of caffeine, then various camping-appropriate coffee makers are available, from simple cafetières to barista-pleasing, dedicated kits including grinders, Aeropresses and Italian-style 'moka' pressure brewers, complete with milk heating tubes designed for camping stoves. You can always keep the coffee warm using a hiking flask if you head out onto the trail, too.
Camping checklist - leave no trace
It is essential to leave no trace when camping so that future generations can enjoy the great outdoors just as we do. Don't forget a sponge-scourer (or other cleaning material), and above all a waste bag (a tough plastic bag, or better, an old drybag that won't leak, has a solid closure and can be reused) to take out everything you brought in.
Even better than leaving no trace is improving your camping surroundings. Pick up any little you come across on your adventures and dispose of it with your own waste.
Camping checklist: lighting
Headlamps are the most practical option – powered by replaceable or rechargeable batteries (depending on personal choice and where you travelling). Some of the best headlamps come with various colour options, such as a red light for preserving night vision when map reading is a definite plus. Of course, a traditional flashlight is also handy – or for more 360-degree illumination, a camping lantern comes in handy.
Camping checklist: a knife or multitool
Needed for cooking, medical matters, (think more cutting medical tape rather than a DIY appendectomy here), cutting cord, whittling pot-stirrers and an infinity of other camping tasks. Legally and practically you're as well off with a small but strong and well-designed camping knife than a huge 'survival' style blade.
An even better alternative is one of the best multitools, which have knives and pliers and some even have screwdriver heads, a bottle opener, ruler and a small pair of scissors. You can probably tick off multiple items on your camping checklist with a well chosen multitool.
Camping checklist: spares and repairs
A hank of paracord, some duct tape (wrap a length around a water bottle or pencil to save weight and space), a few cable ties and a needle and thread can all save the day.
Camping checklist: trekking poles
The best trekking poles don't just taken the strain off aching joints whilst on the hill. They are admittedly excellent, of course, for use on the trail, but also surprisingly handy around the campsite for setting up tarps, extra shelter and drying lines. See our guide explaining how to use trekking poles to find out more.
Camping checklist: hygiene and health
Making like a bear is usually a fact of life when you're camping (at least outside of commercial sites) so be prepared. Take unscented/untreated plain toilet paper in a ziplock bag and possibly a trowel for digging a cat hole (sticks usually work too). Fine. If it's safe to burn the used paper, you'll need a lighter. If following full Leave No Trace principles, make sure you have the necessary to carry out your waste hygienically. Take eco-friendly handwash.
Your wash kit will include all those products and items you reckon you need in the outdoors, whether that's just basic soap and toothpaste or a whole range of unguents, lotions and perfumes – it's subjective, but try and use eco-friendly potions where possible (they make you more beautiful). Tweezers and scissors are very useful tools for all sorts of things.
Tip: Using refillable and reusable containers full of products from your own home-sized bottles is better ecologically (and cheaper) than buying 'travel size' products.
Having a cotton sheet towel or large-sized microfibre towel is handy, especially if you're a wild swimmer, and towels (as fans of the Hitchhiker's Guide to the Galaxy well know) have tens of other uses (sling, picnic blanket, sarong).
Sunglasses and insect repellent are the yin to the yang of wet-weather gear; when you need them, you really need them. And in some locations – Scottish highlands, Scandinavia, New Zealand during midges/mosquito season – life will be almost unbearable without some defence against the locals.
In these Covid-19 times carry a reusable mask to use in shops or when interacting with people.
Camping checklist: safety
Careful choice of basic everyday kit (clothing for all weathers, shelter, navigation equipment) should help you avoid emergency situations. As does knowing your options, if any, for bailing out of a trip or changing plans if the weather is far worse than expected, or if other unexpected events throw up challenges.
A first aid kit appropriate to your needs and the trip, with the knowledge needed to use it is obviously crucial. A tick remover is always a good thing to have in your kit. Knowing how to avoid tick bites and what to if you get one are essential skills if you're spending a long time in the wild.
Communications and an emergency navigation system give you peace of mind. This is a very personal area as there are issues around reliance on phone signals, the ability to call out a full-scale rescue for something relatively minor, and over-reliance on GPS units – but then camping checklists are all about personal experience and choice.
An emergency bivvy bag, space blanket or blizzard jacket can all be absolute lifesavers if someone in your group becomes stricken and can't get down from the hill. In such a situation the biggest danger is the cold, so being able to remove or mitigate this factor increases the chances of a positive outcome hugely. A group shelter is also extremely useful and much quicker to put into action than a tent.
Finally, the more reliant we become on technology for safety, the more important it is that we keep our devices juiced up. We can do this by carrying spare batteries, a fully charged USB power pack or a solar charger.
Camping checklist: tech
Once camping tech was a film camera and a few coins for a pay phone. Now for many people it's a key part of their equipment and spans everything from smart phones (complete with the best navigation apps), tablets, GPS units and watches to the separate power-storage devices and solar chargers that are required to keep it all working.
Tech kit is fragile so it requires protection (drybags or Pelican cases) and usually needs extras, (chargers, micro-SD cards cables, connections or whatever else) – make sure you bring the right peripherals, because forgetting just one element can render it useless dead weight.
Technical kit is also the most personal of choices. Some people revel in the chance to take none and get away from it all, others put all their faith in their phone for camera, navigation, communication and entertainment. We would advise always having a back-up system.
Camping checklist: luxuries
Right down at the end of the camping checklist you put the stuff that you really don't need, but which makes life under canvas that little bit nicer (you are doing this for recreational purposes, after all). This is a catch-all part of the list, and of course it's very subjective.
For one person that might be their best running headphones, maybe, or bottle of whiskey, a sit-mat, a camping chair, or pack of cards. This writer has often gone to extreme lengths to cut weight and bulk when setting off on a multi-day walk, and then happily added books and binoculars for birdwatching, and – more than once – have set off with a travel-sized guitar slung over one shoulder.
All the latest inspiration, tips and guides to help you plan your next Advnture!
Alex is a freelance adventure writer and mountain leader with an insatiable passion for the mountains. A Cumbrian born and bred, his native English Lake District has a special place in his heart, though he is at least equally happy in North Wales, the Scottish Highlands or the European Alps. Through his hiking, mountaineering, climbing and trail running adventures, Alex aims to inspire others to get outdoors. He is currently President of the London Mountaineering Club, training to become a winter mountain leader, looking to finally finish bagging all the Wainwright fells of the Lake District and hoping to scale more Alpine 4000ers when circumstances allow. Find out more at www.alexfoxfield.com