What is belaying? Rock climbing's most essential safety skill
What is belaying? We explain the basics of this important climbing safety skill for curious beginners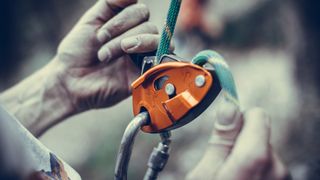 (Image credit: bizoo_n)
If you're climbing curious, you've no doubt heard the term "belaying" and may rightfully be wondering what on earth it means. Though there are some climbing terms such as a "dyno" that you honestly don't need to know straight away, belaying is one of the most essential skills you'll need for rock climbing. So what is belaying?
Though it's not something you can learn by reading an article online, we break down the basics of this important climbing skill in this article so you have a general understanding of what it is, and most importantly, what you need to learn to get started. You will also find some helpful info in our article on rock climbing for beginners.
What is belaying?
The word belaying originates from an old nautical term meaning to stop or desist from. In climbing, it refers to controlling the rope while your partner climbs, so you can help prevent them from falling very far when they lose their grip on the wall.
In many types of free climbing, you will be wearing a harness and using ropes to climb a cliff, crag or wall. Unlike the olden days, when the rope would just be tied around your waist, today the rope will be secured to your harness via a knot, to the wall via a bolted anchor or placed gear and it will also be attached to the harness of your climbing partner via their belay device.
A belay device is like a little pulley made of aluminium or alloy that allows your partner to add quick, sudden tension to the rope by locking off the rope so that if you fall, you won't go far. The belay device takes most of the load so your partner doesn't have to. They stay on their feet, you dangle in mid air for a moment, then get back on the wall and continue climbing.
Styles of belaying
There are basically three styles of belaying depending on the type of climbing you're doing:
1. Sport climbing
In sport climbing, you will generally begin by feeding the rope through an anchor affixed to the top of a climbing route. You will secure the rope to your harness using a Figure Eight knot and your partner will secure the rope to the belay device on their harness.
As you climb, your partner will be responsible for feeding the rope through their belay device to give you enough slack to move upwards, but also keeping the rope taut so that if you fall, you don't come crashing down.
When you get to the top, they will then carefully lower you down by feeding the rope back through the belay device on their harness, known as rappelling.
2. Lead climbing
In lead climbing, there is no top anchor. You and your partner will secure the rope to your harnesses the same way as in Sport Climbing, but you will begin climbing unprotected. As soon as possible, you will want to clip protective gear like a climbing cam or nut into a crack or crevasses in the wall then feed the rope through it.
Your partner will then add some tension to the rope so that if you fall, you won't fall further than the piece of gear you just placed. If you climb another five feet up and fall before placing the next piece of gear, you will fall ten feet so you'll want to keep placing gear every few feet.
If it's a single pitch climb, once you've reached the top and placed all the gear, you can rappel down so your partner can climb the route you set. If it's a multi-pitch climb, when you get to the top, you will change the rope so it's affixed to your harness via your belay device. Meanwhile, your partner will switch to a knot, and you will belay your partner up to join you, while they retrieve your gear from the rock, then begin the whole process again for the next pitch.
3. Self-belaying
It is possible to self-belay if you don't have a climbing partner, essentially by starting at the top and setting up a series of anchors on the descent, then reclimbing, however this is an advanced technique reserved for experienced climbers.
Communicating on belay
When you're getting ready to climb, it's very important to communicate with your climbing partner to ensure that you have both secured the rope properly. Before you start, you will say to your partner "On belay?" Once they respond with the affirmative "Belay on" you can announce your intention to start with "Climbing" and when they reply with "Climb on" you can begin.
Once you're climbing, if you feel you have too much slack on the rope as to be safe in the event of a fall, you can call down "Take!" to your partner and they will tighten the rope to secure you. If you need a little more slack to make a lateral or downward move, call down "Slack!" to your partner.
Types of belay device
There are three types of belay devices:
Tubular belay devices are the most common. These are designed to slow down the rope, and require you to help assist in stopping a climber when they fall by pulling down on the rope. Some people find these are a little slow for feeding the rope through during rappelling, but they are generally easy to use and work with different sizes of rope.
Auto-locking belay devices detect sudden motion and lock down on the rope for you automatically. These feed the rope smoothly and make life easy on the belayer, but don't work with all sizes of ropes.
Figure 8 belay devices are simple and require more force from your hands to slow down your partner. These are primarily used for rappelling and by search and rescue.
Before beginning climbing, you should be trained by an experienced professional in belaying and rappelling.
All the latest inspiration, tips and guides to help you plan your next Advnture!
Julia Clarke is a staff writer for Advnture.com and the author of the book Restorative Yoga for Beginners. She loves to explore mountains on foot, bike, skis and belay and then recover on the the yoga mat. Julia graduated with a degree in journalism in 2004 and spent eight years working as a radio presenter in Kansas City, Vermont, Boston and New York City before discovering the joys of the Rocky Mountains. She then detoured west to Colorado and enjoyed 11 years teaching yoga in Vail before returning to her hometown of Glasgow, Scotland in 2020 to focus on family and writing.