What is rappelling? Our guide to an essential climbing technique
What is rappelling? Our guide covers all the basics of this essential climbing technique for descending, including where it came from and what you need to do it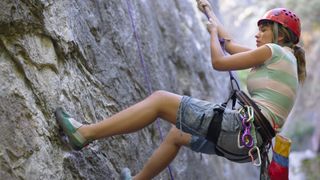 (Image credit: Image Source)
If you're starting to think about getting into rock climbing, you might be daydreaming about nimbly scaling a vertical cliff Ethan Hunt-style, flinging a heel up on the overhanging roof at the top and deftly conquering the final move to reach the top of the route to thunderous applause from below. But what happens next? How do you get back down, exactly? This is where rappelling comes in, and it's one of the more risky, but fun, parts of climbing. So what is rappelling, and what do you need to know about it?
What is rappelling?
Rappelling, or abseiling as it is referred to in some countries, is the term used to describe the act of descending a mountain on a rope that is attached to an anchor at the top. It is a climbing technique used to get down a mountain or cliff in a timely and efficient manner, as opposed to having to climb back down. Down climbing is much more difficult because you can't see the holds beneath you and you also may be tired from climbing up.
Rappelling is most often employed as the descent after an upward climb, however it has become something of an adventure sport in itself these days. Rappelling can also be used as a means of lowering into a slot canyon or for spelunking, and is even used by the military these days to access hard to reach locales.
Many attribute its invention to Jean Charlet-Straton who reportedly devised it after getting stuck descending Le Petit Dru in the French Alps in 1876. However, the Alpinist claims that at that time Edward Whymper, best known for the first ascent of the Matterhorn, had already been using the technique.
Regardless of who first conceived of the idea, it was a good one. Charlet-Straton spent several more years perfecting the technique and it quickly caught on among the climbing community as the best way to descend.
How do you rappel?
First and foremost, rappelling is inherently dangerous and it is something you need to learn in person from a trained professional, and not from the internet. It usually involves two ropes and two people (though you can self-rappel using only one rope) and therefore the margin of error is high and mistakes can be deadly.
The basic idea is that the ropes are passed through the top anchor and through the belay devices attached to your harness and your partner's harness. Typically, from the top of a climbing route you will remain facing the rock and lean back while your partner on the ground below slowly feeds the rope through their belay device to lower you smoothly down.
Depending on the grade of the cliff, you might need to use your feet to push off the rock like you're taking long, slow jumps, or if not possible you will be suspended in the air for the descent and just use your hands. This is known as free rappelling. At the bottom you should land lightly on your feet.
What do you need for rappelling?
To start rappelling you will need instruction in how to tie knots and feed the rope through your belay device, as well as climbing gear. The gear required for rappelling is part of your climbing kit and will have been required in order for you to climb in the first place and includes:
Ropes
Harness
Belay device
Carabiners
Top anchor
Helmet
How can you make sure you rappel safely?
Though these tips are not intended to be a replacement for proper training, there are a few things you can do every time to lower your risk of a rappelling accident.
Tie knots at the ends of your ropes so you don't slide off the end
Tie an additional knot as a brake, known as a prussik knot, or use an auto locking belay device
Make sure you have a climbing partner who you trust and that neither of you is distracted when tying off your belay devices
Communicate with your climbing partner
All the latest inspiration, tips and guides to help you plan your next Advnture!
Julia Clarke is a staff writer for Advnture.com and the author of the book Restorative Yoga for Beginners. She loves to explore mountains on foot, bike, skis and belay and then recover on the the yoga mat. Julia graduated with a degree in journalism in 2004 and spent eight years working as a radio presenter in Kansas City, Vermont, Boston and New York City before discovering the joys of the Rocky Mountains. She then detoured west to Colorado and enjoyed 11 years teaching yoga in Vail before returning to her hometown of Glasgow, Scotland in 2020 to focus on family and writing.