What is free climbing? And is it the same as free soloing?
By Julia Clarke published
What is free climbing? We break down one of the most misunderstood terms in climbing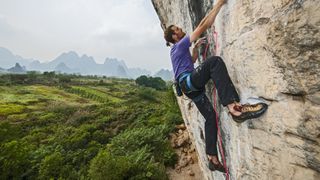 (Image credit: Cavan Images)
Free climbing, sport climbing, trad climbing, bouldering – there seem to be so many different types of rock climbing. Perhaps one of the vaguest and most misunderstood terms in rock climbing though, is free climbing. So what is free climbing? And is it the same as free soloing? In this article we explain what free climbing is, and what it isn't.
What is considered free climbing?
Free climbing is basically the umbrella term given to any style of climbing where you're not reliant on gear to get you up the wall. Okay, so like Alex Honnold scampering up El Capitan without ropes, right? Well, no, not necessarily. In fact, though you could be gear-free, you'll almost definitely be wearing climbing shoes and you may well even be on a harness and top roped or placing pieces of protective gear like cams in case you fall.
This broad climbing term is basically in contrast to another style of climbing called Aid Climbing, in which you use ropes and other devices to pull yourself up. Aid climbing is used in scenarios where free climbing would be impossible, for example a sheer rock face with zero holds. In free climbing, you're using your own arms and legs to power yourself up a rock face. In many kinds of free climbing, you are indeed using gear, but this gear doesn't actually propel you up the wall – it prevents you from getting injured in case you fall.
So, free climbing can really mean almost any type of climbing including:
Sport climbing where you generally climb using ropes fixed to permanent anchors at the top of a route
Trad climbing where you don't have a top anchor and place your gear as you go
Bouldering where you forego ropes and harnesses and climb a boulder with a crash below you to land on
What is free climbing vs free soloing?
So to get back to the big question, what is the difference between free climbing and free soloing? You may have figured it out by now, but in case you haven't, the answer is that free soloing is a type of free climbing. In free soloing, you definitely use your own strength to climb the wall, but with the added excitement of using no ropes or protective gear.
Still a bit confused? Don't worry. The good news is that since the term free climbing covers almost every type of rock climbing you're likely to do on a wall, it's not all that commonly used in rock climbing since it doesn't really describe what you're doing. If you're inviting someone out climbing, more pertinent would be to clarify whether it's sport, trad or aid climbing, or bouldering.
If you're still new to it all, make sure to check out our handy guide to rock climbing terms.
Julia Clarke is a staff writer for Adventure.com. She is an author, mountain enthusiast and yoga teacher who loves heading uphill on foot, ski, bike and belay. She recently returned to her hometown of Glasgow, Scotland after 20 years living in the USA, 11 of which were spent in the rocky mountains of Vail, Colorado where she owned a boutique yoga studio and explored the west's famous peaks and rivers. She is a champion for enjoying the outdoors sustainably as well as maintaining balance through rest and meditation, which she explores in her book Restorative Yoga for Beginners, a beginner's path to healing with deep relaxation. She enjoys writing about the outdoors, yoga, wellness and travel. In her previous lives, she has also been a radio presenter, music promoter, university teacher and winemaker.
All the latest inspiration, tips and guides to help you plan your next Advnture!
Thank you for signing up to Advnture. You will receive a verification email shortly.
There was a problem. Please refresh the page and try again.