What is bouldering? A beginner's guide to rope-free climbing
What is bouldering? We shed a light on this minimalist style of climbing and reveal what's to love about this low maintenance sport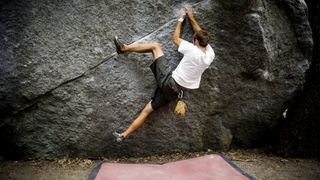 (Image credit: Keri Oberly)
Getting into rock climbing is exhilarating, but it's also a big commitment. Just to get started, you need a lot of pricey gear, training in how to use it and at least one other person with the skills and ability to be your climbing partner. Bouldering, on the other hand, is a relatively low maintenance activity that distills rock climbing down to the bare essentials: you and the rock.
So what is bouldering? We shed a light on this minimalist style of climbing and reveal what's to love about this low maintenance sport.
What is bouldering?
As we explain in our guide to rock climbing terms, bouldering is a form of rock climbing where you climb rock formations that are smaller and closer to the ground. The main difference between bouldering and rock climbing is that in bouldering you don't use any of the typical gear such as a harness or ropes.
You read that correctly; there are no ropes in bouldering. But before you start getting vertigo thinking about Alex Honnold spidermanning his way up El Cap, remember that in bouldering you probably won't be more than 15 feet off the ground, and you'll actually have a crash pad beneath you to cushion your falls.
Bouldering can take place on a large boulder, on the bottom section of a cliff, or indoors. It's common to see people bouldering in urban environments like Central Park in New York City as well as in the wild.
What is the difference between bouldering and rock climbing?
In addition to the obvious lack of ropes and addition of a crash pad, there are a few key differences between bouldering and other types of rock climbing. Rather than following established routes like you would starting out in sport climbing, bouldering involves a series of technical maneuvers referred to as 'problems'. Though there are always exceptions and blurred lines when it comes to delineating different types of climbing, generally speaking, bouldering problems will be shorter in length and you will remain closer to the ground.
Bouldering emphasizes strength and technique rather than endurance that you might need for trad climbing. When you get to the end of the route, instead of smoothly lowering down on your rope, you'll essentially fall off the rock, landing on the crash pad beneath you.
It can also be a relatively social sport compared to sport climbing, where one of you stays on the ground while the other climbs for some time. In bouldering, several people can be figuring out different problems on the same rock simultaneously, and you're all close enough to talk to each other. That said, you don't need a climbing partner so if it's solace you're seeking, you can head out alone no problem.
Is bouldering hard for beginners?
In some ways yes and in other ways, no. Bouldering grades have no end in terms of difficulty, so you could end up tackling some pretty challenging rock and of course, you're not roped, so you're using your own strength to stay close to – and move up – the wall.
On the other hand, you don't have to learn how to use climbing equipment and how to belay, so in some regards, bouldering is actually easier for beginners.
How safe is bouldering?
Obviously, the chances of falling are increased with bouldering because you're not roped, but you won't fall far and you have your trusty crash pad. Perhaps a better question than whether or not climbing is safe is what kind of injuries you're likely to sustain doing it. Some of the more common bouldering injuries are sprained, twisted and broken ankles and shoulder injuries sustained when falling, so if you do decide to give it a go, you'll want to learn how to land properly.
Is bouldering a good workout?
Definitely. Just like rock climbing, bouldering provides a pretty intense physical challenge, strengthening the muscles of your arms, back, core and legs – essentially your whole body. It's also amazing for improving your balance, coordination, mental focus and problem solving abilities.
What gear do you need to get started with bouldering?
Here comes the good news. Literally all you need to get started in bouldering are a good pair of rock climbing shoes and some chalk, which you'll keep in a chalk bag. If you're climbing on an indoor wall, they'll have crash pads there but if you're heading outdoors, you'll also need a crash pad. These come in folding, highly portable designs nowadays with carrying handles or straps so that you can wear them like a backpack.
Ready to get started? Head over to our article on how to train for climbing for more tips.
All the latest inspiration, tips and guides to help you plan your next Advnture!
Julia Clarke is a staff writer for Advnture.com and the author of the book Restorative Yoga for Beginners. She loves to explore mountains on foot, bike, skis and belay and then recover on the the yoga mat. Julia graduated with a degree in journalism in 2004 and spent eight years working as a radio presenter in Kansas City, Vermont, Boston and New York City before discovering the joys of the Rocky Mountains. She then detoured west to Colorado and enjoyed 11 years teaching yoga in Vail before returning to her hometown of Glasgow, Scotland in 2020 to focus on family and writing.