How to train for climbing: improve your wall, crag and mountain skillset
Our how to train for climbing guide will help you master the physical, practical and psychological skills involved with scaling a rockface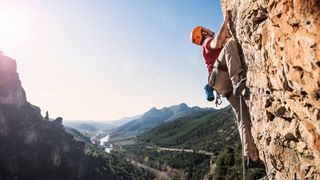 (Image credit: Getty)
When proficient mountaineers are asked how to train for climbing, the answer is often the same: go climbing. Frequent time spent at the climbing wall, local crag or on any number of gigantic buttresses protruding from the sides of mountains is the most effective way to improve technique, build strength and develop that all-important confidence.
However, there are myriad reasons that "go climbing" might not quite cut it. Perhaps you're a beginner to all of this, without a climbing partner or a local wall. Or, it may be that you've cut your teeth (not literally) into the neighbourhood bouldering center but the nearby crag is somewhat intimidating and you have no idea what to do with ropes. Or it might be that you live so far from the nearest crag that months pass by between climbs, your approach shoes gather a layer of dust and your improvement is therefore too slow. Basically, you've got to find other ways to frequently work on your physical attributes and your skills.
It's not all to do with access or experience either. The most active climbers out there have to consider how to train properly for the style they want to master, even if they're often up on the crags. This might be because their approach to training isn't tailored correctly, or they're not doing the best climbing exercises for what they intend to do, causing their development to plateau.
In short, the answer to how to train for climbing depends on your ambitions, circumstances and your level of ability and experience. Start by analysing where your gaps are and work hard to address them, choosing the best climbing exercises to suit. For example, if you're an expert at the climbing wall but aren't used to a daypack throwing your balance out, get out there and climb some easy crags. Whether you want to improve your physical attributes, your practical skills or master the psychological side of rock climbing, our guide to training should help you move up through the grades. And remember, safety always comes first.
How to train for climbing: physical attributes
As with all spots, frequency is key in terms of improving your physical attributes. A gradual and varied approach that's fun and personalized to you will get you the best results.
Improve your technique
This is as simple as identifying the area you want to improve and choosing lines that allow you to practise the skills. It is vital to take away the fear factor from this kind of training, as climbers naturally revert to their previously learned techniques in stressful situations, even if the one they are yet to master is potentially more efficient.
So, let's say you wanted to improve your bridging technique, as an example. Find routes – either at your local indoor wall or on a nearby crag – that you can practise the technique on without having to worry about falling off. If you head for the crag, let someone else lead the climbing, allowing you to focus on solely technique rather than gear placement and the heightened stakes that come with leading.
Increase your strength
Enhancing physical strength is what people often think of when considering how to train for climbing. Strength is admittedly crucial and many of the best climbing exercises are tailored towards this, while different styles of climbing require different kinds of strength. Strong fingers are required for minuscule holds and powerful arm muscles will help to lift your body weight. You can enhance finger strength at home by installing a hang board, while normal weight regimes will help to develop your arm muscles.
Sustained rock climbing for beginners can be tough, so if you're a crag newbie it's important to build up your endurance. Without stamina, you won't be able to progress to more demanding climbs that require strenuous sequences involving lots of power. Frequency is key to develop and sustain your strength and endurance, so, regardless of your level, try to get out three or four times every week if possible. However, don't forget to listen to your body. Rest and refuel when your muscles tell you to and maintain high standards of nutrition throughout your regime.
Increase your flexibility
Arguably just as important an attribute as strength is flexibility. Enhanced flex will allow you to reach further, maximize efficiency of movement and avoid injury. Always, always, always warm up before a climb with a short aerobic activity and by stretching out your joints. Away from the crag, some of the best climbing exercises you can do are activities like yoga, pilates or tai chi are a great way to become increasingly limber for those technically challenging pitches.
How to train for climbing: practical skills
This will depend on the kind of climbing you are doing. For the purposes of this article, we are focussing on traditional rock climbing, which broadly breaks down into sport climbing – whereby you climb using fixed anchors – and trad climbing, where you place the protection yourself.
Correct route finding
One of the main anxieties faced by the budding rock climber is ending up on the wrong climb. Imagine stepping out onto the tennis court thinking you were playing your friend to find Novak Djokovic staring back at you and being told that if you lose, you might hurt yourself, badly. You don't want to be out of your league while halfway up a cliff taking on something you weren't expecting to.
Due to this, it's imperative to practise the skills behind proper route finding. These days, most rock climbs have a corresponding guidebook with illustrated routes and detailed descriptions of what you can expect. Study these carefully to form an image of what you are facing. Visualise the climb. Sometimes, it's even worth making a mental note of what the neighbouring climbs entail too, just in case. When you arrive at the crag, appraise your chosen route from a distance, matching your expectation with the features you can see in reality. Binoculars are handy for checking out long, multi-pitch climbs.
Placing protection safely
If you're new to trad climbing and you have ambitions to lead, you need to learn how to place protection safely. Ask an experienced friend or pay for an instructor to introduce you to the principles of correct gear placement. Once you've got the basics, practise by first placing and testing gear while on the ground and then take these techniques onto easy graded climbs. To quote the old adage: practice makes perfect.
Mastering rope work
Similarly, the best way to master rope work is through experience. We could write an entire book on the many different rope techniques and knots used in climbing and mountaineering situations. With a decent rock climbing manual for reference, you can rehearse knots and rope systems from the comfort of your own home, which is obviously a non-pressured environment and therefore a good place to learn. Armed with the basics, it's then a case of frequently applying what you've learned while out on the hill.
How to train for climbing: the psychological aspect
Perhaps the organ that needs the most training when facing up to a big, scary climb is your brain. The good news is you can teach your brain to cope better with fear. We're not saying that by heeding the advice below you'll be free soloing El Capitan any time soon, but it will hopefully remove at least some barriers.
Control your fear
A modest dose of fear releases enough adrenaline to actually enhance your climbing performance. However, too much anxiety will negate your ability to make logical decisions, narrow your attention and lead to panicked moves. Self-confidence is key. Get this aspect right and you should be fine from there onwards. Start your day with a climb within your comfort zone and move on from there. As previously discussed, careful route finding should mean you know what to expect on a climb.
If you find your anxiety level rising, focus your breathing and take deep, deliberate breaths. You should feel the panic start to dissipate and logical thinking will return, enabling you to appraise your situation properly and with a positive mindset.
Motivate yourself
Struggling to motivate yourself? Training going down the pan? Try a new approach to your climbing. Grab your hydration pack and head out for an exciting scramble. Travel a little further to discover that crag you've always fancied tackling. Ask around your local climbing club to see if there are any potential new climbing partners. There are loads of ways to freshen things up and put the energy back into your favorite pursuit.
All the latest inspiration, tips and guides to help you plan your next Advnture!
Alex is a freelance adventure writer and mountain leader with an insatiable passion for the mountains. A Cumbrian born and bred, his native English Lake District has a special place in his heart, though he is at least equally happy in North Wales, the Scottish Highlands or the European Alps. Through his hiking, mountaineering, climbing and trail running adventures, Alex aims to inspire others to get outdoors. He is currently President of the London Mountaineering Club, training to become a winter mountain leader, looking to finally finish bagging all the Wainwright fells of the Lake District and hoping to scale more Alpine 4000ers when circumstances allow. Find out more at www.alexfoxfield.com