Supported
Why you should take a chair bikepacking
When wheels have stopped turning and tents, hammocks or bivvies have been pitched, it's time to sit, relax and recover – for bikepackers, a good seat isn't just a treat, it's a crucial piece of kit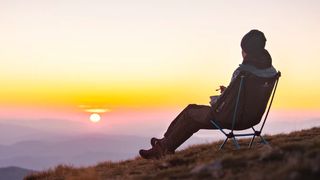 (Image credit: Helinox)
Successful bikepacking trips are all about travelling light and stripping your gear list back to the absolute essentials… right?
Well, in part, yes. A lighter bikeload makes the riding element of the adventure much more enjoyable, but what constitutes an 'absolute essential' is the kind of contentious issue that people will sit around the campfire arguing about long into star-spangled evenings.
If they've been wise enough to bring a chair with them, that is. If not, they'll probably just retreat to their tiny tent and micro-light sleeping bag straight after dinner, because squatting on the damp ground or (if you're lucky) a knobbly log or bumpy boulder often isn't a comfortable enough experience to encourage engagement in convivial campfire conversations or dark-sky debates.
Which is a shame. Because these mellow moments shared with mates are often highlights of a bikepacking trip, when all the hard work pedalling up hills and along tracks has all been done, and you get to kick back and chew the fat with your biking buddies.
So, perhaps the question we should be asking is, why would anyone not bring a chair on a bikepacking trip?
The obvious reason a lot of people are tempted to dispense with a camping chair when storage space is at a premium and every gram is being counted is because a seat is seen as a not-so-little luxury item.
And it's certainly true that you need keep your kit light and lean in order to pack it all on the bike in a tidy and compact fashion. But actually, so long as you avoid rookie mistakes such as carrying cumbersome packs on your back (which completely upsets your centre of gravity and makes a mishap much more likely), and instead evenly distribute the weight of your load across the frame of the bike using bags designed for this purpose, then you can take whatever fits and makes you happy.
And, for a lot of people, having a comfortable camping chair to steer their rear towards at the end of a long day riding lanes and trails is something that makes them very happy.
As anyone who has spent any amount of time camping can tell you, the importance of a good outdoor chair really can't be overstated – it completely transforms the experience. But when you have just spent hours in the saddle, such a seat assumes a whole new level of must-haveness, enabling you to properly stretch out your legs and rest those muscles that have been powering you along all day – and which, importantly, you will be relying on again the following morning.
In these circumstances, far from being a luxury, a quality camping chair is every bit as important as a top-notch sleeping pad.
And, believe it or not, the best, lightest, cleverest camping chairs out there – like the Helinox Chair Zero, which tips the scales at an extraordinarily svelte 17oz (490g) and packs down to the size of a cucumber or a water bottle – are directly comparable in weight and bulk to a minimalist camping mat.
Stashed away in its storage bag, which adds another unnoticeable 1oz (20g) to the overall weight, the Helinox Chair Zero measures just 13.5 x 3.5 x 3.5in (35 x 10 x 10cm). With diminutive dimensions like these, the Helinox Chair Zero will comfortably fit in all frame bags and many saddle packs designed for bikepacking.
And once you have arrived at your overnight stop and set up camp, the deep and comfortable bucket-style seat will feel like a throne from home, standing 25in (64cm tall), with a seat height of 11in (28cm) enabling you to really sit back, stretch, relax and rest those all-important legs so they're fresh for the demands of whatever challenges the next day delivers.
So really, the crux of the debate is less about whether you ought to bring a supportive seat along for the ride (you definitely should), and more around how to choose the best camping chair for bikepacking.
The Helinox Chair Zero retails for $149.995 / £134.95 and is available now.
All the latest inspiration, tips and guides to help you plan your next Advnture!
Launched in July 2020, Advnture is the ideal destination for anyone who loves the great outdoors. Whether you're into epic hikes through the wilderness, camping trips with the family, climbing with your friends, or looking for a trail running personal best, our team of experts will point you in the right direction, with top buying advice and in-depth guides to help you get the most of your time in the backcountry.