How to catch your own bait: rigs, baits, tackle and tips for mackerel
Mackerel is one of the most widely used and efficient baits for saltwater fishing – here's how to catch it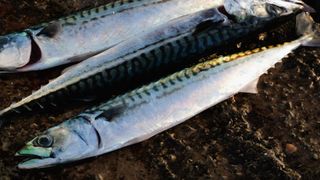 (Image credit: Getty)
Knowing how to catch your own bait is an inexpensive way of obtaining amazing hook baits and chum – and wherever you fish, there are few better baits than fresh mackerel. Here's all you need to know about catching mackerel on rod and line while avoiding some common mistakes.
Learning how to catch your own mackerel bait is a really useful skill. Once you've covered a few basic tactics, it's fun, easy and despite their status as a bait fish, mackerel fight surprisingly hard on light spinning tackle. They're basically mini tuna!
It's also a good way to get newcomers and kids into the sport – dropping a rig off a pier or boat and reeling in strings of mackerel is about as easy it gets fishing-wise and it's usually a busy time, which suits short attention spans.
Catching your own fishing bait: why mackerel works
Whether you want to use live, fresh or frozen bait, you can't go wrong with a recently caught mackerel as bait. It's one of the most widely used baits for saltwater fishing – especially for sharks, rays, tuna and predatory species – and many anglers will even use it as very effective freshwater fishing bait for species like catfish, pike and bass.
A mackerel is full of oils, blood and soft fleshy parts that fish love to eat. They're attracted to the bait because of this high blood and oil content, which leaks off into the water and reaches the fish's olfactory senses. These senses tell the fish there's some A-grade sushi mackerel waiting for it just around the corner.
Generally, most other fish species don't have as much blood or oil in their bodies, which can make them a less effective bait when scent and blood content is important – fishing for sharks or catfish, for example. The mackerel's blood and oil content is maximised by the bait being freshly caught and kept chilled on ice for as short a time as possible and not frozen. This is why it's worth going to the extra effort to catch fresh mackerel for bait.
Choosing the best rigs and tackle for catching bait
Even though you're targeting relatively small baitfish, you'll still need a solid rod and reel because you might get up to five fish on a single cast. Usually, anglers will prefer a medium rod (about 7-9ft / 2.1-2.7m in length) paired with a medium-size spinning reel designed for saltwater use. A spinning reel in the 3000-6000 size range makes for the best bait fishing set-up.
For your mainline, monofilament around 10lb / 4.5kg breaking strain or braid in the 15-30lb / 6.8-13.6kg test range is perfect. The next thing you'll need is a sabiki rig. These can be found at local bait shops, fishing stores, online stores and can even be made at home. If you're fishing from a pier, there will often be a shop or concession selling the correct sabikis for fishing in that area.
A sabiki rig is typically about 6ft / 1.8m of 10-30lb / 4.5-13.6kg mono or fluorocarbon line with five to nine small hooks spaced evenly apart, each stemming off the main line on their own short branch of line. At the bottom of the sabiki rig, you'll tie a 1-4oz / 28-113g weight or – even better – a similar-size jig lure in a bright baitfish-imitating colour armed with a small treble hook that will help the rig descend quickly as you work it up and down and attract fish.
Store-bought sabikis usually come with pre-attached lures or flies (plastic or feather) covering the hooks and they're ready to use. They usually imitate small fish, shrimp or tiny marine animals that fish like mackerel feed on. Try greens and dark colours in clear water and bright colours at night or in murky conditions. You can also make your own sabiki rigs. Using little chunks of squid or even strips of fresh mackerel on the hook as well as the lure will definitely get you more bites, especially when sport is slow.
How and where to catch mackerel as bait
Catching mackerel for bait is often done from boats, but for those who don't have access to a boat, the next best option is a pier. With boats and fish-finders, success can be a lot easier. Cruise around and look for signs of baitfish; indications on the fish finder, schools of fish on the surface, birds diving, structures like rocks or depth changes that hold fish.
If you're fishing from a pier, breakwater, bridge or jetty, you've got a solid vantage point from up there and depending on the area, a lot of open water to scour. Look for signs like schools of small bait fish jumping out of the water to escape marauding mackerel. Wear polarized sunglasses that allow you to spot fish under the surface easier, and look at where other people are having success. Often, the mackerel shoal will favor an area or side of the pier or structure but they will move. Think like a hunter and work out where your quarry is and what it's eating.
The main mackerel fishing technique used from a pier or jetty is to cast (usually not overhead if others are nearby) and retrieve with a consistent up and down motion on the rod so your sabiki rig looks like a small shoal of bait fish moving. Try letting it sink to the bottom and slowly retrieve, or a fast retrieve just below the surface to cover the whole water column where the shoals might be hunting.
For boat fishing or fishing straight down from the pier, you'll let line out in a controlled fashion until you feel the weight on the rig just touch the bottom, then retrieve using the same up-and-down jigging motion until 6-10ft / 1.8-3m below the surface. Repeat until you work out where the fish are feeding.
After one fish takes, don't reel in right away as it's almost a guarantee that a couple more will latch right on in a second or two. Then you just reel them up, unhook and put them on ice and repeat until you have enough bait. Remember not to take more than you need.
Best conditions for catching bait
Whilst it's possible to reel in mackerel at any time of day and even year-round in certain areas, you can take some measures to increase your chances. Dawn and dusk will be the best time of day and summertime, when the water is warmest, will be the best season for catching mackerel. Summertime and autumn brings about warmer water temperatures and mackerel love these conditions.
One more factor to consider when planning ahead is the tides. Always check the tides before you go fishing, they play a big role depending on species and areas. For pier fishing specifically, high tide will give you the best shot at catching mackerel and making the most bait. The reason for this is because when the tide comes in, certain food sources like crustaceans, crabs and mollusks become resubmerged and active. This draws in baitfish and the chain reaction continues.
When high tide aligns with either dawn or dusk, plan for that time. Given that it doesn't always align as such, another good time to go is after dark. In that case, bring some glowsticks (the large hand-length ones that you 'snap' to activate - but make they sure they float) and use your night fishing tactics. Baitfish are attracted to lights, so using things like glowsticks attached to your rig is a great idea. If you're making your own sabiki rig, tie the small ones in with dropper loops but if that seems like too much work, don't worry! Some sabikis glow in the dark for this exact reason. Shine your head torch on them before casting to make the glow effect extra-strong.
If you take these tactics and put them to practice, you'll make bait in no time and you'll likely have a lot of fun doing so. Remember; if you're catching mackerel for bait, make sure to bring a cooler and ice. Putting mackerel on ice immediately is hugely important. The meat becomes soggy and extremely difficult to keep on your hook when it's not kept in this way and it's also less effective. Fresh mackerel that's been properly iced is a tough enticement to beat for almost any saltwater species, so get out there and make bait!
All the latest inspiration, tips and guides to help you plan your next Advnture!
Fishing guide and writer for Surf Fishing In So Cal, Nick Heid fishes at least 60 days out of the year, making him a great source of knowledge when it comes to all sorts of tactics and techniques. Fishing has been a passion of his ever since he can remember and his writing conveys that love of the sport to his readers, along with a good dose of in-depth knowledge. Look out for him on a San Diego beach expertly targeting surf sharks in the summer and all sorts of other interesting species over the rest of the year.