Supported
How to choose a chair for bikepacking
Far from an indulgence, a good camping chair can completely transform a bikepacking trip – but only if you select the right one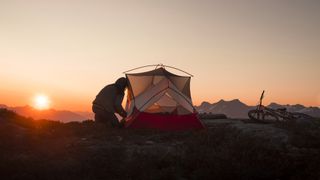 (Image credit: getty)
As all experienced adventure-cyclists know, there are some very compelling reasons why you should take a camping chair along for the ride when you hit the road and trails for a multiday bikepacking escapade.
But every single item included in a bikepacker's kit list must be properly scrutinized to ensure it meets three main criteria: is it light? Can it be easily packed? Does it do its job brilliantly? If the answer to any one of those questions is no, then it's just not worth taking.
When we think of a camping chair, most of us conjure up an image of the big, bulky metal-framed models you can pick up from the bargain basement at any outdoor shop, supermarket or factory outlet.
These chunky chairs are fine for picnics, garden parties and car camping escapades (for a while at least – although they generally rust or split and end up in landfill after a season or two). But no one with an ounce of sense or any outdoor experience would attempt to lug one of these lumps on a bikepacking adventure.
However, as with all kinds of camping kit, there are cheap and cheerful chairs out there, and then there are much more technical and sophisticated seats, made with super light materials to clever designs that enable you to fold them down into an easily transportable, highly packable little bundle. A bundle that's worth its wonderfully whittled-down weight in gold.
Tipping the scales at just 17oz (490g) the Helinox Chair Zero is without a doubt the ultimate featherlite, bikepacking-friendly camping chair on the market at the moment. And it boxes well above its weight when it comes to performance too, supporting loads of up to 265lb (120kg). The Zero is also available in a slightly larger version, which weighs 1lb 6oz (624g) and supports up to 320lb (145kg).
But choosing the right chair for a bikepacking foray is not simply about keeping carry weight down. Lighter loads are good, of course – no one wants to be pushing tons kit up every hill – but bikepackers need to think very carefully about how and where each item they take with them will fit in their packs and bags.
And this is where the Helinox Chair Zero really excels. The ingenious design of the chair means it packs down into a tiny stash sack that measures a mere 13.5 x 3.5 x 3.5in (35 x 10 x 10cm), so it will slide comfortably into virtually all frame bags – whether you're riding a mountain bike or a gravel bike – and most saddle packs.
Of course, it's all very well being lightweight and easy to pack, but if a camping chair doesn't offer descent levels of support and comfort when you park your posterior in it at the end of a tough day on the trails, then it's still not worth taking. You may as well just find yourself a log or rock to rest on for a bit.
The Helinox Chair Zero more than measures up in this respect too. Boasting a comfortable bucket-style seat, when assembled (a quick and easy process) the chair stands 25in (64cm) high, offering excellent back support that you can really lean into when you're relaxing after a day of cycling.
And, unlike with cheaper models, you can be sure of getting many years' supportive service during multiple bikepacking exploits (and on other adventures) with the Helinox Chair Zero, which is constructed with a tough high-tech aluminum alloy frame and high-strength hubs, and comes with a 5-year warranty.
The seat has a generous width of 18.5in (48cm) and depth of 20in (52cm), so your backside doesn't feel at all pinched or squished, and the super stable legs position you 11in (28cm) above the floor, so you can fully stretch those tired pedal-pushing limbs out.
A premium product, the Helinox Chair Zero is an investment, but for regular bikepackers, this product is a genuine game changer, which brings a whole new level of comfort to the camping part of the experience without making you pay for it during the ride.
The Helinox Chair Zero retails for $149.995 / £134.95 and is available now.
All the latest inspiration, tips and guides to help you plan your next Advnture!
Launched in July 2020, Advnture is the ideal destination for anyone who loves the great outdoors. Whether you're into epic hikes through the wilderness, camping trips with the family, climbing with your friends, or looking for a trail running personal best, our team of experts will point you in the right direction, with top buying advice and in-depth guides to help you get the most of your time in the backcountry.