Ukrainian climbing team makes history with Himalayan first ascent
By Julia Clarke
Three Ukrainian climbers have successfully summited Annapurna III via the southeast ridge, a feat that has long evaded the world's best climbers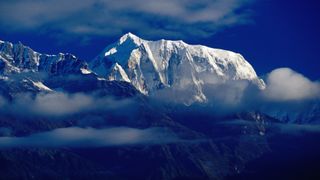 (Image credit: Richard I'Anson)
Three Ukrainian climbers have made history in the Himalayas as the first to successfully summit Annapurna III via the notoriously treacherous southeast ridge route.
Nikita Balabanov, Mikhail Fomin, and Viacheslav Polezhaiko were successful on November 6 as they reached the 24,786ft summit in the Annapurna range in Nepal, besting the previous record attempt which was set forty years ago. The feat involved technical trad climbing on vertical rock, ice and snow with no fixed lines or pre-established camps.
"We climbed in a single push, with no fixed lines or pre-established camps. And for such a big route, for us, it was a real challenge full of entropy and the unknown. We haven't written this anywhere yet, but we thought of naming the route Patience, of course you understand why," says Balabanov of the accomplishment in an interview with Climbing.
The southeast route gains almost 10,000ft in elevation and climbers are faced with overcoming seracs (ridges of ice on the surface of a glacier) and loose, crumbly rock. Consequently, the route has repelled all previous attempts by climbers. The first attempt was made in 1981 by three British climbers – Steve Bell, Nick Colton, and Tim Leach – and their record of 21,325ft had not been broken until now. In 2016, the late Austrian climber David Lama led a failed expedition that reached roughly the same point which he documented in the award winning 12-minute film 'Annapurna III - Unclimbed'.
The Ukrainian trio chose a different route from Lama and his team, one which they'd attempted previously, in 2019, which they say was technically more difficult than other routes but also safer. They climbed with just one tent, three skinny ropes, 10 cams, seven ice screws and one set of nuts (see our guide to rock climbing terms and gear).
"The psychological aspect was really intensive, as every day we faced some new obstacles and didn't understand until the end if we would be able to climb it or not. The higher you climb every day, the more difficult it is to get down in case of an accident, and we understood this. But all in all we manage to overcome everything together," says Balabanov.
One major obstacle they were forced to overcome was running out of food. They had brought enough food and fuel for 12 days, however, the climb would take them 18 days to complete and even with rationing, they ran out of food on day 17 and reportedly have lost a combined total of about 60lbs between them. Another challenge was the descent. Famously, the mountain is so difficult to descend that it's easier to just keep going up.
"At first we planned to go down by way of ascent. But we realized it would be too dangerous and complicated and decided to go down the Manang side, by way of the first ascensionists. But to get to these gentle snow slopes you must traverse three-and-a-half kilometers of ridge at 7,300 meters, which was impossible under 100-kilometer winds, so we started our descent on the west side, which we hadn't planned before. We rappelled and downclimbed for two days without any topos or even photos of this side of Annapurna,," recalls Balabanov.
The trio was then airlifted off the mountain from an altitude of 16,400ft and have returned home to Ukraine.
Julia Clarke is a staff writer for Adventure.com. She is an author, mountain enthusiast and yoga teacher who loves heading uphill on foot, ski, bike and belay. She recently returned to her hometown of Glasgow, Scotland after 20 years living in the USA, 11 of which were spent in the rocky mountains of Vail, Colorado where she owned a boutique yoga studio and explored the west's famous peaks and rivers. She is a champion for enjoying the outdoors sustainably as well as maintaining balance through rest and meditation, which she explores in her book Restorative Yoga for Beginners, a beginner's path to healing with deep relaxation. She enjoys writing about the outdoors, yoga, wellness and travel. In her previous lives, she has also been a radio presenter, music promoter, university teacher and winemaker.
All the latest inspiration, tips and guides to help you plan your next Advnture!
Thank you for signing up to Advnture. You will receive a verification email shortly.
There was a problem. Please refresh the page and try again.