Watch the exhilarating trailer for Brit Rock V – a kaleidoscope of rock climbing awesomeness
Five short films revealing the pioneering spirit and "proper madness" of British climbing will be on tour in the UK and online worldwide this month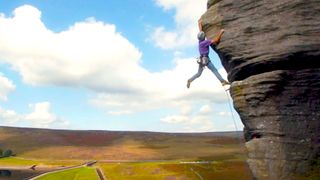 (Image credit: Brit Rock V)
Rock climbing – the activity for which the word 'awesome' was created. There's just something about the emotive spectacle of a tiny, determined humans clinging to gargantuan vertical edifices that's made for film cameras to capture. A combination of bravery, skill and madness that becomes magnetic to watch.
So when Brit Rock V goes on a UK tour – and on a virtual world tour online – later this month, you can bet there'll be plenty of awesomeness on display. The trailer certainly promises some sights to savour.
Brit Rock V is five short films about British climbing that capture an array of "hardcore action, pioneering spirit and some proper madness", says the marketing blurb. The
You'll be able to the films on the big screen (the best way for ultimate awe factor) at various venues around the UK from 7 November 2023 to 15 February 2024 (see the full details here).
But if you can't make any of them, no worries. You can see the films online vai Vimeo, from 9-13 November. You can pre-order tickets now for £20 using this link.
The films are:
Hard Git: Controversial and never far from the news; climber Matt Wright goes trailblazing across the UK, making wild first ascents, hard solos and bold new lines. Loveable rogue and working-class hero Matt puts his money where his mouth is in this tour-de-force of hard climbing. (25min)
Goddess of Craic: The story of rising trad star Freja Shannon as she pursues her climbing goals for the season on the west coast of Ireland (with "gripping footage that will leave your jaw on the floor") while also delving into the climber's past, revealing her less-than-glamorous journey to becoming a professional climber. (27min)
Shining Stones: Climber Robbie Phillips chances upon a little-known mountain Ben Lyal in the very far north of Scotland whilst driving from east coast to west. After some research, Robbie discovers that climbing legend Simon Nadin has been developing a couple of lines at the crag. Simon tells him that there is something very special up there… A truly stunning film of hard new routing by Robbie and Simon in an extraordinary setting. (25min)
Helmcken Falls: Emma Powell and Neil Gresham join the original pioneers of this unique ice climbing venue in British Columbia, Tim Emmett and Klemen 'Klem' Premrl once again push the boundaries of steep, sporty ice. (15min)
Head Jam: Filmmaker Alastair Lee turns the camera on himself in this deep introspective story of triumph through adversity. Perceived as a successful man with the perfect life, Al experiences unexpectedly dark times. Fearing he will lose everything, we watch a man on the brink claw his way from despair, using climbing and training to find peace and salvation. A gripping, hilarious, emotional and ultimately inspiring story of a man in struggle as he seeks to reconnect with himself. Adding to the riotous flavour of this production, Al asks the climbers he's working with to do the filming. (35min)
All the latest inspiration, tips and guides to help you plan your next Advnture!