Covid-19 prevents help for new angling venue struck by fish death
The Environment Agency refused to visit Dyehouse Ponds due to coronavirus.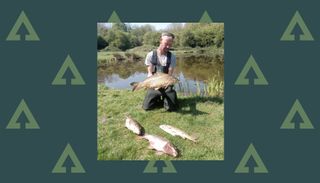 (Image credit: Angler's Mail)
Welcome to Advnture, the new home of AnglersMail.co.uk
Distraught Robert Rogerson was hoping to open his new Dyehouse Ponds, near Bradford, West Yorkshire, at the start of April.
The Covid-19 pandemic and lockdown put paid to that…. but then Dyehouse suffered a horrendous fish kill.
Robert explained: "I have been working in my spare time on the fishery for six years, and it seemed to be coming along nicely, with some winter test fishing by friends producing good results.
"I was planning to open at the beginning of April, but first came the government ban on fishing. Then I noticed my fish holing up listless in one spot, after which tragically a number died.
"Overall, I've lost 55 adult fish in the 4-16 lb bracket, mainly carp with a few tench and around 400 fry. I would estimate I have lost up to 75 per cent of my stock.
"I contacted the EA for help, but they told me that they couldn't visit because of the virus restrictions.
"I sent them a video and they suggested I went out to buy a water testing kit.
"I sent them samples and testing revealed a high level of ammonia in the water, and it seemed the source was coming from a small stream that feeds the pond, which in turn comes from a pond in a Nature Reserve not far above us.
"I initially stocked the pond six years ago after I took over the responsibility from an angling club, who ran it as a silver fish match venue.
"I first drained it right down, to remove as many of the snags as possible, then put in 200 lb of carp and 100 lb of tench, fish mainly in the 2-4 lb bracket, as well as returning the original stock.
"I set up the fishery for both members and day tickets, offering a day and night membership at £65 a year for 30 members, with day tickets if there were spaces to fish.
"I have contacted the Angling Trust and Fish Legal, but they said they can't represent me as I wasn't a member at the time of the loss, but they will give me advice.
"But really I think it would normally be up to the EA to help sort out the problem, not just leave it to me.
"I'm furloughed and really struggling financially, so haven't got the money to replace the lost fish, which I value at about £4,500. I'm gutted that my new fishery has been ruined," added the 35-year-old labourer.
The EA wouldn't comment on this case, but a spokesperson said: "We will continue to prioritise responding to reported incidents of serious harm to the environment, subject to local conditions."
All the latest inspiration, tips and guides to help you plan your next Advnture!
Running from 1964 until 2020, Angler's Mail was the UK's leading weekly magazine devoted to coarse fishing, telling readers everything they needed to know about which fish to catch, where to catch them, and what kit they needed to do it. Now, loads of the magazine's expert advice can be found on Advnture.com, as a helpful resource for angling newcomers and experts alike.