First time rowers take on the GB Row Challenge
The GB Row Challenge is arguably the world's toughest rowing event – this year it's a one-horse race, but to win they'll still have to beat the elements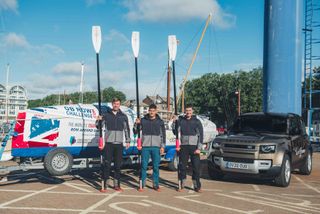 (Image credit: Land Rover X Elliot Brown)
Typically at this time of year, several teams would be competing against one another in one of the toughest rowing challenges on the planet: the GB Row Challenge, a non-stop, 2000-mile (3,200km), unsupported rowing race around the British mainland, which starts and finishes at Tower Bridge in London.
Of course there is nothing typical about 2020, and with the Covid-19 pandemic still raging when the race was due to start in early July, teams were forced to pull out of the annual challenge. All except one that is.
A crew of four university students, none of whom had any rowing experience before they decided to take on the challenge, are the sole racers in this year's event. Having lived together during training, the Exe Endurow team effectively formed their own bubble, and are able to occupy the same vessel in close quarters, without contravening any social distancing guidelines.
Although they have no one to beat, the challenge itself is a formidable one, which will see the lads face all manner of dangers and obstacles. It's so tough, in fact, that only 14 teams have ever successfully finished the race.
Besides having started with zero experience, the boys – skipper Charles Bromhead (21), Oliver Daw-Lane (21) Harry Lidgley (22) and Arthur Chatto (20) – are also attempting to become the youngest ever team to ever complete the grueling route.
Not content with that, they were eyeing the current Guinness World Record for rowing unaided around Great Britain, which stands at 21 days, 21 hours and 14 minutes, set by a team led by Will de Laszlo competing in the 2005 GB Row Challenge.
En route they are aiming to raise £150,000 through Just Giving for two great causes: the British Red Cross to help with the Covid-19 efforts and Just One Ocean, a charity committed to preserving the ocean for future generations.
Elliot Brown and Land Rover collaborate to produce tough watch being tested by rowers on oarsome adventure
Supporting them on this endeavour are Elliot Brown and Land Rover, who have collaborated on the Land Rover X Elliot Brown Holton Professional special edition watch (RRP £499), a hard-as-nails wristwatch designed to be functional for outdoor adventurers without costing a fortune, due to be launched this autumn.
The watch is based on the original Elliot Brown Holton Professional watch, developed with a specialist branch of the UK armed forces. Besides being worn on the wrists of round-Britain rowers, the testing process for Elliot Brown watches involve them being strapped to the bows of round-the-world yachts and submerged to depths of 1,921 metres.
Elliot Brown have previously produced special-project/fundraising watches for Mountain Rescue and RNLI. "Having worked with Land Rover to create a very special watch, when team Exe Endurow told us they were raising money for the British Red Cross it felt entirely natural that we should all work together," says co-founder of the company, Ian Elliot. "With our combined effort we hope the team smash their fundraising target, whilst keeping good time, as they endure everything mother nature throws at them."
Joe Sinclair, Jaguar Land Rover Director of Branded Goods, explained a bit more about the partnership, saying: "The New Land Rover Defender is the most capable Land Rover ever built and has been tested to the extreme. The Land Rover x Elliot Brown Holton Professional watch has endured more punishing tests than any other watch and it will enable fans of both brands to continue to go Above and Beyond. The Exe Endurow team embodies this spirit of adventure with their amazing 2,000-mile expedition. Everyone at Land Rover wishes them huge success."
Paul Amadi, Chief Supporter Officer, British Red Cross, said: "We are very grateful to team Exe Endurow for choosing to raise money for the British Red Cross as they take on this incredible challenge.
"The British Red Cross has supported people in crisis for over 150 years and the money raised will help us continue to support the most vulnerable people. The British Red Cross has helped the nation through its darkest days and coronavirus is no exception. We are focused on supporting people through this crisis by delivering food and medicine, making sure refugees and people seeking asylum are safe, and supporting the NHS to get patients home from hospital. We wish Arthur, Harry, Charles and Oliver the best of luck."
At the time of writing, the boys have been at sea for 39 days and have rowed across 1650 nautical miles of open sea. They had to endure some very heavy weather early on, before rounding the Lizard in Cornwall, and while the world record might now be out of sight, they can still write history by become the youngest team to row unassisted around Britain. They must be running on empty, though, as they only set off with provisions for 35 days. Will they make it? Follow the team on their website tracker, as they head for home along the east coast.
UPDATE Team Exe Endurow arrived at Tower Bridge on Sunday 16 August after rowing unassisted for 1820 miles battling against adverse conditions whilst circumnavigating around Great Britain. They completed the challenge in 42 days, 8 hours, 23 minutes and 16 seconds raising £20,000 for the British Red Cross and Just Once Ocean.
All the latest inspiration, tips and guides to help you plan your next Advnture!
Author of Caving, Canyoning, Coasteering…, a recently released book about all kinds of outdoor adventures around Britain, Pat has spent 20 years pursuing stories involving boots, bikes, boats, beers and bruises. En route he's canoed Canada's Yukon River, climbed Mont Blanc and Kilimanjaro, skied and mountain biked through the Norwegian Alps, run an ultra across the roof of Mauritius, and set short-lived records for trail-running Australia's highest peaks and New Zealand's Great Walks. He's authored walking guides to Devon and Dorset, and once wrote a whole book about Toilets for Lonely Planet. Follow Pat's escapades on Strava here and instagram here.