Friday 5: Scottish mountaineer and author Rab Anderson
The accomplished climber and walker answers our quick-fire round of five questions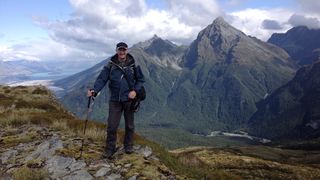 (Image credit: Rab Anderson)
Family holidays as a youngster sparked Rab Anderson's enduring love of the outdoors. Born in Edinburgh, he discovered an aptitude for climbing at the city's Meadowbank indoor climbing centre with fellow mountaineer Dave "Cubby" Cuthbertson. The friends went on to make a name for themselves at the cutting edge of climbing.
He is an accomplished mountain and hill walker and has written many climbing and walking guides. Most recently, he is the co-author of the new and fully revised Scottish Mountaineering Club's The Munros book.
Having hiked a round of the Munros, including the Munro Tops, and also the smaller hills called the Donalds and Grahams, Rab is in keen pursuit of the Corbetts. Find out about Munro bagging.
If you could only keep one item out of all your outdoor gear, which would you keep and why?
My rock boots (climbing shoes). They are lightweight and easy to carry, which means I could climb rock anywhere in the world, even if it's just bouldering.
What's your pet peeve in the outdoors/adventure space?
I have two pet peeves. The first is dog poo bags left hanging on branches, fences, beside gates, wherever. What's the point of going to the trouble of picking up your dog's poo, then placing it a plastic bag to litter the environment and keep it fresh forever?
Another one is inconsiderate parking by other hill users, particularly where there is limited space that others will be looking to park in.
If you could be instantly transported to the start of any adventure, what would it be, where and why?
Given that we are still in lockdown, any place will do. My wife and I have seven Corbetts (Scottish mountains with a summit of between 2500ft and 3000ft) left to climb and they are all north of the Great Glen, so any one of those would do for starters.
We have had joint compleations [note: this is the archaic term used by Munro baggers] of several rounds of signifiant Scottish mountains and hills including, the Munros and Tops, the Grahams and the Donalds, so the Corbetts take precedence.
We're sitting round a campfire. Tell us a funny or entertaining story about one of your adventures.
I've bivvied on ledges in the Alps and spent a lot of time camping and dossing under the stars, under boulders, bus stops, toilets – all sorts of places – so I know my stuff. However, it's something my wife grew weary of a long time ago and as a result I don't have suitable lightweight camping gear.
For our Munros compleation, I wanted to do Ladhar Bheinn on Knoydart from Barrisdale, via the Coire Dhorrcail round, which is rightly reckoned to be the best way of enjoying the hill. The only potential problem was that it meant an overnight stay at Barrisdale. There is a bothy but it can be busy, so camping is the safest option.
For a one-off camping trip I decided that expensive kit was not worth it. So, I bought cheap sleeping bags and a £15 tent from Lidl. Ha! Don't laugh as it wasn't one of those pop-up festival tents. It was a proper tent and looked good.
I put it up in the garden and showed it off to my wife – much like a bower bird would its nest. It was well-constructed and sturdy. I then picked-up some lightweight Campingaz stoves and canisters from Tesco and some lightweight dried food to cook.
The perfect weekend arrived during a heatwave at the end of May. We left Edinburgh early in the morning, drove up to Kinloch Hourn and had the most beautiful, and enjoyable, three-hour walk-in along Loch Hourn.
We pitched the tent at Barrisdale, then went straight on to the hill and made the superb six hour, or so, round of Coire Dhorrcail in amazing weather.
It was breezy but very hot and dehydrating. We arrived back at the tent weary, thirsty and hungry. That's when I found that although the stove burner and canister were both the same brand, they were not compatible. It was not a lot of use for brew-making, or cooking dried food.
The few mixed nuts and raisins that we had left had to suffice and being tired we decided we would sleep well and walk-out in the morning.
Then the breeze dropped and all hell broke loose. That's when I found out that the mesh in the tent door was made to European bug standards and wasn't midge proof.
Fully clad, even in a lightweight sleeping bag, in the middle of a heatwave and in tent full of midges, made for probably the worst night I have ever had.
We left at 5am and walked back out, knocking on the door of the seasonal farmhouse cafe at Kinloch Hourn to be let in for one of the best breakfasts I have ever had. Every cloud does indeed have a silver lining.
Anybody want to buy a tent?
Is there any gear that's on your shopping list at the moment?
Surprisingly, I have nothing on my list at the moment, having just bought a new camera and a Rab Summit VR jacket. I'm a fan of Vapour Rise (and so is my wife). We have both been using the summer stuff for a while.
After one wear of the Summit VR in cold, windy conditions I am well-impressed. It is lightweight and surprisingly warm.
And no, I am not sponsored by Rab, nice though that would be so I make do with my name on their jackets.
Santa also brought me a new pair of rock boots for use at the climbing wall, but since we are in lockdown they have just sat there reminding me of what I am missing.
All the latest inspiration, tips and guides to help you plan your next Advnture!
Fiona Russell is a widely published adventure journalist and blogger, who is better known as Fiona Outdoors. She is based in Scotland and is an all-round outdoors enthusiast with favourite activities including trail running, mountain walking, mountain biking, road cycling, triathlon and skiing, both downhill and back country. Her target for 2021 is to finish the final nine summits in her first round of all 282 Munros, the Scottish mountains of more than 3,000ft high. Aside from being outdoors, Fiona's biggest aim is to inspire others to enjoy the great outdoors, especially through her writing. She is also rarely seen without a running skort! Find out more at Fiona Outdoors.