What is a Munro – and how do you become a Munro bagger?
Scotland's 282 mountains with a summit of more than 3000ft offer a great goal – whether you're keen to hike a couple or hope to bag them all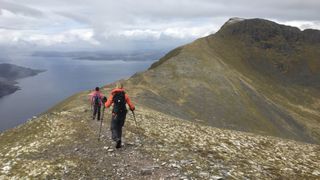 (Image credit: Fiona Outdoors)
It all started 130 years ago, with Sir Hugh Munro, when he compiled a list of Scottish mountains with a summit of at least 3,000ft (914.4 metres). These were subsequently named Munro's Tables.
Yet, Munro died before he hiked all of them – a feat that would become known as a "round" – and the first person to be recorded as "compleating" (the archaic spelling of completing) a round was Rev A E Robertson.
Munro's Tables have changed in number over the years, due to summit discoveries and re-measurements and revisions, and the grand total now sits at 282 Munros.
These 282 mountains are all more than 3,000ft (914.4 metres) tall, and they are located in the Scottish Highlands.
The tallest Munro is also the tallest peak in Britain, Ben Nevis, standing 1,345 metres (4,413ft). The most northerly Munro is Ben Hope (927 metres / 3,041ft) in Sutherland, while the most southerly is Ben Lomond (974 metres /3,196ft) in Loch Lomond & the Trossachs National Park.
The Munro located furthest east is Mount Keen (939 metres / 3,081ft) in the Cairngorms, and on the Isle of Skye is the most westerly, Sgurr na Banachdich (965 metres / 3,166ft), in the Cuillin mountains.
People who hike the Munros and tick off the list on Munro's Tables are known as Munro baggers. Those who "compleat" a round are called Munroists. To date 6,869 people have "compleated" a round of Munros, as recorded by the Scottish Mountaineering Club.
Steven Fallon holds the record for walking the most rounds, currently 16, while Hazel Strachan has hiked 10 rounds and holds the female record. In September 2020, Scottish runner Donnie Campbell set a record for the fastest human-powered round of all the Munros, completing a non-stop, self-propelled circuit of all 282 mountains in just 31 days, 23 hours and two minutes.
More to know about the Munros
For obvious reasons connected to the Covid pandemic, the number of people who "compleated" in 2020 was fewer than other years and numbered 88.
On average and for a couple of decades, the usual number of compleators was around 200 to 250, then in 2018 the numbers leapt to 558 and in 2019 there were 399 Munroists recorded.
Other mountains lists to 'bag'
Many Munro baggers also hike to the summits of 226 subsidiary "Munro Tops".
Other mountains in Scotland are also classified, such as the Corbetts, which are of 2500ft and 3000ft tall with a drop of at least 500ft between each listed hill and any adjacent higher one. There are 222.
Grahams are hills of between 2000 and 2499ft and which have at least a 150m drop between them. There are 219.
Donalds are over 2000ft and have a drop of at least 50ft between each elevation and any higher elevation. There are 140 Donald summits listed by the SMC.
A Full House includes all the above, as well as the Furths, which are the peaks of at least 3000ft within the UK and the Republic of Ireland but outside of Scotland. There are 34 Furths.
How to get started as a Munro bagger
There are some Munros that are classed as 'easier' than others. But a Munro is still part of a collection of the highest mountains in the UK and it requires fitness and navigational ability to reach most summits.
To start, it's a good idea to build fitness and stamina on local hills before tackling, for example, some of the Munros with more obvious paths, such as:
Ben Lomond
Schiehallion
Ben Chonzie
Ben Lawers and Beinn Ghlas
Mount Keen
Ben Vorlich (Loch Earn)
The Cairnwell and Carn Aosda
Ben Wyvis.
Check the weather forecast before setting off and always be prepared to change your plans to avoid poor conditions. Remember that sunshine and clear sky at the base of a mountain can change to mist, low cloud and high winds at higher altitude.
It's probably a good idea to start your Munro bagging in the spring, summer and autumn when the weather is usually more clement than in the winter.
You should know how to read a map and use a compass. Many people also make use of GPX routes downloaded to apps, such as the OS Maps app for smart phones. If in doubt about navigation, go with a friend who can teach you, or sign up to a hill navigation course.
The right Munro hiking kit is essential so that you remain warm and dry while walking. At the most basic, your gear should include waterproof jacket and waterproof trousers, a sweat-wicking baselayer, an insulated mid layer (such as a fleece jacket or down/puffer jacket, hiking socks, hiking boots, a pair of the best hiking gloves and a hiking hat.
Take everything in a rucksack and add an emergency blanket or bivvy bag. A mobile phone is essential, as is the right map and compass.
There are plenty of resources for discovering the most popular and alternative routes for bagging Munros. The SMC's new The Munros guidebook is a great option. Also check out websites such as Walk Highlands.
The best way to enjoy Munro bagging is to go with a friend, especially someone who is more experienced than you, and learn from their advice and guidance.
But, be warned, you'll soon become addicted and then you'll be joining all kinds of groups, such as a local hill walking group and Munroaming on Facebook.
All the latest inspiration, tips and guides to help you plan your next Advnture!
Fiona Russell is a widely published adventure journalist and blogger, who is better known as Fiona Outdoors. She is based in Scotland and is an all-round outdoors enthusiast with favourite activities including trail running, mountain walking, mountain biking, road cycling, triathlon and skiing, both downhill and back country. Her target for 2021 is to finish the final nine summits in her first round of all 282 Munros, the Scottish mountains of more than 3,000ft high. Aside from being outdoors, Fiona's biggest aim is to inspire others to enjoy the great outdoors, especially through her writing. She is also rarely seen without a running skort! Find out more at Fiona Outdoors.