Man to run New York Marathon with his hands tied
Michigan runner Derryk VanderJagt is bound to raise awareness of human trafficking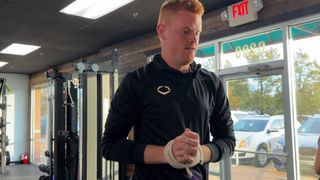 (Image credit: Derryk VanderJagt)
A man from Michigan is aiming to become the first person to run this year's New York Marathon with his hands tied, to raise awareness of human trafficking in the United States.
The marathon will be run on 5 November, and Derryk VanderJagt – who is also competing in memory of his father – has overcome his own mental and physical health setbacks to prepare for the challenge of running the 26.2 miles wit his hands bound together in front of him.
According to VanderJagt – who had no previous experience of marathon or ultra running before he started training for his NYC Marathon attempt – competing with his hands tied, "is a huge limitation; it messes with your balance, it restricts your breathing, it cuts off your momentum and it wears you down faster." (If you're not similarly encumbered, here are some tips for breathing while running.)
VanderJagt is running in partnership with Restore NYC, "a nonprofit organization dedicated to fighting human trafficking, we're on a mission to make a difference," says VanderJagt. "Together, we can create a world where mistreatment and human trafficking are no longer tolerated."
VanderJagt lost his father in 2021, partly, he claims, through medical negligence, which lead to his own stress, anxiety and, ultimately, heart problems. But he's fighting back now.
On his sponsorship website, VanderJagt adds: "From my own journey through tough times and losses, I've come to realize the incredible power of a caring community that stands up for those who've faced unimaginable challenges. This kind of support acts as a guiding light during the darkest moments, helping individuals find their way back to healing and hope."
All the latest inspiration, tips and guides to help you plan your next Advnture!