What is ultra running: a quick guide to one of the ultimate endurance sports
What is ultra running? How much tougher is it than running a marathon and what mindset do you need to succeed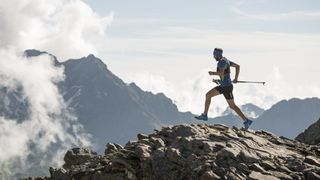 (Image credit: Getty)
What is ultra running and how does it differ from marathon running? Well, technically any run longer than the standard marathon distance of 26.2 miles (42 km) is a ultra. Beyond a marathon, there's no limit to the length an ultra can be, with the longest certified footrace currently the 3,100-mile Self-Transcendence Race which laps a New York city block 5,649 times. Dizzying in every sense of the word.
Of course, no one can run 3,100 miles non-stop, so longer ultras often feature extended breaks to, you know, sleep, eat and the rest. Some are completed within a day, while others take on established hiking trails over a multi-day journey. Some are circuits featuring multiple laps, while others are long linnear journeys akin to a thru hike.
Most ultras take to the trails rather than the road, so a pair of the best trail running shoes is vital if you're looking to start training. Alongside trail running, ultra running is a sport that is booming exponentially. The number of organized races and participants around the world increasing by roughly 1,000% in the last 10 years. But it is not a new sport. In fact, its heyday was probably way back in the 1870s when pedestrianism – as it was known – was the biggest sport in the world.
Back then, six-day races held in Madison Square Garden in New York or in the Agricultural Hall in Islington, London, attracted huge crowds and daily newspaper coverage, with hundreds of thousands of pounds (in today's money) awarded to the victors. This was before the days of energy gels, hydration packs and the lightweight gear ultra runners enjoy today. We still have six-day races today, but most ultra races now are a fair bit shorter.
The vast majority of ultra races around the world are trail races, often run through beautiful and remote landscapes such as mountains or deserts. Many of the most iconic races on the international calendar – such as the Ultra Trail du Mont Blanc (opens in new tab) in France, the Marathon des Sables (opens in new tab) in Morocco, and the Western States 100 (opens in new tab) in the US – are trail races.
For many competitors, the desire to try ultra running comes from a sense of wanting to get into the wild – to be immersed in nature.
In Britain, ultra running combines with the traditional sport of fell running (or hill running or mountain running depending on where you are) to produce epic challenges such as the Bob Graham Round (opens in new tab). This is a 66-mile loop around the famously lumpy Lake District in England, which takes runners to the summit of 42 of the region's highest peaks. To become an official member of the BGR club (opens in new tab), the challenge is to complete the loop in under 24 hours.
The most famous ultra marathon on the roads is the Comrades Marathon (opens in new tab) in South Africa, which sees around 20,000 competitors each year attempt to traverse the 56 miles between the cities of Durban and Pietermaritzburg in under 12 hours. Started in 1921, it is today's biggest and oldest ultra marathon.
What is ultra running? An ultra runner's mindset
What is ultra running in terms of mindset? One of the main distinctions between a marathon runner and an ultra runner is that marathon runners will generally attempt to run the entire thing, aiming for a personal best that they can compare to other runs they've attempted in the past. The competition element of a marathon is a key factor.
Ultra runners approach things rather differently. It's not about getting the best time, running the entire thing or, aside from the truly elite, competing against others. Those who choose to tackle ultras will approach their runs to enjoy the experience, to learn about themselves and to compete against the landscape and the elements. Uphills will be hiked, breaks will be had and plenty of gear will be taken along for the ride, such as trekking poles for stability and for tackling obstacles like river crossings.
No two ultra runs are the same, so any kind of comparison or attempt to quantify performance in terms of personal bests is futile. Even the same course can be totally different depending on the conditions. A mountain race in the baking heat can be very difficult physically but manageable underfoot. Throw a load of wind and rain at the same course and it becomes a totally different challenge, with paths becoming mud baths and rivers in spate. When this is the case, a survivalist mindset is required, rather than a competitive one.
On some multi-day events, there's blurred lines between fastpacking and ultra running, with many mountain races requiring a self-sufficent approach to the wilderness. Setting up a one-person tent for a wild camp each night is a feature of some races, while others end each day at a base camp that moves along with the race.
There's always someone doing something crazier...
Some of these distances can seem bewildering to anyone who has always considered a standard 26.2-mile marathon as the ultimate running challenge. But, no matter how mad they seem, in the world of ultra running there is always someone doing something crazier.
Take the Barkley Marathons (opens in new tab) for example. It's only 100 miles, but it takes place in remote mountains in Tennessee, through some of the most inhospitable terrain and conditions imaginable. In the 33 years that the race has been run, only 15 people have actually finished it.
The man behind the Barkley, Lazarus Lake, went on to dream up the Backyard Ultra concept. This format sees competitors run a loop of just over four miles every hour, starting on the hour. That doesn't sound too difficult perhaps, but the race goes on until there is only one person left. If you get two or more tough competitors unwilling to give in, it can go on for days, and usually does.
Adharanand Finn is the author of The Rise of the Ultra Runners, a book about the history, culture, courses and characters that comprise the ultra world.
All the latest inspiration, tips and guides to help you plan your next Advnture!
Runner, podcaster, journalist and author, Adharanand's books involve immersive research, from attempting to run with elite Kenyan athletes, to travelling across Russia by train with his three small children, and completing 10 ultra marathons in two years. He's not sure which was the hardest. He was twice shortlisted for the William Hill Sports Book of the Year and his first tome, Running with the Kenyans, was named Sunday Times Sports Book of the Year. His other books are The Way of the Runner and The Rise of the Ultra Runners.