Three climbers missing in K2 winter summit attempt
By Ryan Dabbs published
Search and rescue teams were unable to locate three climbers who have been missing on K2 since February 5.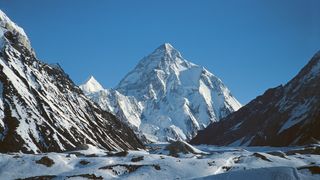 (Image credit: Getty)
Three mountaineers have gone missing on K2. John Snorri Sigurjonsson (from Iceland), Muhammad Ali Sadpara (from Pakistan), and Juan Pablo Mohr Prieto (from Chile) have not been since since Friday, February 5.
As poor weather forced climbers to turn back to Camp 3 late last week, the trio instead attempted to emulate the feat of 10 Nepalese Sherpas last month, who became the first people to ever reach K2's peak in winter. Unfortunately, no contact with Sigurjonsson, Sadpara, and Mohr Prieto has been made since Friday when Sajid Ali Sadpara, Muhammad's 21-year-old son, turned back at the Bottleneck due to issues with his oxygen tank.
Reaching the summit of K2 in winter has been a major target in mountaineering this year, with a Nepalese team becoming the first to achieve the feat in January.
Planet Mountain (opens in new tab) reports that the last message from the trio came at 10am local time on February 5, who described they were attempting to reach the summit. However, there has been no information since.
When news of the climbers' disappearance became public knowledge, the Pakistani government instructed the military (opens in new tab) to conduct an operation into finding the men.
Two helicopters have been carrying out daily search flights at their maximum heights, an altitude of 7800m, for an hour at a time. However, the mountain stands at 8611m tall, so there is still a vast amount of K2 unreachable for the search mission.
Flight over 7000m with the help of the Army Aviation 5 squadron. For the last 3 days, pilots made a great job, but we can't find any clue there.•Grateful to the Pakistani Army, @ForeignOfficePk , @MFAIceland, Simone Moro, @vobonline & all ground admin team for your support. 🙏 pic.twitter.com/JqGRBHHfnLFebruary 8, 2021
Chhang Dawa Sherpa, the leader of the Seven Summits expedition, has been regularly updating his Twitter page (opens in new tab) with the search and rescue attempt of the three climbers, despite the bleak conditions that have set in over the weekend.
"We had less visibility and the upper mountain is covered in clouds." Chhang Dawa Sherpa explained. "For the last three days, pilots made a great job, out of their limits but we can't find any clues there. The team is waiting for another permissible weather and search possibility."
Imtiaz Hussain and Akbar Ali, the cousin and nephew of Muhammed Ali Sadpara, have also joined the rescue mission, climbing K2 in search of the three men.
"Ali is a brother to us. A hero for Pakistan. We will climb as high as we can within our limits." stated Imtiaz. "There is hope, but we know the reality of the mountain, especially in winter."
Attempts will continue over the coming days in order to locate the mountaineers, despite the bleak winter conditions making the task especially dangerous for search and rescue teams.
All the latest inspiration, tips and guides to help you plan your next Advnture!
Thank you for signing up to Advnture. You will receive a verification email shortly.
There was a problem. Please refresh the page and try again.