Nepalese team's winter summit of K2 creates history
10 Nepalese Sherpas have created history by becoming the first team to reach the peak of the world's second tallest mountain in winter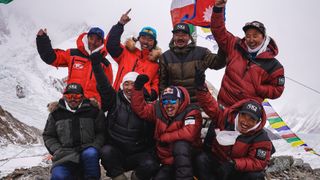 (Image credit: Nimsdai Purja)
On Saturday January 16, 2021, at 5pm local time, a team of 10 Nepalese Sherpas etched their names into the record books by successfully summiting K2, standing at 8611m above sea level.
K2, part of the Karakoram Mountain range on the border of Pakistan and China, was the last of the world's 14 peaks over 8000m to be successfully ascended in the winter months. One of mountaineering's most coveted achievements, four teams converged on the mountain this winter attempting to change that.
However, the 10 Nepalese climbers formed their own splinter group during the expedition in order to claim the historic prize. The Nepali national anthem was poignantly heard on the peak during their summit.
K2 is notorious for its frequent winter storms, dumping large amounts of snow on the mountain as winds can exceed 100mph. With the dangerous weather conditions making the task difficult, luck was essential for the feat to be achieved. Taking advantage of a brief weather window, the team managed to climb to a higher camp at 7350m. From there, their summit attempt was launched.
Members of the mountaineering community have heralded this achievement, which is made even more significant that Sherpas are the accomplishers. The backbone of many Himalayan expeditions, Sherpas are often overlooked as they often facilitate foreign mountaineers. The adulation and plaudits rarely reach the native Nepalese climbers as they work tirelessly to fix ropes, porter supplies and ensure safety on the mountain.
Among the successful Nepalese team was Nirmal Purja, a former member of the UK's Special Boat Service, who had previously managed to climb all 14 of the world's tallest mountains in just over six months.
He said on Instagram that: "we are proud to have been a part of history for humankind and to show that collaboration, teamwork and a positive mental attitude can push limits to what we feel might be possible".
Unfortunately, one Spanish climber died while descending the mountain.
All the latest inspiration, tips and guides to help you plan your next Advnture!