Utah climber rescued after 12 hours with his knee stuck in a crevice
San Juan County Search and Rescue team assist a climber wedged into a crack in the rock in Indian Creek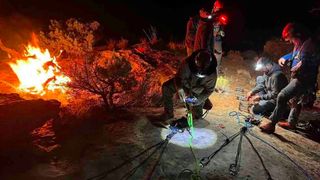 (Image credit: San Juan County Search and Rescue)
A climber was trapped for 12 hours on a rock face in Utah this weekend when his knee became wedged in a crevice.
The incident began around 8pm on Friday when the unnamed climber slipped while navigating Generic Crack in Indian Creek, a climbing area in the northern part of the Bears Ears National Monument in the canyonlands area of San Juan County, Utah.
His knee became lodged in the narrow crack, immobilizing him in a precarious position high above the ground. His climbing partners could not free him and were forced to call for help.
Rescuers arrived at the cliff and quickly realised that they'd need extra help from above, so they requested a Classic Air Medical helicopter to fly team members to the top of the cliff and rappel down to the trapped climber.
In a posting on Facebook, the search and rescue team said after several hours of attempting to free the hiker they had to call in additional resources from Grand County. "With their help the male was free and on the ground safely. After being stuck on the wall for around 12 hours, thankfully he only suffered minor injuries."
See also What is mountain rescue? A look at how the service differs across the world.
Indian Creek is renowned for its sandstone crack climbing. It has an elevation of 5,765ft (1,757 m).
According to Climbing magazine, although Generic Crack's name, "is boring (the first ascent party never officially titled it), the climbing is far from it. At 130ft long, the splitter starts at hand-sized and widens to fists at the top. Unlike many Creek cracks, this one has slots that fit big hexes perfectly. There is a 100ft second pitch of 5.10 offwidth, but it's not done nearly as often as the classic first pitch." You climb it using a technique called lead climbing.
All the latest inspiration, tips and guides to help you plan your next Advnture!